Estimated read time: 2-3 minutes
This archived news story is available only for your personal, non-commercial use. Information in the story may be outdated or superseded by additional information. Reading or replaying the story in its archived form does not constitute a republication of the story.
SALT LAKE CITY — You may be more familiar with metal thefts involving copper wire, but this time it could affect your health. Thieves are going after the metal valves that keep drinking water pure and irrigation water where it's supposed to go.
Dozens of brass water valves were recently taken from sprinkler system water lines in the Riverside Park neighborhood, near 700 North and 1500 West. But the problem is growing across the state, and the country.
"The price of copper and brass, it's a target for people who want to steal," said Bill Ball, operations manager at Delta Fire Systems.
---
The price of copper and brass, it's a target for people who want to steal.
–Bill Ball, Delta Fire Systems
---
Ball's company owned some of the 30 stolen valves, and they'll cost him anywhere from $50 to $350 to replace.
"Brass is now at (a) record high for scrap brass; it's now $1.80 a pound," said Glen Barber, owner of Down to Earth Landscape.
Barber knows his numbers. He's had three calls this week about missing backflow valves.
He says the valves are not just important for the sprinklers, they keep "irrigation water from backflowing into our culinary drinking water."
Landscapers say any home built within the past six years is at a greater risk for this theft, because a change in state law required backflow valves to be placed above ground.
At Sprinkler Supply in West Jordan, employees are frequently unpacking new valves to replace the missing.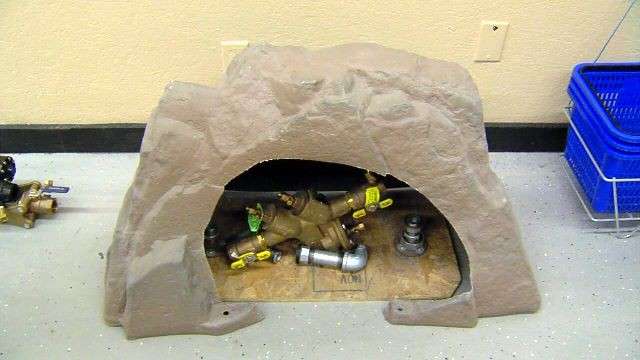 "Parks, homes; we've even heard last year there were some taken from the state capitol," said John Miller, a contractor salesman at Sprinkler Supply.
And the trend is spreading fast: Missouri, Texas and Florida have all reported similar cases.
The problem is leading to a growing cottage industry. Valve covers that look like rocks used to hide the ugly valves. Now, Miller says, homeowners may want the cosmetic enhancement for protection.
The experts say there are other things homeowners can do to deter thieves. People should unhook their valves during the winter and take them indoors.
Another option for homeowners is to put a cage around their sprinkler box, but that can cost anywhere from $800 to $2,500.
×
Photos
Most recent Utah stories