This archived news story is available only for your personal, non-commercial use. Information in the story may be outdated or superseded by additional information. Reading or replaying the story in its archived form does not constitute a republication of the story.
SALT LAKE CITY — Candidates for the Republican nomination continued this week down a gaffe-ridden road to the general election, and a heartwarming moment from Pres. Obama did not stop a local artist from promoting a controversial painting of the president.
Romney's Etch A Sketch problem
The former Massachusetts governor is trying to recover from a misstep by one of his aides, who on Wednesday compared Romney to an Etch A Sketch.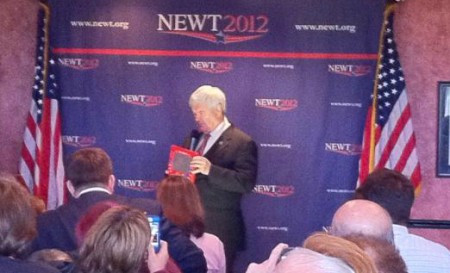 When asked whether Romney had shifted too far to the right to be able to win the general election come November, senior Romney aide Eric Fehrnstrom had this to say:
"It's almost like an Etch A Sketch," he said. "You can kind of shake it up and restart it all over again."
Romney's rivals pounced on the statement, pointing to it as evidence of the candidate's past flip-flops. Newt Gingrich and Rick Santorum, both of whom are attempting to wrest the nomination out of Romney's hands, took advantage of photo ops with the toys — although, viewed out of context, the photos may serve as a disservice to the candidates themselves.
And the Democratic National Committee wasted no time producing a pointed attack ad on the candidate featuring Romney in an Etch A Sketch. It's surely an inconvenience for Romney, who has spent much of his campaign fighting against perceptions of flip- flopping.
Etch A Sketch representatives are excited, though: the toy's maker, Ohio Art, has seen its stocks triple in response, and in-store sales have seen a dramatic increase, as well.
Secret Service codenames
Romney's and Santorum's not-so-secret Secret Service codenames were revealed Monday to GQ magazine, and the irony of both runs deep. Romney is known as "Javelin" — perhaps a shoutout to the vehicle once produced by American Motors Corp., which was once owned by George Romney.
Or perhaps it really does refer to the weapon, one that is used in track and field events in the Olympics, which Romney famously worked on when they came to Salt Lake City in 2002.
Santorum is known as "Petrus," which means "rock" and is associated with St. Peter, the first Pope of the Catholic church, although Catholics themselves haven't been very happy with the candidate in recent weeks.
Pres. Obama knows some sign language ...
Obama left a deaf student named Stephon "speechless" at an event March 15 on energy policy. The 26-year-old student at Prince George's Community College, in Largo, Md., signed "I am proud of you" to the president as he walked past. To Stephon's surprise, the president signed back, "Thank you."
Stephon later posted a reaction on YouTube via American Sign Language.
Jon McNaughton
... but it doesn't help him with some voters.A conservative Provo artist is making headlines for a second time after painting a likeness of Pres. Obama holding a burning Constitution. The painting, titled "One Nation Under Socialism," is the third anti-Obama painting by Jon McNaughton. Others featured the president trampling the constitution or enslaving Americans in chains.
McNaughton released with the painting a video urging Americans not to "choose one nation under socialism" by re-electing Obama in November.
"I for one am deeply offended," he wrote on his Facebook page about reaction to his painting. "I can't believe I had to paint this in our own country. Stand up and be heard America!!"
×
Related Links
Related Stories