Estimated read time: 2-3 minutes
This archived news story is available only for your personal, non-commercial use. Information in the story may be outdated or superseded by additional information. Reading or replaying the story in its archived form does not constitute a republication of the story.
SALT LAKE CITY -- A Colorado man who has been fighting for four years to gain custody of his daughter that was adopted in Utah could be one step closer. Wednesday, 3rd District Court Judge Paul Maughan indicated he would likely dismiss the Utah case challenging the adoption so the issue can be picked up and decided by a Colorado court.
Today's action gives hope to other birth fathers who say their children were placed for adoption without their knowledge.
The little girl at the center of an adoption case is now four, just about as old as the court fight over who will raise her. She is known as Baby B in court documents.
"(I am) praying and hoping every day that she's back home with me and where she belongs," said Robert Manzanares, the birth father at the center of the case.
Manzanares now has a bit of a cult following from other birth fathers who are watching every step after the Utah Supreme Court reinstated Manzanares' case two months ago after it had been dismissed.
"It gives other fathers hope because he's done so much and gotten so far, it gives me hope to keep fighting. And keep going on," said Bobby Nevares, a birth father attempting to regain custody of his son.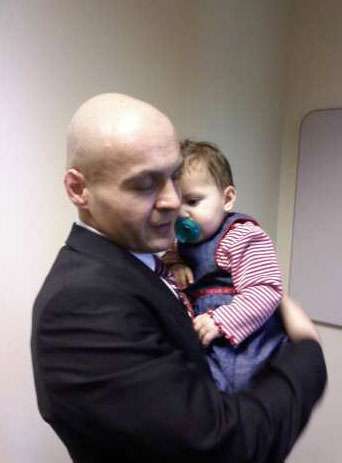 The crux of the case is whether or not Manzanares, who lived in Colorado, was required to file for paternity in Utah prior to his then-girlfriend giving birth to the baby and placing her for adoption in Utah. This, despite how she deceived him about the birth, which is clearly laid out in court document.
Manzanares has said he didn't know that his girlfriend had given birth until she returned from a trip to Utah, where she had given the child up for adoption. Though Manzanares had filed a paternity action in Colorado two months before the birth, but no action was filed in Utah.
"I think every court hearing now is a step closer to the ultimate goal of bringing her home. It's a step closer," Manzanares said.
Colorado, the state where both Manzanares and the birth mother live is the state where the paternity action began prior to Baby B's birth.
"I think what we have is we're seeing the tension between a Colorado court and a Utah court," adoption attorney Wes Hutchins.
Manzanares' Utah attorney Jennifer Reyes, is hopeful he will gain custody of his daughter.
"Mr. Manzanares is a wonderful person and I'm confident that he'll be a fabulous father to this little girl," she said. The court did order that Manzanares' name be placed on his daughter's birth certificate. The adoptive father, who was quite emotional Wednesday, declined to speak to KSL when he left the courtroom.
×
Photos
Related stories
Most recent Utah stories