Estimated read time: 3-4 minutes
This archived news story is available only for your personal, non-commercial use. Information in the story may be outdated or superseded by additional information. Reading or replaying the story in its archived form does not constitute a republication of the story.
SALT LAKE CITY - It may still be March, but football kicked off Tuesday for the University of Utah.
The Utes held their first spring practice in a sunny, yet chilly Rice-Eccles Stadium. And while I was worried about staying in the sunlight to keep my hands warm while tweeting updates, it was Utah's quarterbacks that lit up the field with quite an impressive outing.
"We have a very talented group of quarterbacks," Utah head coach Kyle Whittingham said.
Ryan Davidson (@rkdavidson13) tweeted me just after I sent out Whittingham's quote, "@rojackKSL don't know Utah has ever been able to say that." Last season, Utah had one quarterback with any FBS experience and a backup from a school that canceled its football program.
Oh but what a difference a year can make. Jordan Wynn is back from not one, but two shoulder surgeries. Jon Hays is also back, going 6-3 as a starter for the Utes last season. Add to the list incoming freshman Travis Wilson, Chase Hansen and Adam Schulz.
---
We have a very talented group of quarterbacks.
–Utah head coach Kyle Whittingham
---
"It was good to see that a position that's been thin for us, especially last year, appears to be much improved with a lot of depth there," Whittingham continued.
Wynn looked fully recovered from the surgeries, with no sign of a sidearm throwing motion. He also bulked up, weighing in at 210 pounds.
"We challenged (Jordan) to change his body. He's worked hard," Utah offensive coordinator Brian Johnson said.
"He embodies what college football is all about. He is exactly the type of person that you want leading your football team."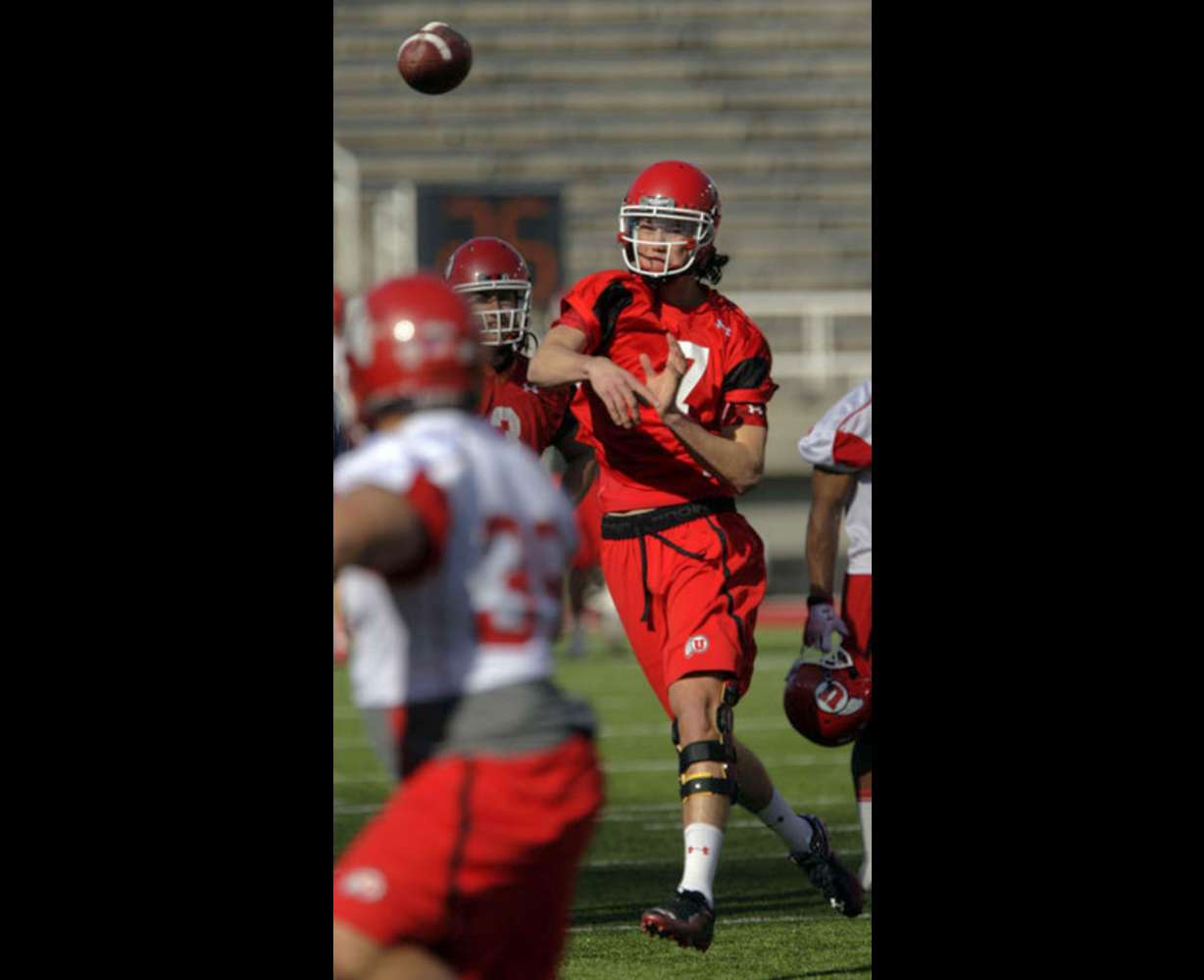 And while Johnson said Wynn is the starting quarterback, that doesn't mean that there won't be any competition.
"I want our guys to compete at all times," Johnson added. "Not just in football, I want them to compete in every facet in life. Everything that we do matters."
All five Utah quarterbacks looked sharp in today's drills. Here are some notes on the other four QBS:
Travis Wilson seemingly picked apart the defense time and time again with precision accuracy. His 6-foot-6 frame helps him read the defense and he can really put a zip on the ball. Rod Zundel even started comparing him to Marc Wilson. Yeah, I'm not going to go there...
Chase Hansen wasn't afraid to throw the deep ball, and was successful on multiple attempts. He isn't afraid to tuck it and run, either. I like his shoulder pump fake, caught the defense biting quite a bit.
Jon Hays has improved, folks. Looked great running the play-action, similar to last season. Still needs to improve downfield reads.
Apologies to Adam Schulz, I didn't even know who you were until I received the roster sheet today at practice. Schultz had the highlight of the day - teaming up with Quinton Pedroza for a 30-yard strike in the end zone. Pedroza snagged the pass with one hand in between two defenders.
Yeah, yeah I know, it was only day one, but Utah fans should be extremely excited about what is taking place up on the hill.
×
Photos
Related stories
Most recent Sports stories