Estimated read time: 6-7 minutes
This archived news story is available only for your personal, non-commercial use. Information in the story may be outdated or superseded by additional information. Reading or replaying the story in its archived form does not constitute a republication of the story.
SALT LAKE CITY — After a gloomy January, February, and March, finally Ute fans have something to get excited about. Spring football is here!
I for one love spring football. It gives the fans and media a glimpse at what the 2012 season could hold. What do the new incoming players look like? What will the new coaches bring to the fold? And frankly don't we all miss football?
The U Fan Cast: Red Rock Senior Stephanie McAllister
Listen now:
The last time we saw the Utes was in a Sun Bowl comeback win versus Georgia Tech. Since then on the coaching staff has seen departures (Norm Chow, Dave Schramm, and Tim Davis) and arrivals and promotions (Brian Johnson to OC, Aaron Roderick to passing game coordinator, Dan Finn, and Sharrieff Shah). Not to forget we had signing day as well, when Utah signed the highest ranked class in school history - according to Rivals.com and Scout.com.
So there has been news to keep some Ute fans entertained. But the last month and a half for many fans has been brutal **cough** basketball **cough**. So next Tuesday will be a welcome sight. There are plenty of things that I will be looking forward to seeing and many fans should be as well. I'll be watching the following positions more closely than others:
Crimson Corner:
QUARTERBACK: I for one have tirelessly defended Jordan Wynn multiple times in my columns, so there is no need for me to argue for him again in this one. He is the starter if healthy, plain and simple. For me and what I want to see this spring is the new guys they brought in with Travis Wilson and Chase Hansen. I'd say more than likely this is your battle for number two and number three on the depth chart for the fall. We all saw Jon Hays last year in action after Wynn went down, and it doesn't take a football expert to realize he just isn't good enough to be a starting quarterback for a Pac-12 program. It will be critical to develop one of these two to be ready in a 'just in case' role if needed to take over the reigns if Wynn goes down again. Both have the measurables - it will be fun to watch them assimilate into this program and see how good they really are. RUNNING BACK: We all know about John White. So no need to question who number one is. I'm very intrigued to see the battle for number two. You have two highly touted backs competing for the spot. Four star JC running back Kelvin York, a one time USC recruit, comes in with lots of praise and high expectations. He'll be competing with former Bingham star Harvey Langi, who last season just seemed to struggle with the speed of the game. Langi showed some flashes last year of being a productive back and he'll have to prove he's grasped more of the game this spring to have a chance to back up White. This position is a crucial one, it is not realistic for White to tote the ball as much as he did last year and maintain his health the way he did. Who ever wins this job will be a serious contributor to this offense.
OFFENSIVE LINE: The Utes have two very important spots to fill here with the loss of John Cullen and Tony Bergstrom. Sam Brenner, Miles Mason, and Tevita Stevens pretty much have their positions on lock down. Will a Jeremiah Tofaeono, Percy Taumoelau or a Kapua Sai step up and make a push for one of the tackle spots? These guys will get a head start on JC guys Marc Pouvave and Carlos Lozano as well as incoming freshmen Jeremiah Poutasi and Hiva Lutui, which will be big. My money is on the JC guys coming in here in the fall and winning those spots, but the spring practice will really help develop the depth that the Utes desperately needed last season on the line.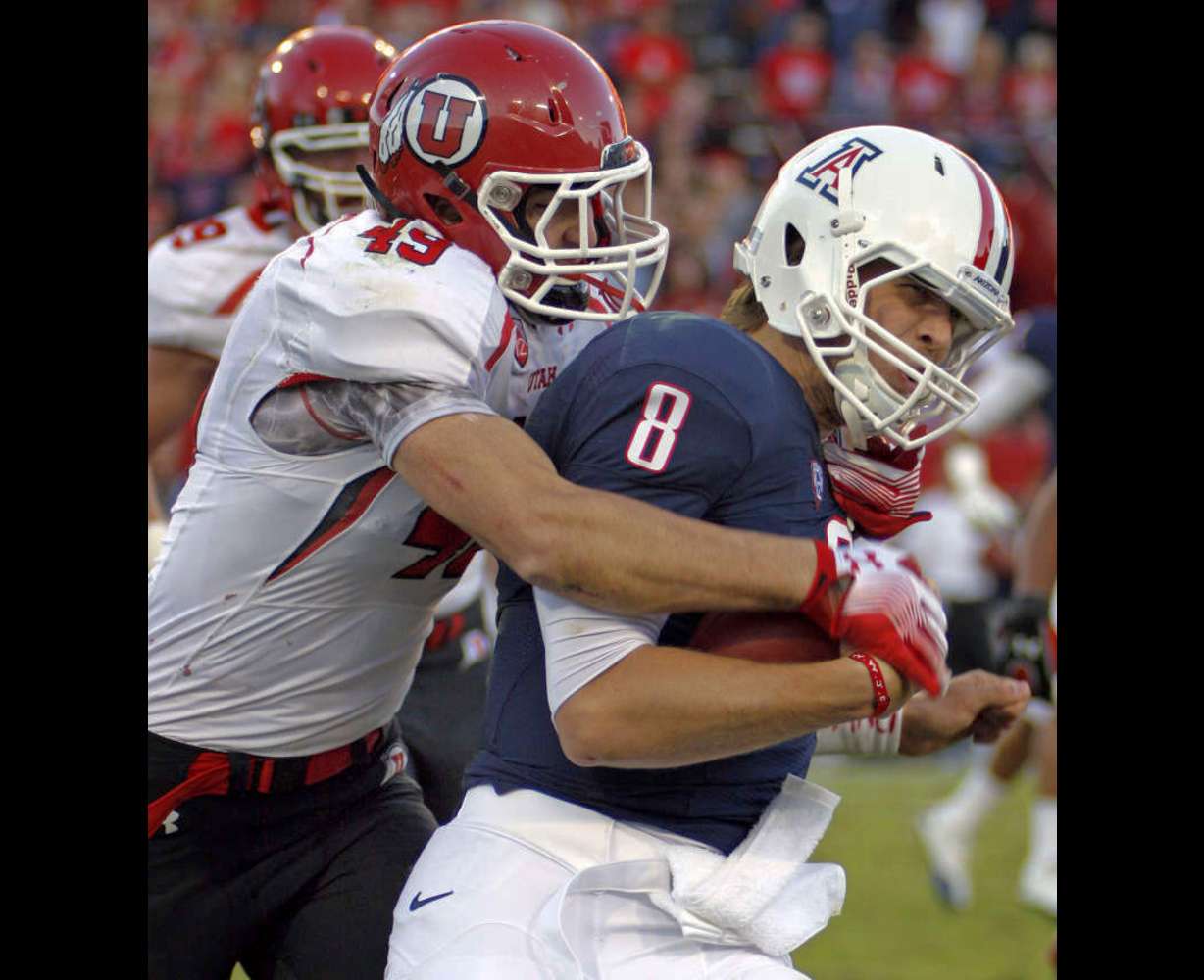 LINEBACKER: Utah finds themselves rebuilding a majority of the linebacker corps by losing Matt Martinez and Chaz Walker. It also appears that Brian Blechen may remain at safety for this next season. The positions surrounding the middle of the field should be strong. Players that I'm going to be keeping a close eye on this spring are VJ Fehoko, Jacoby Hale, Victor Spikes, and contributor from last season Trevor Reilly. There is no question Utah has talent at this position and plenty of it. It is just young unproven talent. When all is said and done this may be the second deepest position on defense after the line, but we should get a much better feel after spring. COACHING STAFF: Obviously the microscope will be on Brian Johnson from this point on. Spring will be interesting to see what system he implements, how he implements it, as well as how he handles coaching players close to his same age and being over other coaches that are significantly older than he is. A key relationship I'm going to keep my eye on is between BJ and Aaron Roderick. Since A-Rod was previously the OC and was a finalist for it this time, I am curious of seeing the working relationship on the field between those two coaches. The other coach I'm extremely excited to watch is Sharrieff Shah. I think this could be the quietest hire that could go a long way. Shah is very engaging and high energy and the kids will want to run through a wall for him. I expect him to do good things with the corners and I can't wait to see him on the recruiting trail.
The next month will go a long way to shape the 2012 team. By the end of the spring we should have a better idea of what the team could look like, what the two deep will resemble, and what really needs to be addressed by fall camp. At the end of the day I know we can all agree on one thing: it's great to talk about football again, even for only a couple weeks.
Shane Roberts is a producer/writer for the U Fan Cast on TheUFanCast.com, a Utah-centric podcast that gives a voice to the fan. Twitter: @Shane_U_FanCast
×
Related stories
Most recent Sports stories