Estimated read time: 8-9 minutes
This archived news story is available only for your personal, non-commercial use. Information in the story may be outdated or superseded by additional information. Reading or replaying the story in its archived form does not constitute a republication of the story.
SALT LAKE CITY - Ah, the feeling of spring. Temperatures climbing into the mid-60s this week can only mean one thing - spring football is right around the corner.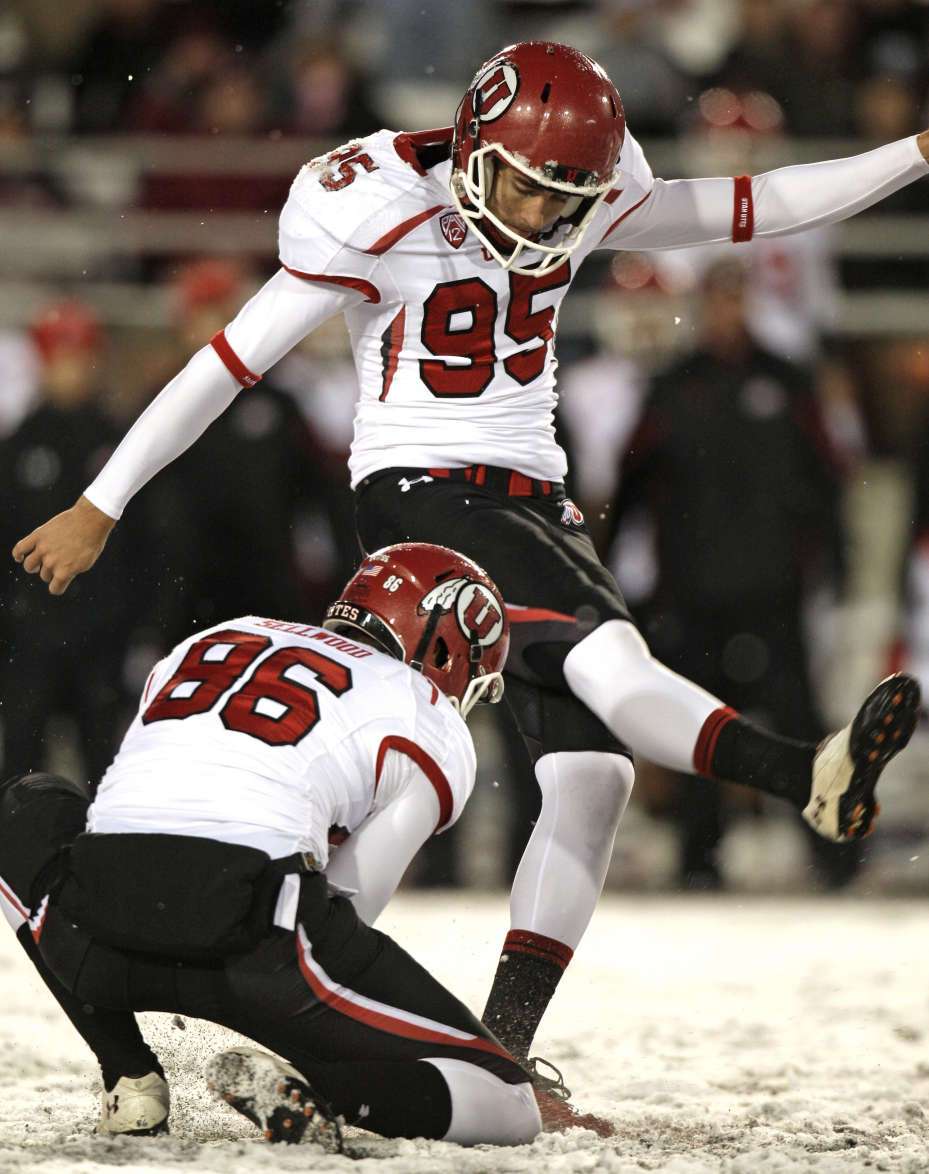 With spring camp set to start on March 20th, it is time to look at the key players returning from the 2011 Utes' football squad. Later this week we'll look at the coaching staff changes as well as some other off-season news and notes.
Here is my best attempt at ranking Utah's top returning players from 2011.
#10 Coleman Petersen
2011 Season Recap
To be a successful football team, the importance of a kicker cannot be underestimated. In 2011, when Coleman Petersen was successful, the Utes were successful. When Petersen struggled, so did the Utes. Petersen won the Pac-12 Special Teams Player of the Week twice (against Pitt and WSU), and even won the national Lou Groza 'Star of the Week' for making all four field goal attempts in a windy Heinz Field against Pitt. However, he had a potential game tying 41-yard attempt blocked against USC and went 0-3 in Utah's final home game against Colorado. Petersen finished second in the Pac-12 in field goals made (18).
2011 Season Highlight
Coleman may have kicked a perfect game in Pittsburgh, but it was another game across the country that impressed me the most. Against Washington State, Petersen was a perfect 3-3 in a driving snowstorm, including a 38-yard field goal in overtime in Utah's 30-27 win over the Cougars.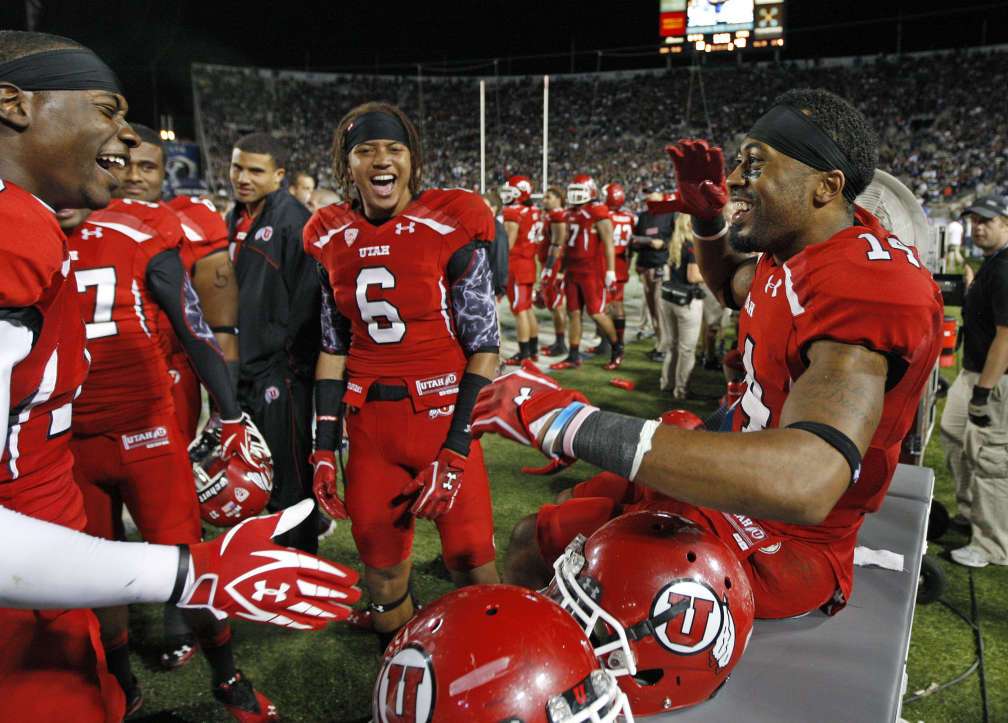 #9 Dres Anderson and Reggie Dunn
2011 Season Recap
I admit that it is a little cheap to double up when creating top 10 lists like this, but the combination of Dres Anderson and Reggie Dunn has big time potential written all over it. Both are big play threats every time they touch the football. Dunn finished with 1,005 all purpose yards in 2011, including 211 through the air, 173 on the ground and averaging 23.6 yards per kickoff return. Anderson was second on the team in receptions, hauling in 23 catches for 355 yards and three touchdowns.
2011 Season Highlight
Anderson's biggest moment came in the rivalry game in Provo. With the Utes only leading BYU by four, Anderson caught a 59-yard touchdown pass from Jordan Wynn on Utah's opening possession of the second half to extend the lead to 21-10. The Utes never looked back from there, cruising to a 54-10 win.
For Dunn, a 51-yard reverse run against USC in the first ever Pac-12 game rose some eyebrows, but his 44-yard touchdown reception against Arizona put the Utes up by 20 and guided the struggling Utes to a much needed win. The victory over the Wildcats marked their first two game win streak of the season.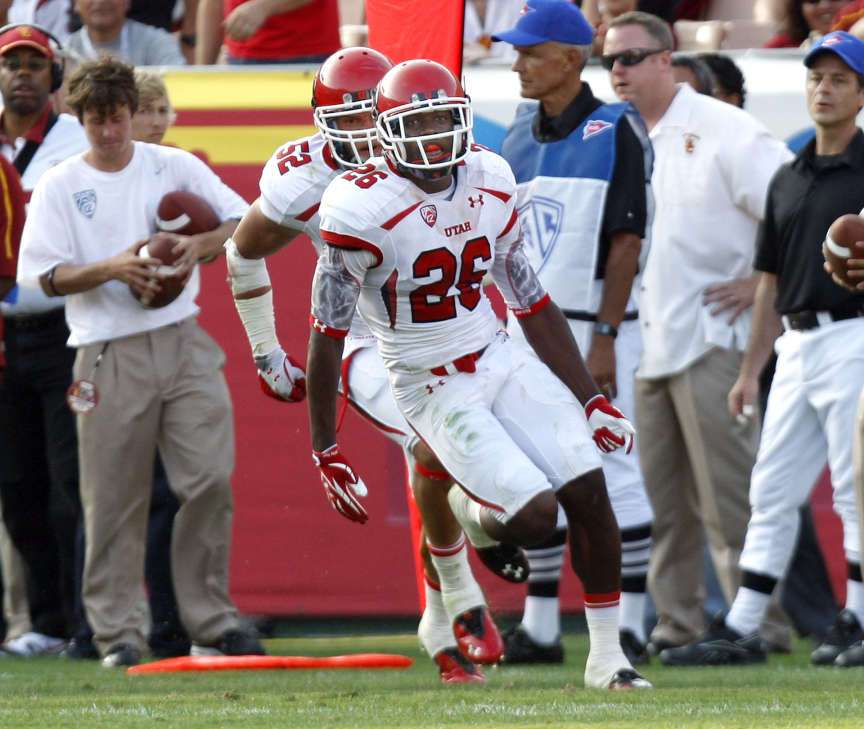 #8 Ryan Lacy
2011 Season Recap
Ryan Lacy started all 13 games at corner for the Utes. The second year corner had 51 tackles, a sack and ranked sixth in the Pac-12 in pass breakups (10). Lacy is one of the fastest Utes on the team, running a 4.32-second 40-yard dash.
2011 Season Highlight
In Utah's first Pac-12 game and USC already holding a 10-0 lead, Ryan Lacy jumped in front and picked off a Matt Barkley pass intended for Robert Woods at the Utah 15 yard line early in the second quarter. The interception prevented the Trojans from putting more points on the board and kept the Utes in the game.
#7 Eric Rowe
2011 Season Recap
Eric Rowe had an immediate impact for the Utes, starting all 13 games as a true freshman and earning Freshman All-American honors. Rowe was Utah's fourth-leading tackler with 69 stops. He also had nine pass breakups, a sack, an interception and a fumble recovery.
2011 Season Highlight
Rowe had a season-high 10 tackles against Arizona State, but his biggest highlight came five games later. With UCLA driving on the Utes 22 yard line, Rowe came in on a blitz to sack UCLA quarterback Kevin Prince. The play resulted in an eight yard loss and turned what could have been an easy field goal for the Bruins into a much longer 47 yard attempt at snowy Rice-Eccles. The kick was no good, and Utah carried the lead and the momentum into the half.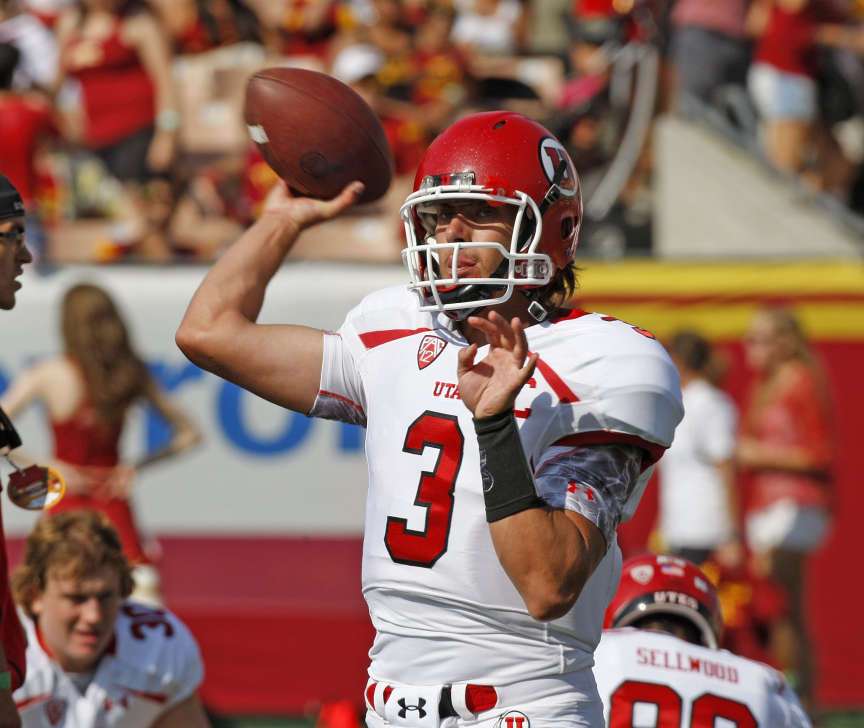 #6 Jordan Wynn
2011 Season Recap
Some of you may question me putting Jordan Wynn in this list. I hope that by the end of the first game that those doubts are put to rest. Last season, Wynn only played in four games before having to go through his second shoulder surgery in 10 months. And while Wynn's numbers weren't staggering (727 yards with six touchdowns and two interceptions), Utah's offense dropped off drastically after his injury. Wynn is sixth in school history with 31 career touchdown passes, and ranks ninth all time in passing yards (4,390).
2011 Season Highlight
The play that nearly brought down Vegas - OK, not really, but it did put a scare in sports bettors all around town while the Pac-12 sorted out what the final score between Utah and USC actually was. With Utah trailing the Trojans 17-14, Wynn marched the Utes from their own 33 down to the USC 24 yard line, setting up a potential game tying 41-yard field goal attempt. Unfortunately, the kick was blocked and returned for a USC touchdown, but I was impressed with Wynn's poise on that final drive.
#5 Trevor Reilly
2011 Season Recap
If you haven't heard of defensive end Trevor Reilly, just ask a BYU fan - they'll be sure to remember him. Against the Cougars, Reilly had three forced fumbles, three tackles for a loss and two sacks, earning him Utah's first Pac-12 Player of the Week honors. Reilly finished the season with 47 tackles, nine of which went for a loss.
2011 Season Highlight
In his Pac-12 Player of the Week performance against BYU, Reilly was all over the field, but his biggest play of the game came when he sacked quarterback Jake Heaps, causing him to fumble on BYU's own six yard line.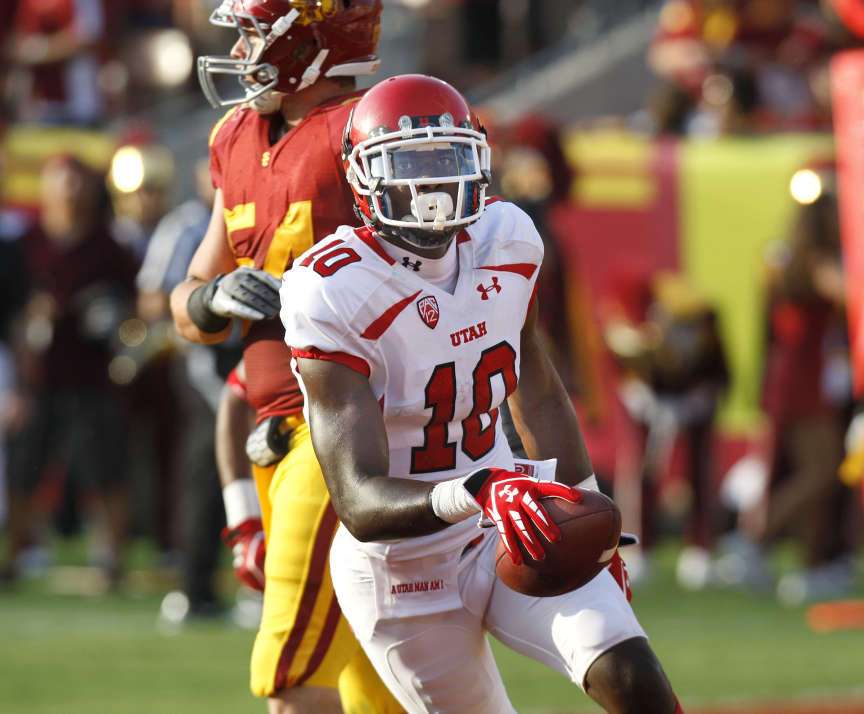 #4 DeVonte Christopher
2011 Season Recap
DeVonte Christopher has been Utah's leading receiver the past two seasons. Christopher finished last year with 663 yards on 42 receptions, including two 100-yard receiving games - 136 yards in Utah's first Pac-12 game against USC, and 125 yards against Washington.
2011 Season Highlight
Facing fourth-and-14 from the Georgia Tech 28 yard line, down 24-17 with just over a minute and a half left to play in the game, quarterback Jon Hays fired a perfect fade pass to DeVonte Christopher for the game tying touchdown that sent the game into overtime.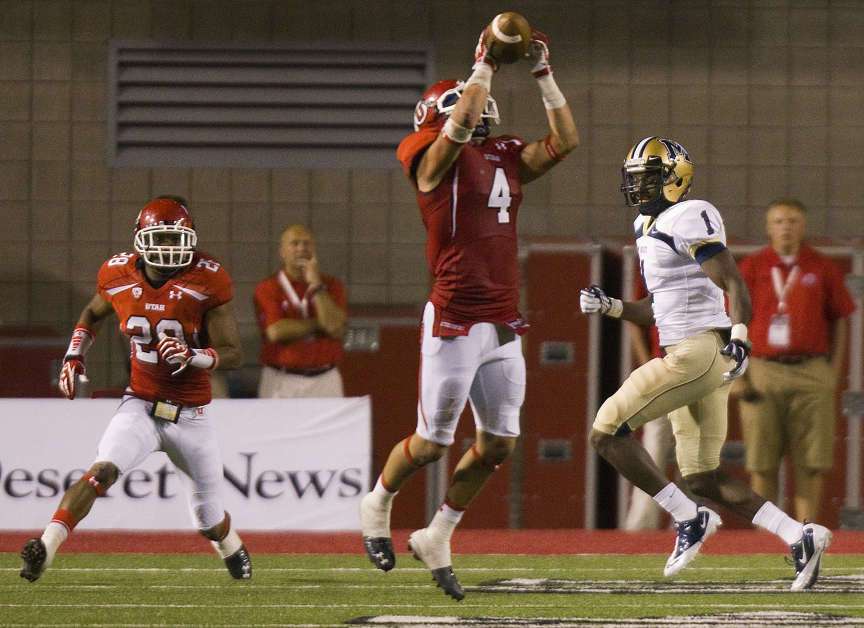 #3 Brian Blechen
2011 Season Recap
I'll never forget watching Utah's fall camp last year when Liz Abel, Utah's Sports Information Director, came and told the media that Brian Blechen had not only been stung by a bee, but that the sting occurred inside his throat. Ouch. But the safety turned linebacker turned safety again, who was recruited as a quarterback (is there anything this guy can't do?) bounced back, finishing third on the team in tackles (78), intercepted three passes, forced three fumbles and blocked a field goal.
2011 Season Highlight
In the season opener against Montana State, Brian Blechen was one of the few bright spots for the Utes. Blechen had his first interception of the season just two minutes into the game, and added another in the fourth quarter. Blechen finished with 15 tackles in Utah's 27-10 win over the Bobcats.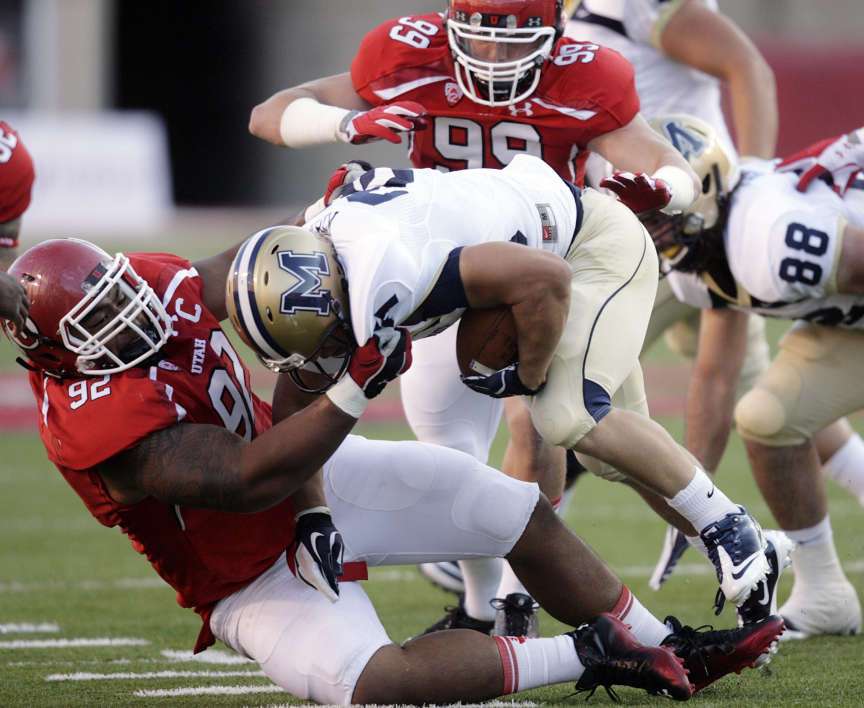 #2 Star Lotulelei
2011 Season Recap
Referred to as the "anchor" of the defense, Star Lotulelei won the Morris Trophy as the Pac-12's best defensive lineman. Lotulelei had 44 tackles, with nine of those coming for a loss, while frequently drawing double teams from opposing offensive linemen. Lotulelei made a lot of Utah fans happy when he decided that he will return to play his senior season while finishing up his degree in sociology.
2011 Season Highlight
While his numbers weren't flashy, Lotulelei's impact on opposing offenses was profound. Lotulelei played a critical role in Utah's Sun Bowl win over Georgia Tech, drawing the tough assignment of trying to slow down the Yellow Jackets' high powered triple option attack. Lotulelei finished with six tackles and recovered a fumble while earning defensive MVP honors in the win.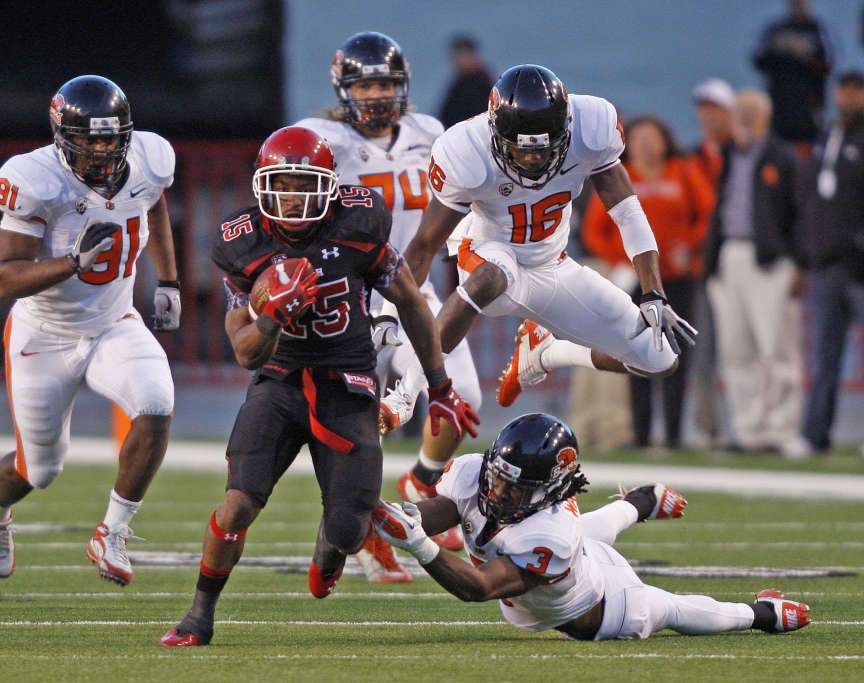 #1 John White IV
2011 Season Recap
After Jordan Wynn was sidelined with a shoulder injury against Washington, the Utes turned to John White IV to carry the load. Aka the Wolfman, White became one of the top running backs in Utah history, rewriting three school records in rushing: yards (1,519) attempts (318) and touchdowns (15). Utah was 8-0 when the 5-foot-8, 186-pound running back eclipsed the 100-yard mark.
2011 Season Highlight
From the 174-yard three touchdown performance against BYU in the rivalry game, to the snowy, frozen tundra in Pullman that witnessed him tally up 186 yards and two second-half touchdowns in Utah's 30-27 overtime win over Washington State, White provided plenty of fireworks for Utah fans last season. However, given the resiliency of the team, no other highlight fits quite as well as White's 8-yard go-ahead touchdown run in overtime that gave Utah a 30-27 win over Georgia Tech in the Sun Bowl.
Also watch for: Joe and Dave Kruger, Keith McGill, Mo Lee, Kendrick Moeai, Sam Brenner
How would you rank them? Let me know via Twitter or email.
×
Related stories
Most recent Sports stories