Estimated read time: 1-2 minutes
This archived news story is available only for your personal, non-commercial use. Information in the story may be outdated or superseded by additional information. Reading or replaying the story in its archived form does not constitute a republication of the story.
Courtney Orton & Mary Richards Reporting A concerned citizen helped police put a stop to a neighborhood marijuana operation.
Sandy police raided a home this morning near 10300 South and 700 East. They found more than 100 marijuana plants. The plants were being grown in the backyard of the home.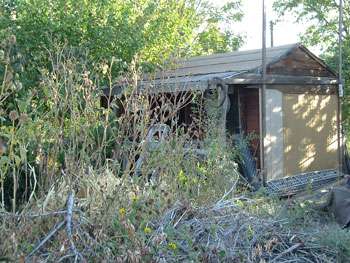 Some of the plants were 10 feet tall but were not enclosed and did not have a watering system. So, they were what officers call "junk pot," or lower quality marijuana.
Police say a shed among the trees was used for drying out the marijuana.
Police estimate the entire crop was worth about $10,000. That's an amount that would continually come in as the crop was cultivated.
Officers arrested 44-year-old James Grunwald this morning. They say they're glad they've stopped him from getting more out on the streets, especially with a church and a busy skate park close by.
"Hundreds of kids visit that skate park everyday, and that's very concerning to us that something like this is so close to a bunch of kids and that it can be sold to kids very easily," Sandy Police Sgt. Victor Quezada said.
Grunwald could face felony charges for cultivation and possession with intent to distribute.
Grunwald ran a landscaping business. Officers are investigating where he sold the marijuana.
×
Most recent Utah stories