Estimated read time: 2-3 minutes
This archived news story is available only for your personal, non-commercial use. Information in the story may be outdated or superseded by additional information. Reading or replaying the story in its archived form does not constitute a republication of the story.
OREM — It has been a very long time since Engine 999 has fought a fire.
But soon, the truck will be coming out of retirement and helping to put out fires on a different continent.
For nearly 20 years, the fire engine was stationed at Geneva Steel. After the steel plant went under, it was sold and hasn't been used in years. Now Orem firefighters are working hard to get the fire truck back in service again.
Engine 999's second chance began in November. That's when Orem Fire Chief Mike Larsen, along with Battalion Chief Layne Pace, visited Peru as part of a BYU-sponsored trip to evaluate and help improve the country's fire stations.
---
We discovered their No. 1 need was fire engines, and so we asked them what their No. 2 need is, and they said fire engines.
–Orem Battalion Chief Layne Pace
---
#pace_quote
"My first impression was, as we're walking through that every one of them is a museum," said Pace. "We literally saw fire engines that used to be pulled by horses, that were powered by steam, and many of the operational ones are from the '70s and '80s right now."
It was obvious to Larsen and Pace that the Peruvian firefighters were in desperate need of fire engines.
"We discovered their No. 1 need was fire engines, and so we asked them what their No. 2 need is, and they said fire engines. So I said, 'Let me guess. Your No. 3 need is fire engines?'" recalled Pace.
Within a day of returning home, Pace started making phone calls and discovered Engine 999. He contacted the current owner of the 1986 GMC engine and arranged for a sale.
"There's nothing wrong mechanically with this engine. It just needs a good wash," he said.
The $8,000 price tag is being picked up by a local marketing company's charity.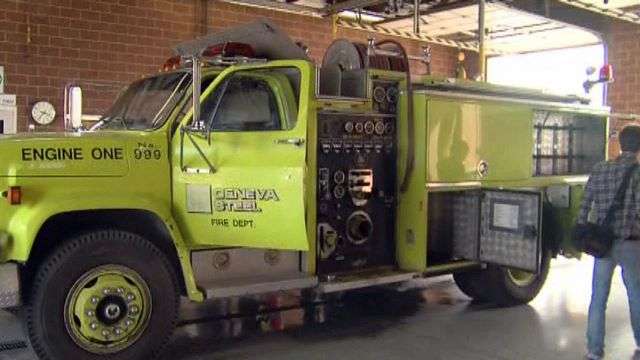 "It's something different, something unique," said Nick Greer, the CEO of One on One Marketing. "But it's a great way to give back to a community that is in desperate need of something like this."
Employees of One on One helped clean up Engine 999, and after a thorough inspection, firefighters say it is ready to go.
But getting engine 999 to Chicama, Peru, a small coastal town in the northwestern part of the country, will take some effort. The truck will be driven to California in a couple of weeks and, with the help of Globus Relief based in Salt Lake City, will be put on a cargo ship and eventually delivered to Peru.
And that is where Engine 999 will get a new look. The old industrial green paint will be replaced by fire engine red.
Pace said the local fire department will not only have its first fire engine, but a fully equipped fire truck.
"All of the equipment that's on this engine is well beyond what usually comes with any used fire engine," he said. "The equipment alone is worth thousands and thousands."
×
Photos
Most recent Utah stories