This archived news story is available only for your personal, non-commercial use. Information in the story may be outdated or superseded by additional information. Reading or replaying the story in its archived form does not constitute a republication of the story.
LAS VEGAS - Many of us are afforded the opportunity to watch a basketball game from the comfort of our own couch in front of a beautiful HD television. And by all means, that has its perks. Your own personal bathroom, a nearby kitchen stocked with your favorite foods, comfortable temperatures, replay, pause button and so on.
There's also nothing quite like being at the ball game- the environment, the crowd, the passion, the drama, the drums. And, move in a little closer and you get the game within the game.
Sitting courtside, as I was during the BYU- San Diego contest, gives you a little dose of reality and puts you within earshot of the talk, chatter and coaching happening constantly on the floor.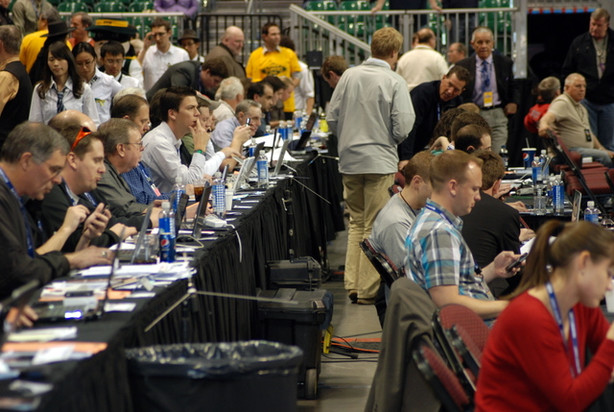 First of all, these guys are big. You hear a guy's 300 pounds and you know he's big. But I'm not sure we give the same "credit" to a guy 6' 10" or 6' 11". Seven-feet tall is really tall, even if it is almost.
They say TV adds 10 pounds, but I beg to differ. These guys look huge as they pound the floor just feet from my face. Even the "little" point guards (most of them) look big. And while most of the attention is paid on the perimeter, the big guys are always battling down low. It is Mike Tyson versus Evander Holyfield on every possession and it feels like an ear bite could happen at any time. At one point the referees called a double foul on Brandon Davies and San Diego's Chris Manresa to keep the peace. The two were pounding away on each other for several possessions straight. It looks downright tiring. No wonder Hartsock's always beet red during the games.
Even with all the bumping and banging, it is incredible how fast these gazelles are. Now I know why refereeing is such a thankless job; it is one of the toughest sports to officiate. I'm not sure my eyes were keeping up with everything happening on the floor. These guys move like the Tasmanian devil being chased by the Roadrunner- I don't know how they don't travel on every dribble drive.
The most entertaining part is the chatter; the non-stop back and forth between players and coaches and opponents and referees. They are talking as much as they are dribbling.
Here's a sampling:
"That was a travel," The Toreros' Christopher Anderson barked at Matt Carlino after the BYU point guard fumbled the ball.
"My arms were up," San Diego's Chris Manresa protested after he was called for an offensive foul.
"You two cool it," referee Sam Haddad ordered to Noah Hartsock and Manresa as the two battled down low. And these orders are given a lot throughout the course of the game.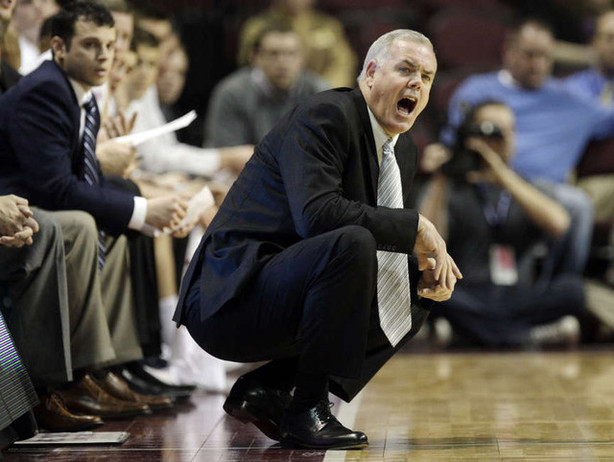 "Dang it Craig, wake up," Dave Rose yelled at Craig Cusick as the point guard ran off the court during a time out. Rose was visibly upset with Cusick's running of the Cougar offense.
"How was that a travel? I never had control of (the ball)," Brock Zylstra said as he pleaded his case to referee Scott Harris.
"What about before (the offensive foul)? They were pushing him," hollered Rose at Haddad about an offensive foul call on Charles Abouo. "There was a foul, that's why he hooked him."
And then there's the non-verbal communication:
Zylstra's fist pump after a made three. Then a grin after this third straight bucket.
Anson Winder with a stare into the BYU crowd after a made 3-pointer.
It felt like San Diego head coach spent most of the 1st half with his arms raised in protest or bewilderment even though his team had the advantage with fouls (10-5).
Plenty of subtle elbows and hip checks.
A little love tap from Winder to Carlino's backside after a made field goal
Hartsock with his famous finger point to the assist man after a made field
Dave Rose in his usual squat
The bench with raised "3s" after Davies dropped his first career 3-pointer.
A final fist pump from Zylstra as BYU walks off the court victors
Did I mention I sat between official observers (the guys that critique and grade referees) and scouts for San Francisco?
Talk about interesting chatter.
×
Related Stories