Estimated read time: 3-4 minutes
This archived news story is available only for your personal, non-commercial use. Information in the story may be outdated or superseded by additional information. Reading or replaying the story in its archived form does not constitute a republication of the story.
Team Coverage The country's top democrat, Senate Majority Leader Harry Reid, is in Utah today. Reid gave a speech at BYU and told the audience his faith and political beliefs are deeply intertwined.
Reid got a good reception at BYU, although less than 5,000 people came to hear him speak. But there were no "boos" from the crowd, and some even gave him a standing ovation at the end of his speech, which was a mix of his life story, his faith and even politics.
The Nevada senator spoke about his journey from growing up poor in Nevada to becoming one of the most powerful politicians in government today.
He also talked politics and of his LDS faith. "Some say my party affiliation puts me in the minority of our church members. But my answer is that if you look at the church membership over the years, Democrats have not always been the minority, and I believe we won't be for long," Reid told students.
But beyond politics and religion, his message today was on education, saying it is the key to success in life. "It took me many years to understand the greatness of our country. My parents were poor, they drank too much. As president mentioned, they were uneducated. My father never graduated from the eight grade, my mother never finished high school, but I learned in America it doesn't matter the education of your parents, what their religion is or isn't; we had none. Their social status; we had none. The color of their skin, their economic status; we had none. I'm an example of this. If I made it, anyone can," he said.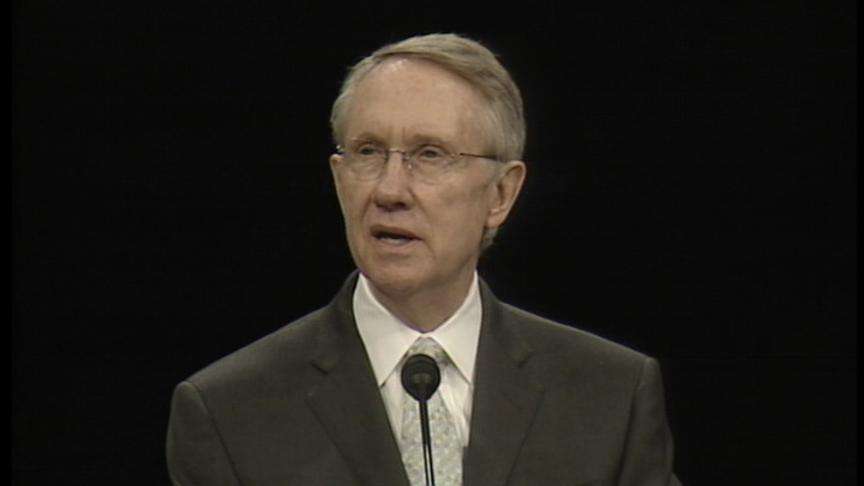 BYU College Democrats were excited to see Reid come to campus. The group's president, Darren Jackson, says their happiness is two-fold because Reid is a member of the LDS Church, and he's a Democrat. He says Reid's visit appeals to more than just party faithful. "I think both the Republicans and Democrats are interested to hear him speak and see exactly what he speaks about," Jackson said.
Meanwhile, BYU College Republican Chair Tim Taylor dressed up in a nice shirt and tie to watch the senator speak, even though he's not a fan. He says they don't have anything in common, besides their church membership.
So why did the group decide not to protest like the College Democrats did when Cheney came? "We thought it would be very crass and discourteous to a national leader and a guest coming to BYU," Taylor explained.
Following his devotional speech, Reid met with reporters. He was asked why he believes more Mormons will become Democrats. "The best missionary we have for that is George Bush. People are switching parties all over the country," he said.
Reid, who says he has always been a pro-life Democrat, believes LDS members are discouraged from his party, simply over two issues: abortion and same-sex marriage. "I think people in the church have to understand there are issues here more important than abortion and gay marriage," he said.
In fact, Reid insists that Republicans, in general, are becoming less satisfied with their leaders. "We have a country that needs to do something about health care, global warming. We have a president who can't pronounce the words, and our world is changing before us," he said.
Reid also called the invasion of Iraq the worst foreign policy blunder in our country's history. And he encouraged students to get involved in public service and make their education a priority.
No leaders from the LDS church attended the speech, but a church spokesman said two members of the church's Quorum of Twelve Apostles hosted Senator Reid at a dinner last night.
×
Most recent Utah stories