Estimated read time: 2-3 minutes
This archived news story is available only for your personal, non-commercial use. Information in the story may be outdated or superseded by additional information. Reading or replaying the story in its archived form does not constitute a republication of the story.
Mary Richards and Alex Cabrero Reporting West Valley City police want to put a man in jail they already had in jail. He was released because paperwork wasn't filed in time to keep him there.
Robert Preece has been in and out of jail several times for theft, drugs, and for killing a fellow inmate in the '80s.
West Valley police put him in jail again after they say he robbed a West Valley Quizno's last month. But he was let out of jail, even though he was facing eight first-degree felony charges.
The day after he was let go, attorney's from several cities through the valley held a meeting to figure out which charges they wanted to go after Preece for. They had no idea he was already out of jail. "We were not made aware of that. The meeting was scheduled to be within that deadline and, unfortunately, he was released prior to that screening meeting," explained West Valley Police Sgt. Julia Jorgensen.
Jorgensen added, "I think him being out of jail right now should be a cause of concern for everybody."
He was released because the Salt Lake County District Attorney's Office didn't file the necessary paperwork to keep him in jail within the three business day period. "Anytime we arrest a bad guy, we like the bad guy to stay in jail and face the consequences of his bad behavior," says Jorgensen.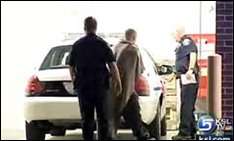 KSL News called District Attorney Lohra Miller to find out why paperwork wasn't filed in time, but we were told she was told she was too busy to answer questions.
Her spokesperson, Nate Bryan, is out of state. He told us over the phone, "We are looking into the circumstances to find out what happened so this doesn't happen again."
However, last January, paperwork on three suspected drug dealers Salt Lake City police arrested wasn't filed in time leading them to be released from jail.
At that time, Miller said the situation was being looked at so it doesn't happen again. Preece proved her wrong. Jorgensen says, "He's demonstrated that he is a violent person who's willing to do violent things to avoid being apprehended by police."
With Preece's background, you might think the jail would call the district attorneys office before letting him go. But when we asked, we were told the law is clear: It's not the jail's responsibility to make sure prosecutors do their job.
×
Related links
Most recent Utah stories