Estimated read time: 2-3 minutes
This archived news story is available only for your personal, non-commercial use. Information in the story may be outdated or superseded by additional information. Reading or replaying the story in its archived form does not constitute a republication of the story.
Richard Piatt Reporting The school voucher program would be defeated if the election were today, and most people fear the program would harm public schools. Those are the results from a recent Dan Jones poll for KSL and the Deseret Morning News.
The battle over school vouchers, tax breaks for parents who want to send their children to private schools, has been brewing for 10 years.
Now, Utah is on the verge of a public referendum on the latest proposal. It would give parents who start their kids in private schools, not who are currently going, a voucher worth between $500 and $3,000 per student, depending on the parents' income.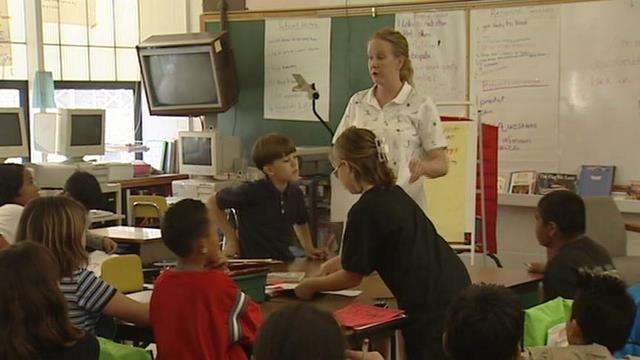 According to a statewide Dan Jones poll of 409 registered voters, 60 percent say they'd vote against vouchers if the election were today. Thirty-four percent say they would support the program, and 6 percent are undecided.
Pro-voucher Parents for Choice in Education questions our poll, citing other polls showing more undecided voters right now.
"The numbers were more like what we're seeing with our internal polls. Forty-nine [percent] when you take out for the undecideds and the margin of error, it's dead even," said Leah Barker, spokesperson for Parents for Choice in Education.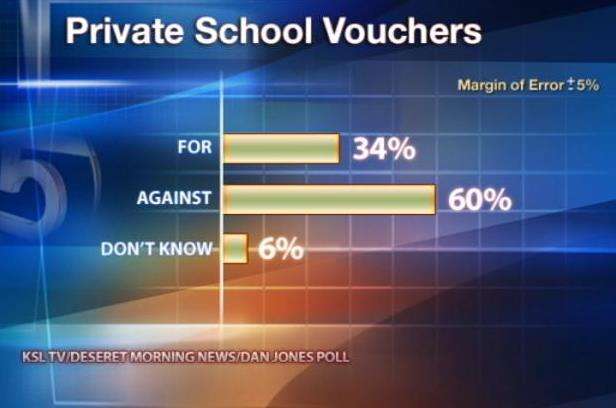 But Dan Jones stands by his poll. One of the main sticking points for people with questions is concern that the public school system would be harmed by the program. Our poll shows 55 percent worry the program would harm public schools if it went into effect. Less than half that number thought the program would either make no difference or would help the system.
"When there's money available, we would much rather see that invested in public schools and in schools closer to their homes, and providing options for them there," said Lisa Johnson, spokesperson for Utahns for Public Schools.
For this poll, the picture for vouchers is far from rosy, but there is still a full month left before election day, and the campaign for both sides has barely begun.
There are numerous debates over the voucher issue in the community this month. Eyewitness News will host a debate on the issue on Wednesday, Oct. 24, at 6:30 p.m.
×
Related links
Most recent Utah stories