Estimated read time: 4-5 minutes
This archived news story is available only for your personal, non-commercial use. Information in the story may be outdated or superseded by additional information. Reading or replaying the story in its archived form does not constitute a republication of the story.
OGDEN — The Weber County attorney says he's grown tired of the "shenanigans" and "games" being played by a defense attorney representing the man accused of killing a police officer and injuring five others.
Dee Smith called a news conference Wednesday, he said, "to set the record straight with some facts about what has happened in the Matthew Stewart case."
Stewart, 37, is charged with capital murder and seven first-degree felony counts of attempted aggravated murder in connection with the Jan. 4 shootout that killed Ogden police officer Jared Francom and injured five other officers.
Defense attorney Randall Richards has filed a series of motions in the case, alleging that prosecutors have been withholding collected evidence from the defense.
Last week, Richards filed a motion asking for access to Stewart's Ogden home, saying there are several items in the house that are important to his defense. The defense attorney said he has been denied access to the property because police still consider it a crime scene.
Smith said he been hoping to avoid "a battle of accusations back and forth" with defense attorneys, but called that motion "the last straw."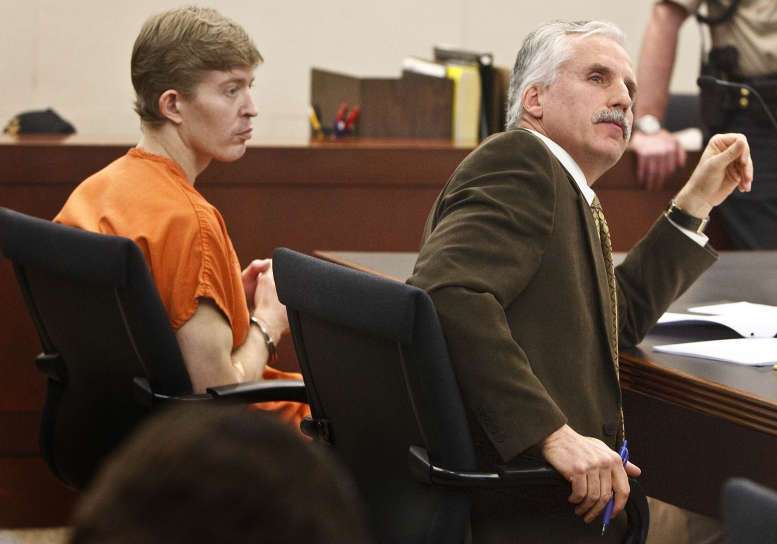 "When it reaches the point that the public is unable to have confidence in the judicial system, as far as I'm concerned, that's where we've crossed the line," he said. "That's where we need to correct the misrepresentations that are being made to the court and to the media in this matter."
Smith said allegations that the Weber County Attorney's Office has withheld evidence from the defense "couldn't be further from the truth."
"I'm frustrated about the games that are being played that aren't dealing with what the case is about, what the facts are," he said. "And I'm frustrated that there's this message that keeps being put out to the public that we're hiding information, that we're involved in a cover-up."
The issue, though, is that prosecutors don't recognize Richards as Stewart's attorney. Earlier this month, 2nd District Judge Noel Hyde appointed William Albright and Ryan Bushell as public defenders in the case, and that's whom prosecutors have been in contact with.
Smith on Wednesday provided the media with an email from Richards to the Weber County Attorney's Office dated Jan. 7 in which the defense attorney said he's representing Stewart "on a temporary basis … in an effort to try to protect Mr. Stewart's rights until the county contracts with someone to represent him."
"(Richards) would not commit that he was going to be the attorney to see this through," Smith said.
Richards, who attended the news conference, said afterward that he is Stewart's attorney, though he was guarded when talking about his level of collaboration with the appointed public defenders.
"I am the attorney of choice by Matthew Stewart," he said.
When asked for a response to Smith's allegations that he was "playing games," Richards responded: "I don't play games. I file motions. I don't file frivolous motions. I file motions that are accurate."
On Tuesday, the state filed a complaint in 2nd District Court against Stewart and his property at 3268 Jackson Ave., demanding that the house be forfeited because "it was used … to facilitate the distribution … of controlled substances." Firearms also were used on the property in connection with the distribution, the complaint states.
Those actions, according to the complaint, were in violation of the Utah Controlled Substances Act.
The complaint also asks for all costs, including legal fees incurred by the Weber County Attorney's Office and the Weber-Morgan Narcotics Strike Force in connection with the forfeiture be paid by Stewart or be deducted from proceeds following public sale of the property.
Police say Stewart opened fire on officers from the strike force after they arrived at his home to serve a search warrant.
Smith declined to answer questions about the forfeiture action, saying only "there are a number of reasons" for the filing, including the preservation of evidence. He also said for now the intent is not to sell the home.
After announcing their presence, officers were able to clear the main floor and basement of the home before Stewart emerged and opened fire, police said. Stewart later said he thought he was being robbed and didn't hear the officers announce who they were.
Investigators had information that Stewart was growing marijuana. Police say they discovered a marijuana grow operation — including artificial lighting and a water system — in his basement.
Stewart also has been charged with one count of production of a controlled substance, a second-degree felony.
Email:jpage@ksl.com
×
Photos
Related stories
Most recent Utah stories