Estimated read time: 2-3 minutes
This archived news story is available only for your personal, non-commercial use. Information in the story may be outdated or superseded by additional information. Reading or replaying the story in its archived form does not constitute a republication of the story.
Alex Cabrero ReportingThe "holy grail" of land speed records has stood for 42 years. Back in 1965 the Summers brothers went 409 miles an hour on the Bonneville Salt Flats.
Nish Motorsports, from Salt Lake City, has been trying to beat that record for years. Today the team tried again.
It's been said records are made to be broken. Nish Motorsports owener Terry Nish says, "That's the plan."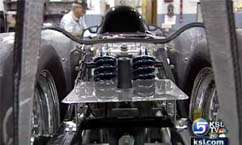 Which is why for Nish Motorsports, every single day of the past year has been spent getting ready for this single day.
Driver Mike Nish says, "The moons all have to be in alignment. I checked them when I was out here warming everything up."
Mike Nish has to drive the car faster than 409 miles per hour to beat the record.
Crew chief Cecil McCray said, "The car is great. I think we're gonna be able to do it. Finally."
Last year they thought they'd get it. But failure after failure, from gear boxes freezing to spinning out at the start, kept the old record safe.
The official timing for this record is only held once a year, so this year the team felt even more ready than last year. "Every time we come out we learn something new," McCray said.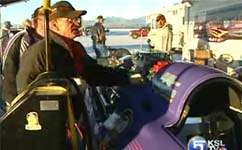 Just two miles into today's attempt, though, something went terribly wrong. Mike Nish had to shut the engine off and coast.
"I was just getting ready to make a third gear shift, and the engine just let go," he explained.
For some reason, the engine just blew apart.
Terry Nish said, "In your mind you think about a hundred things that might go wrong. What happened with that engine breaking wasn't even one of them I considered."
As disappointing as this is, the team members say this record is way too important to give up now. They've been trying to get it for so long now, if they have to wait one more year, so be it, they say.
Mike Nish said, "We'll just have to go back and regroup and get ready to do it next year."
Another year, just for one single day.
"If there was a big pot of gold sitting at the end of the deal, it would make sense. But there's nothing but a certificate," Terry Nish said.
A piece of paper that means everything.
The car was clocked at 244 miles per hour just before the failure happened.
×
Most recent Utah stories