Estimated read time: 2-3 minutes
This archived news story is available only for your personal, non-commercial use. Information in the story may be outdated or superseded by additional information. Reading or replaying the story in its archived form does not constitute a republication of the story.
SALT LAKE CITY -- It's nearly midnight at the airport. It has been a long day for 14-month-old Paetin Mulvain as she waits with her grandma to see her parents for the first time in a very long while.
Parents cherish bonding time with a newborn baby. But when military duty calls the parents away, like it did for the Mulvains, they make up time when they can. They are now just getting to know little Paetin.
Her dad, Specialist Preston Mulvain, deployed to Afghanistan right after she was born. Her mom, Specialist Brittany Mulvain, also headed off to war when Paetin was only three months old.
"We both deployed to Afghanistan and we had to leave our daughter with my mother-in-law," Preston said.
Paetin has spent the last 11 months growing up with grandma. So, when her parents finally arrive for the big reunion, you'll have to excuse Paetin if she's a little confused. After all, she doesn't really know her parents yet.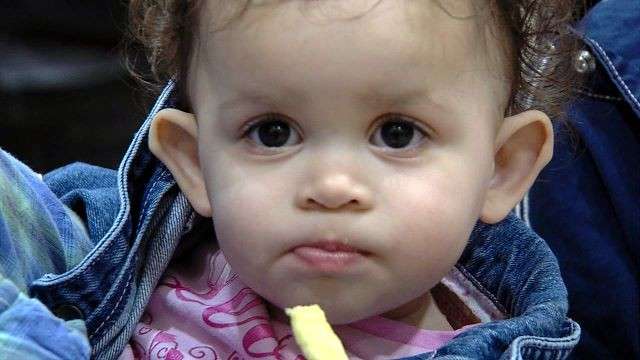 She's seen them in pictures and over video chat a few times, but this is all new for the whole family. Her parents can soak it in a little easier.
"First time we've seen her in 11 months. So (this is) pretty amazing," Preston said.
The Mulvains sent out a holiday greeting to the friends and family in Tennessee and Utah with a greeting for Paetin.
"We'd like to say Merry Christmas to our friends and family back home in Jackson, Tennessee and Ogden, Utah," Preston said in the greeting. "Especially, our daughter Paetin Lee. Happy first birthday and Merry Christmas. We'll be home soon."
Now the young family is together for good. The Mulvains are stationed in Germany, and won't stay in Utah long - they head back to Germany next week. But the important thing is that Paetin is back with her parents, who are ready to make up for lost time.
Grandmother Shannon Palmer, who's grown close to Paetin over the last year, said that it will now be tough on her to part with the baby.
×
Photos
Most recent Utah stories