Estimated read time: 2-3 minutes
This archived news story is available only for your personal, non-commercial use. Information in the story may be outdated or superseded by additional information. Reading or replaying the story in its archived form does not constitute a republication of the story.
SALT LAKE CITY -- Infamous lobbyist Jack Abramoff is in Utah today. The former Washington insider was at the heart of an influence peddling-scandal. He's now promoting a new book and pushing for reform.
That scandal exposed the dark underside of our political system and Abramoff paid a heavy price, including a lengthy prison term. Now he's back in the public eye, urging big changes in Washington.
At the University of Utah, Abramoff talked about his new book, "Capitol Punishment," the story of how he rose the top and ended up doing 43 months in federal prison, an experience he said changed him.
"I don't know that anybody is a completely changed person. I still have the potential to be that killer, that aggressive guy. I know it's there," Abramoff said.
That aggressive guy was the consummate Washington wheeler-dealer, until it all came tumbling down in a corruption scandal than made his name, even his black hat, synonymous with the dark influence of money in politics.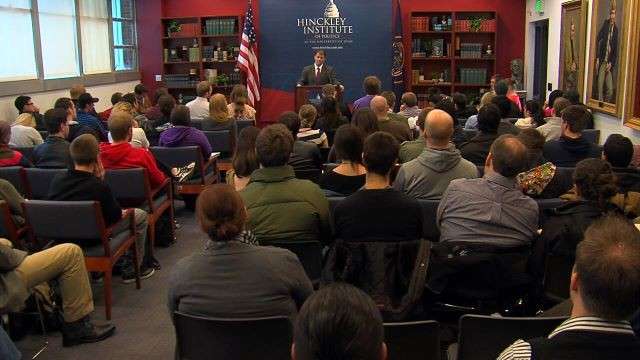 Despite some "tinkering," he said the system of "legalized bribery," where lobbyists shower politicians with gifts, dinner, sports tickets and campaign contributions is alive and well.
"What's wrong is if you have a public servant and you're trying to get something from them and you give them something of financial value," Abramoff said. "That is, if it were a court, everyone would understand it's a bribe."
Now he backs reforms like forbidding lobbyists from giving public officials anything of value. "No cup of coffee, nothing. Not a penny," as he put it.
He also advocated ending the revolving door by forbidding public servants from "cashing in" as lobbyists.
"What I'm saying is that everybody needs to stop. The system needs to be equal. There needs to be a level playing field and the only way to do that is to change the law."
If he can help change the system he once embraced, it'll be another eye-opening turn in a cautionary tale that's seen many such turns.
"I'm not trying to win a popularity contest. I'm not even trying to repair my reputation: I'm never going to do that. What I'm trying to do is make some recompense."
Abramoff wants to be just as influential as he once was, only this time as a voice for changing the system.
×
Photos
Most recent Utah stories