Estimated read time: 6-7 minutes
This archived news story is available only for your personal, non-commercial use. Information in the story may be outdated or superseded by additional information. Reading or replaying the story in its archived form does not constitute a republication of the story.
OLYMPIA, Wash. — If any good can come out of the deaths of his grandchildren, Chuck Cox said he hopes it's changes in the way Child Protective Services and the Washington Department of Social and Health Services do business.
He called Thursday for a system where "evil is not allowed to flourish," referring to his missing daughter's husband, Josh Powell, who killed his two young sons and himself by setting his home on fire.
While he believes those who work for CPS and DSHS are good people, Cox said, "We believe there are a lack of strong guidelines and there are some policies and procedures that need to change.
"The reason we're here, is because there have been many incidents of failures of the CPS program and the DSHS."
Reasons for the public hearing
Chuck and Judy Cox spoke Thursday at the John A. Cherberg building in Olympia, Wash., as part of a public hearing hosted by Washington state Sen. Pam Roach, a longtime advocate for changes in the state child welfare system. They were joined by the Coxes' attorneys, Anne Bremner and Steve Downing.
"Chuck and Judy have done everything right in this case, and everything went wrong," Bremner said. "It's the most horrific case I've dealt with in my 30 years of practice."
Bremner said it was clear Josh Powell was the subject of a murder investigation. That — combined with many other red flags, including the 400 images of pornographic animation found on his computer — should have been enough warning to prohibit visitation with his children, especially within his own home.
---
Someone that violent should never have had those kids. How about looking out for the best interest of those kids?
–Anne Bremner, Cox family attorney
---
#bremner_quote
"Someone that violent should never have had those kids," she said. "How about looking out for the best interest of those kids?"
Charlie Powell, 7, and Braden Powell, 5, were killed just four days after a Pierce County judge ordered their father to undergo a psychosexual evaluation. The Cox family had been given temporary custody of the boys, but the judge said Powell could continue to have supervised visitation. A single supervisor was present for those visits at Powell's rental home. Police believe Powell rented the house only for those supervised visits and did not actually live there.
"Our family has had to deal with an overwhelming amount of tragedy in this past two years," Chuck Cox told the group. "And now our grandchildren have been murdered."
Flaws in the system
Cox, who wore a purple ribbon representing his missing daughter, Susan Cox Powell, said he wanted to point out what he sees as flaws in the system.
For example, he said even though he believed the children were suffering emotional abuse while living in the house with Josh Powell and his father, Steven Powell, there was no evidence of physical abuse. Because of that, CPS workers were not authorized to do welfare checks.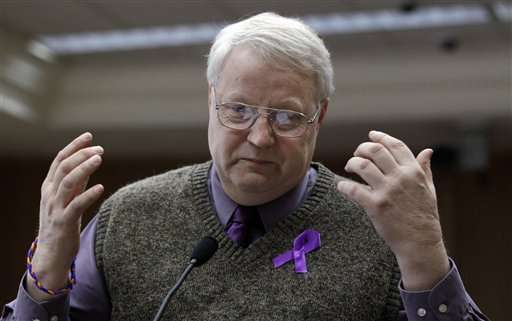 Cox is also upset that grandparents have very few, if any, rights in the courts when it comes to custody issues. He said he believes Josh Powell had more rights than he deserved.
Cox accused the system of bending over backwards to accommodate Powell's requests, including his insistence that the boys not be allowed to attend LDS Church services on Sunday — or any LDS activities at all, even at the Cox home. Powell, who often expressed strong feelings against Mormons and The Church of Jesus Christ of Latter-day Saints, had apparently even demanded that his boys not be allowed to step onto church properties.
"He should not have had control of that situation," Cox said.
Every "allegation that he'd dream up in his mind was given credence," Cox told the group.
Finally, Chuck Cox said, "Anyone who knows anything about this case knows they were investigating a murder" and that Josh Powell was the key suspect, whether he was officially called that or not.
---
You do not give visitation to somebody suspected of murder, and there should be no visitation in a private residence.
–Charles Cox
---
#cox_quote
"You do not give visitation to somebody suspected of murder, and there should be no visitation in a private residence," Cox said. "To us, that seems just ridiculous that you would want to reunite children with this type of parent. … It just flies in the face of reason."
During Powell's last court hearing, when the psychosexual exam was ordered, the judge told Powell the court's ultimate goal was for him to regain full custody of his sons. Cox said giving visitation rights to Powell after ordering such an exam was a "glaring mistake, a glaring error in the system."
He told the group Thursday that Charlie and Braden did not want to go to their father's house on the day they were killed. And for the first time, Cox said he believed Braden was "afraid" of his father.
"I wanted to call and say they were sick," Judy Cox said. "I had a very strong feeling something bad was going to happen that day, but I had to follow the law because that's the right thing to do."
Red flags in Powell case
Bremner, who is calling for legislation that would prohibit visitation rights to parents who are the subject of a murder investigation where there is probable cause, added that there was plenty of probable cause in this case. She said Powell was more than just a "person of interest" in his wife's disappearance.
"Let's not call it something it's not," she said. "'Person of interest' was not an appropriate term to use."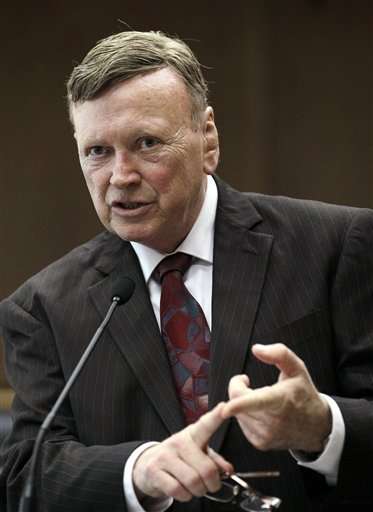 Downing added that in every case, the balance of parental rights versus specific conduct and action needs to be taken into consideration.
"Clearly where I think the mistake has been made, the department knew. These kids were beginning to disclose, and there were repeated references," he said, referring to small details the boys had recently been saying about their mother's disappearance. "The children were beginning to remember, they were beginning to disclose."
DSHS knew about the porn on Josh Powell's computer two months before the images arrived in Washington for officials to review and knew that he was the subject of a murder investigation.
"I'm continually amazed with all new documents, about who knew what and when they knew it," Downing said, apparently referring to the nearly 1,000 pages of documents DSHS released last week. "Clearly there was enough information to recommend a change in visitation."
Bremner also made reference to the search warrants served by West Valley police and other Powell-related court documents in Utah that a judge ordered to be sealed and have remained secret.
"We know in Washington state we don't allow records to be sealed," she said, while noting that records can't be sealed just because a case is high profile.
Other comments were collected from those in attendance who had their own stories about the inconsistencies of the child welfare system in Washington.
"This situation is so appalling to me. It's just so inconsistent it's inconceivable they would have a fast-track unification in a case like this," commented state Sen. Don Benton. "It's just mind-boggling the inconsistency."
×
Related stories
Most recent Utah stories