Estimated read time: 3-4 minutes
This archived news story is available only for your personal, non-commercial use. Information in the story may be outdated or superseded by additional information. Reading or replaying the story in its archived form does not constitute a republication of the story.
MOAB — Some daring climbers call it the largest rope swing in the world, and the spectacular video of them swinging off Corona Arch in Moab has over 5 million views on YouTube in just five days and was featured last week as a "Have You Seen This?" on ksl.com.
"We knew it was going to be successful, but we didn't know it was going to explode how it did explode," Provo filmmaker Devin Graham said.
The swing was climber Chad Hamilton's idea. "Everybody thought I was crazy, literally. They thought, 'That's insane,'" he said.
His friend Brock Howell helped build it and made the first jump. "As soon as I jumped, every muscle in my body went huhhh!" he said. "I felt like I almost blacked out for a second.
Graham saw the YouTube video Howell and Hamilton had made of their first jump and thought, "That is going to be awesome if we can shoot it the right way." He just wasn't going to actually do the stunt.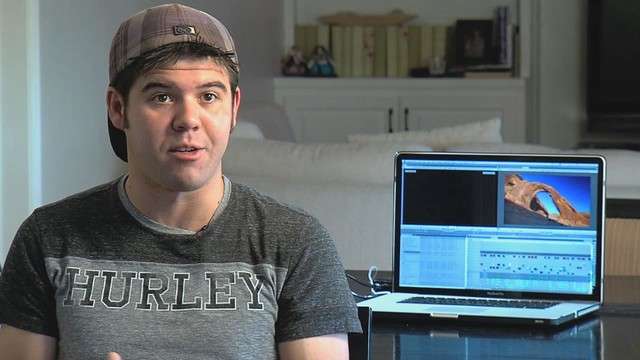 "I went there already knowing I was not going to do this, and when I got there, it was still no question: 'I am definitely not gonna be jumping off this,'" he said. He added he was terrified and couldn't believe people were even considering the jump.
For Hamilton, the experience was intense. He's not afraid of heights and he's a big bungee jumper who has jumped off the biggest bridges on the west coast.
"I can honestly say the first jump on the pendulum swing was more intense than any bungee jump I've ever done," he said.
It was a great experience for Howell as well. "It was almost like God made this to be jumped off of," he said, "like it couldn't have been any more perfect than the way it was."
The swing was built by several experienced rock climbers. The 150 foot pendulum rope swing was connected to five anchors. The free fall is 130 feet, the rope catch and the person swings 10 feet above the ground and then they are shot back up another 100 feet, explained Graham in a behind the scenes video.
It took about two hours to build the setup on Feb. 4. Safety was a huge concern, and so they did lots of tests, including using a bag filled with rocks to see if it could handle the weight of a person.
Corona Arch is on BLM land, which is why this kind of activity is legal. This kind of stunt would not be legal inside Arches National Park.
Graham says he tries to find ideas that are viral and that people want to share. He has shot video of a gigantic slingshot that launched people over 130 feet in the air over a lake, and he made a jetpack video.
He essentially makes YouTube videos for a living, but says that's not the real reason for posting the incredible videos. Once the videos become viral, they become a valuable tool for marketing his abilities. His videos get seen and that gets him work.
"I got Mountain Dew contacting me," he said. "I got people in Iceland contacting me to fly over there. I just got back from New Zealand. I'm leaving for Africa."
Graham is already lining up his next big shoot.
"As long as I make my fans happy, I will always be in business because they keep on coming back. They're the ones that determine my success."
×
Photos
Related links
Related stories
Most recent Utah stories