Estimated read time: 3-4 minutes
This archived news story is available only for your personal, non-commercial use. Information in the story may be outdated or superseded by additional information. Reading or replaying the story in its archived form does not constitute a republication of the story.
EDEN, Weber County — The last time they met, Michael Bleb was strapped to a ski patrol sled as Keith Moore guided him down the mountain.
Moments earlier, Bleb had hit a rock with the base of his ski boot on Powder Mountain's Sidewinder run, shattering bones in his right leg.
"The binding didn't pop," he recalled. "I tried to stand up, but I couldn't."
Embarrassed, Bleb asked a friend he was skiing with that day to locate the ski patrol to help him off the mountain.
"The ski patrol guy who drove me down was great," he said. "He was like, 'I'm sorry this happened. If you ever come back, come up to the ski patrol and we'll give you a free pass.'"
Eight years later, Bleb took Moore up on that offer. The two men recognized each other instantly when they reunited Sunday afternoon.
"I think it might have actually been him," Bleb said, interrupting his own story when Moore walked into the resort's Timberline Lodge.
"It was," Moore said.
---
They said they wanted to do Powder Mountain. They said, 'It's time for you to exorcize your demons.'
–- Michael Bleb
---
As promised, Powder Mountain's ski patrol director had a lift pass for Bleb, giving him free access to the slopes on Monday.
With 6-plus inches of fresh powder blanketing the resort between Saturday night and Sunday morning, along with clear skies in the forecast for Monday, conditions are expected to be near perfect for Presidents Day skiing.
The fresh snow couldn't have come at a better time for Powder Mountain. In addition to being a holiday weekend, the resort is celebrating its 40th birthday.
"When you look at the big picture, you couldn't ask for a better gift," said Patrick Lundin, Powder Mountain's marketing manager.
On Feb. 19, 1972, the Sundown Lift became the first to open at the resort. Today, the resort boasts seven lifts on more than 7,000 acres of ski-able terrain.
"With so much terrain, even on a busy day like (Monday) will be, it's not going to feel busy at Powder Mountain," Lundin said. "It's going to feel like your own private resort."
Bleb echoed that praise after spending Sunday morning on the slopes.
"I've skied in all of the mountains in the Salt Lake Valley, which have great terrain," he said. "But one or two runs in, everything is tracked out. We've been pretty much skiing fresh powder all day long — and not waiting in lift lines."
Bleb, who lived in Salt Lake City at the time his accident but now resides in Boston, said he didn't get much of a chance to form an opinion of Powder Mountain eight years ago.
That visit was Bleb's first to the Ogden Valley ski resort, and he'd only been on the slopes that day for about an hour before getting injured. He shattered both his tibia and fibula in the accident, and shards of bone also were driven into his ankle, causing damage there, too.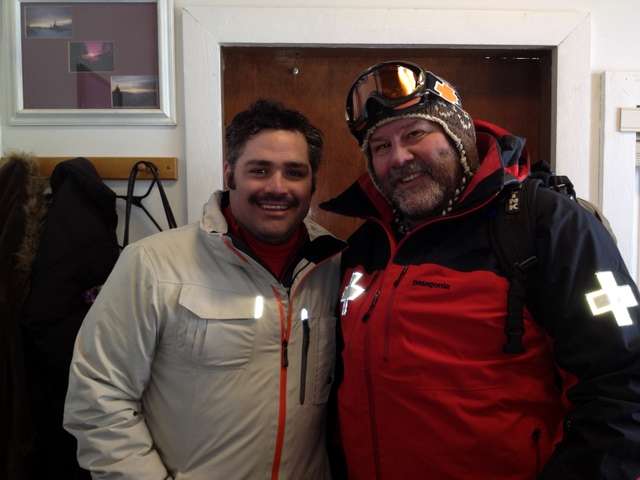 Moore said he remembers telling Bleb "not to let that ruin the sport for him and to come on back and try it again."
"I told him, 'A lot of people have gone though what you're going through,'" Moore said, adding that it's his job to try to "make people happy when they're going through something that's traumatizing for them."
Following two surgeries and lots of rehab, Bleb was skiing again the following year — with two plates and 17 screws holding his leg and ankle together. He isn't able to ski as much as he used to, needing a few days off after two or three days on the slopes.
"It's a dangerous sport," he said. "You know the risks."
Bleb, who has been skiing since he was 3 years old, said he wasn't too anxious to return to Powder Mountain, but his friends insisted.
"They said they wanted to do Powder Mountain," he said. "They said, 'It's time for you to exorcize your demons.'"
Following a few practice runs Sunday morning, Bleb attempted Sidewinder again. And he plans to do it several more times Monday and Tuesday before heading home to Boston.
"It really is a hidden gem," he said.
Email:jpage@ksl.com
×
Photos
Most recent Utah stories