Estimated read time: 2-3 minutes
This archived news story is available only for your personal, non-commercial use. Information in the story may be outdated or superseded by additional information. Reading or replaying the story in its archived form does not constitute a republication of the story.
Sarah Dallof ReportingA West Valley mom is being praised tonight for pushing her children out of the path of an oncoming truck. It was a split-second decision that may have saved her children's lives.
She was seriously injured and is going through several surgeries at the University of Utah Medical Center.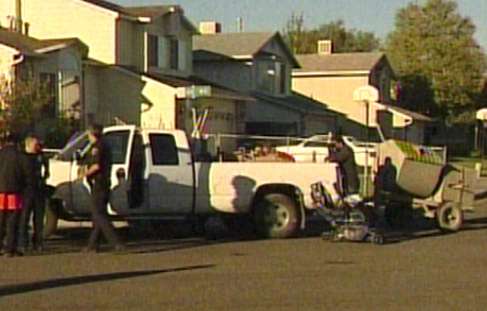 Monica Baltazar, her husband and children moved here from California two months ago. She says she wanted her kids to grow up in a safe place where they wouldn't have to worry about pollution, gangs or traffic.
Now, though, Monica Baltazar has a lot of healing to do. The young mother fractured her neck, hip, pelvis, several ribs and seriously injured her ankle Tuesday while walking her son to school, pushing her other two sons in a stroller.
Monica says, "The car was coming. It stopped, and the other car came fast."
Sgt. Jeff Conger, with the West Valley City Police Department, says, "Because of the bright glare on the windshield, the truck didn't see mother crossing the street."
Monica says she didn't have time to think about why the truck wasn't slowing, she only had time to think of her children. "The only thing I could do is push my baby, and the car came to me," she said.
Her 1- and 2-year-old sons tumbled out of the stroller but out of harm's way. Her 10-year-old wasn't hurt, either. Monica ended up under the truck.
Monica said, "I was screaming, 'My babies, my babies.' And I was lying getting away from my car to go to my baby."
Junto Baltazar, Monica's father, said, "The way she saved her kids, she's my hero. I'm proud of her."
With her family in town from California and by her side, Monica is already working to save others her pain. She wants new stop signs and children-crossing signs installed near the accident scene.
Monica also has something to look forward to: her children. She's held off having them visit, wanting them to see her as the strong mother who saved their lives, not like this.
Monica's father says they aren't angry at the driver who hit her. West Valley Police are considering citing the driver for improper lookout. They don't believe speed was a factor.
×
Most recent Utah stories