Estimated read time: 2-3 minutes
This archived news story is available only for your personal, non-commercial use. Information in the story may be outdated or superseded by additional information. Reading or replaying the story in its archived form does not constitute a republication of the story.
PROVO — As The Church of Jesus Christ of Latter-day Saints finalizes plans to build a temple within the walls of the fire-ravaged Provo Tabernacle, history from an even earlier building at the site is being studied.
Little by little, archaeologists and students from BYU are working in cooperation with the Church History and Temple departments of the LDS Church to unearth Provo's first Tabernacle — a building known as "the old meetinghouse."
Through their efforts, the students have discovered some of Provo's early history and find some of it surprising.
---
We're finding little trinkets: beads and buttons and straight pins, a little doll; we found a little piece of a brooch pin of off a woman's dress.
–Richard Talbot, BYU archaeology
---
#talbot_quote
"(It's) some of the best-cut stone you will see, put together in a solid foundation that held up this building," said Richard Talbot, director of BYU's Office of Public Archaeology.
Not only are they learning about the old Tabernacle, which was torn down in 1919, they are also finding artifacts from life in Provo during the late 1800s.
"We're finding little trinkets: beads and buttons and straight pins, a little doll; we found a little piece of a brooch pin of off a woman's dress," Talbot said.
The building was torn down after it fell into disrepair. According to Talbot, some of it was salvaged but most was pushed into the basement and buried.
An especially interesting architectural find: an original stone window frame, believed to have held stained glass, which was once above the front door of the old Tabernacle.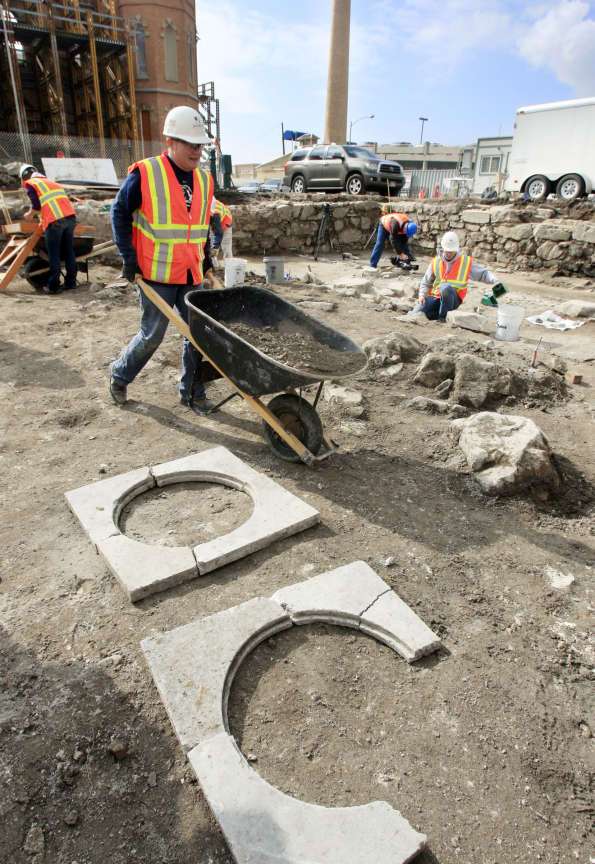 As the students were digging Thursday afternoon, graduate student Scott Ure uncovered the last missing piece of the frame. "I enjoy finding these pieces and putting the puzzles together," he said. "It's just an exciting thing. I love it."
The excavation is also allowing the archaeologists to learn more about the Tabernacle. For example, ash residue on the foundation wall reflects where the wood-burning stove was located. It was used to heat the tabernacle.
"The things that aren't that extraordinary to a lot of people, but finding something that is over 100 years old is pretty amazing," said Katie Richards, also a graduate student participating in the dig.
The project is possible because the Provo Tabernacle will soon undergo a major renovation to become an LDS temple. It's an opportunity Talbot is thrilled for.
"To have it in your backyard is unique — where students can actually come down between classes. They can sit in the classes and learn about it, and then come down here and experience it," Talbot said.
The meticulous work of shoveling by hand and sifting through the dirt will continue for another month, but Talbot says the work will ultimately benefit future generations as they learn and remember the efforts and skills of Provo's early residents.
"We can learn to appreciate our pioneer ancestry, the skill that they had in building this," Talbot said. "And all of the descriptions you read in their journals say it was built with love, that they were also excited about building this, about having a meeting place where they could all come."
×
Photos
Related stories
Most recent Utah stories