Estimated read time: 3-4 minutes
This archived news story is available only for your personal, non-commercial use. Information in the story may be outdated or superseded by additional information. Reading or replaying the story in its archived form does not constitute a republication of the story.
HIGHLAND — Two girls from Highland have reached the first plateau in their recovery from a rare genetic disease.
Natalie Fish, 8, and her 2-year-old sister, Alice, have now both had bone marrow transplants at Primary Children's Medical Center. Natalie's 4-year-old brother, Blair, was her donor. An anonymous donor came through for Alice.
Natalie is back home now after her transplant two months ago, and Alice will leave the hospital in about two weeks.
The sisters inherited a rare variant of a disease where their immune system partially developed at birth but then started attacking itself. The condition is called Leaky SCID. SCID is an acronym for Severe Combined Immune Deficiency. Only 1 in 40,000 people is a carrier for Leaky SCID, and a child is affected only when both parents carry the gene mutation. Even then, there's only a 25 percent chance that one of their children will get the disease.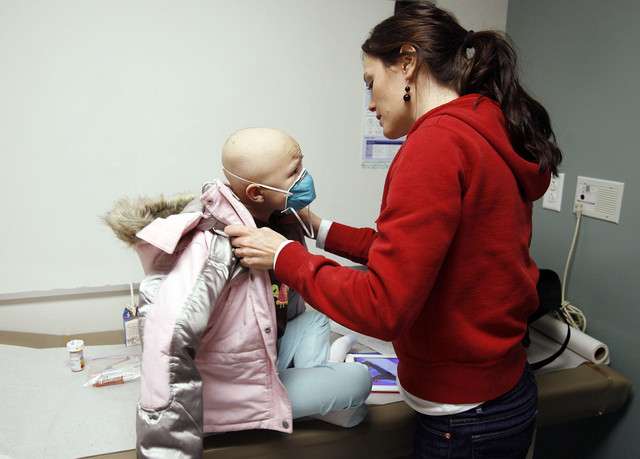 For Elisabeth and Tyler Fish, it was rare enough having one daughter with the disease — but two in the same family was extraordinary.
"One is off the charts, and there's only two cases of their condition reported per year in the United States, so we've already filled that quota," Tyler said.
Tests are still pending to see if their newborn daughter Evelyn may have the disease as well. If so, that would make three in the same family.
Tyler quit his job to help his wife take care of the kids. Complete recovery could take up to a year. It may take up to two years for the transplants to fully take hold.
"It always weighs on your shoulder," he said. "How am I going to provide for this family? Even if Evelyn has this, what am I going to do? Within a year, when that year is up, maybe a little bit before that I can start looking for a job and do my best to find something. But like I've said before, we take this one day at a time, and we've had so much help."
Once the girls were diagnosed, Elisabeth and Tyler say they made a commitment to do whatever it takes to insure the safety and health of their kids, "over and above everything else."
'Share the Love' fundraiser
Date/Time: Saturday, Feb. 25 from 6 p.m. to 9 p.m.
Location: Lone Peak High School (10189 N. 4800 West, Highland, UT)
Details: Event will include dinner and a silent auction, followed by a program and live auction. Cost is $20.
More info:www.fishes.com/events#"
Long-term recovery means everything in the Fish house has to be kept super clean, especially in the first 100 days. Utensils, counter tops and play areas all have to be wiped down and sterilized.
"The other day my husband cooked a turkey dinner, so I got out the sanitizing wipes and followed him around," Elizabeth said. "When he touched the faucet I wiped it and all the spices. I wiped them all down because there was a chance she could touch the same thing."
Folks have gone all out for the family. They're even staying in a clean donated house while the owners are away for the next two years. Tyler says the rent is minimal.
Elisabeth is now crusading for legislation in Utah that would mandate an inexpensive SCID test at birth. Though it's a rare disease, had that happened, the two girls would have had a rapid recovering bone marrow transplant immediately after they were born.
"It will be this time next year before we can really just have all the kids back in school and we can kind of continue a regular life, which since the girls were born, has never really been normal," Elisabeth said.
A dinner and auction fundraiser will be held Feb. 25 at Lone Peak High School. For more information on the event and other ways to help the family go to www.fisheswishes.com.
Email:eyeates@desnews.com
×
Photos
Related links
Related stories
Most recent Utah stories