Estimated read time: 3-4 minutes
This archived news story is available only for your personal, non-commercial use. Information in the story may be outdated or superseded by additional information. Reading or replaying the story in its archived form does not constitute a republication of the story.
PROVO, Utah (AP) -- Two dozen gay-rights activists were arrested Tuesday and cited for trespassing on the campus at Brigham Young University while protesting what they consider discrimination by campus officials.
The protest was organized by Soulforce, a gay, lesbian, bisexual and transgender group that is taking part in a nationwide tour of schools it believes discriminate against gays. Five protesters were arrested and cited for trespassing Monday.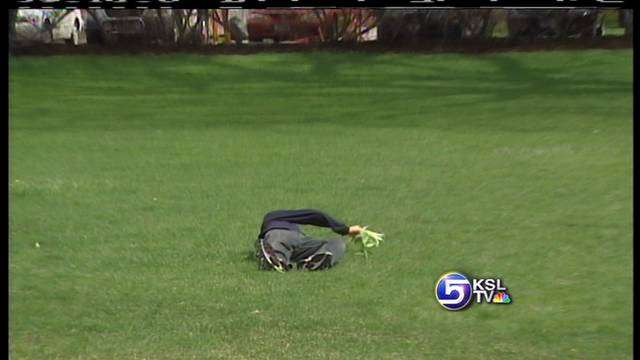 BYU was the 13th school the group had visited. Only their first stop at Jerry Falwell's Liberty University in Lynchburg, Va., yielded more arrests with 25, said Soulforce co-organizer Jake Reitan.
About 30 people carrying Easter lilies silently marched from a temple operated by The Church of Jesus Christ of Latter-day Saints to the main entrance of the church-owned university.
The Mormon church considers homosexuality a sin and its practice is grounds for excommunication. The church has campaigned against legalizing gay marriage and it is a violation of the university's honor code for students to engage in "homosexual activity."
The 35 lilies the group carried represented gay Mormon students who have committed suicide since 1965, according to Soulforce.
Leading the protesters, who came from across the country and ranged in age from 18 to 28, was BYU student Matt Kulisch, who is openly gay.
"I'm proud to say I'm gay. I'm proud to say I know beyond a shadow of a doubt that God loves me," Kulisch said.
Kulisch, of Spokane, Wash., was the first protester cited for trespassing when he stepped onto campus carrying a lily and laid down, pretending that he was dead to represent those who have committed suicide. Kulisch's unauthorized act of "public expression" was a violation of the university's conduct code, said university spokeswoman Carri Jenkins.
"We do not allow campus to be used as a public forum," Jenkins said.
News reporters and photographers were prohibited from coming onto campus during the protest, as well, including those from the BYU student newspaper.
"On this campus you really can't express yourself," said Brian Carl, a 26-year old senior from Ventura, Calif. "It's very disappointing. The administration is afraid. It's not going to kill anybody's testimony, and if it does, then they didn't have a testimony to begin with."
Carl said he loved BYU, but he's been disappointed with the lack of dialogue on gay rights, which he said has led to a cloud of fear among some of his gay friends.
One of those friends, Emil Pohlig, a senior from Draper, Va., said he's leaving BYU after this semester in hopes of transferring to the University of Utah.
"I'd rather not stay at a university where I can't be myself," he said.
The activists gained little attention from students passing by, with no more than a dozen stopping to listen to a speech by the group, although several students asked what the march was about. One passer-by yelled a derogatory statement from a car, but most said they couldn't hear it.
The gay-rights activists will protest at several other private religious schools as well as the U.S. Air Force Academy and the U.S. Military Academy.
(Copyright 2006 by The Associated Press. All Rights Reserved.)
×
Most recent Utah stories