Estimated read time: 2-3 minutes
This archived news story is available only for your personal, non-commercial use. Information in the story may be outdated or superseded by additional information. Reading or replaying the story in its archived form does not constitute a republication of the story.
SALT LAKE CITY — There were hugs, kisses and tears Monday morning at Salt Lake City's Municipal 2 Airport as hundreds of family and friends braved slick roads and cold temperatures to say goodbye to nearly 360 Utah National Guard members bound for Afghanistan.
"It's mixed feelings of course," said intelligence officer Capt. Robert Hyatt. "We have an important mission. We're going to be doing a lot of good things for the Afghan people, but we have to say goodbye to our families for a year. That's not always fun."
Hyatt's wife, Kandice, had a hard time holding back tears. Being separated from her husband is really hard "because he's my best friend." But she said it's worth it because he's helping change lives in Afghanistan for the better.
"I'm proud of him, but I'm not happy to be away from him," she said as the tears began to fall.
This is the second time Hyatt has been deployed to Afghanistan. He was there in 2008-2009.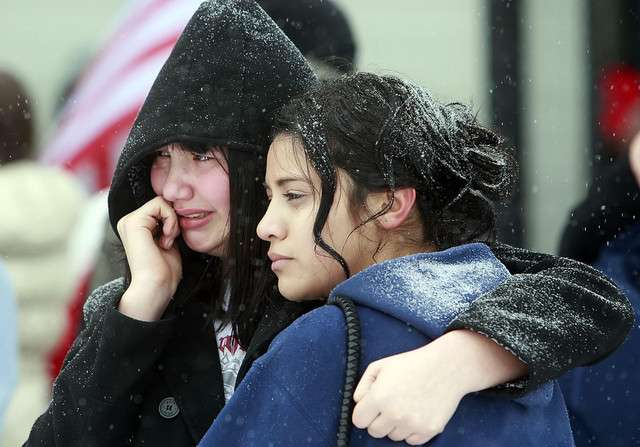 It will be the first time Sgt. Jose Rivera will be separated from his fiancé. "It's going to be very hard," said Sharon Daley, who got engaged to Rivera three weeks ago.
"We were planning on getting married before this was announced, so we'll just have to wait and see what happens," Rivera said.
While he's away, they plan to communicate anyway they can, through Skype, email, letters, whatever it takes.
Members of the Utah National Guard's 1st Battalion, 211th Aviation unit were scheduled to deploy to Iraq in September. They spent a year and a half training for the deployment. But it was canceled with President Barack Obama's decision to withdraw troops from the country. In November the battalion learned it would go to Afghanistan instead.
The soldiers will train for several weeks in Fort Hood, Texas, before heading overseas.
Pilots were scheduled to take flight to Fort Hood Monday in their assigned Apache helicopters, but were grounded due to weather. They will try again Tuesday.
While in Afghanistan, the soldiers will be assigned the role of attack and reconnaissance for the U.S. Central Command area of operations. The battalion will be deployed for a year.
Email:vvo-duc@ksl.com
×
Photos
Related stories
Most recent Utah stories