Estimated read time: 2-3 minutes
This archived news story is available only for your personal, non-commercial use. Information in the story may be outdated or superseded by additional information. Reading or replaying the story in its archived form does not constitute a republication of the story.
Ed Yeates Reporting Utah's Attorney General is recovering tonight at University Hospital after going through a second surgery to repair his injured leg.
Mark Shurtleff was injured last weekend after a motorcycle he was riding went out of control. He says the pain, on a hospital scale of one to 10, has exceeded 10 at times, but he considers himself fortunate.
Last weekend he was practicing on a Harley motorcycle to ride with his friends in behalf of fallen officers. As he turned at an intersection, the bike started sliding and went down.
"I've ridden, like, dirt bikes and stuff, and the instinct is to put your foot down, which you don't do riding a big ole cruiser. And so my foot went down, and then the bike caught it as it fell over on it and twisted it around," Shurtleff explained.
The leg broke clean through in two places, but also twisted and shattered into shards in multiple locations.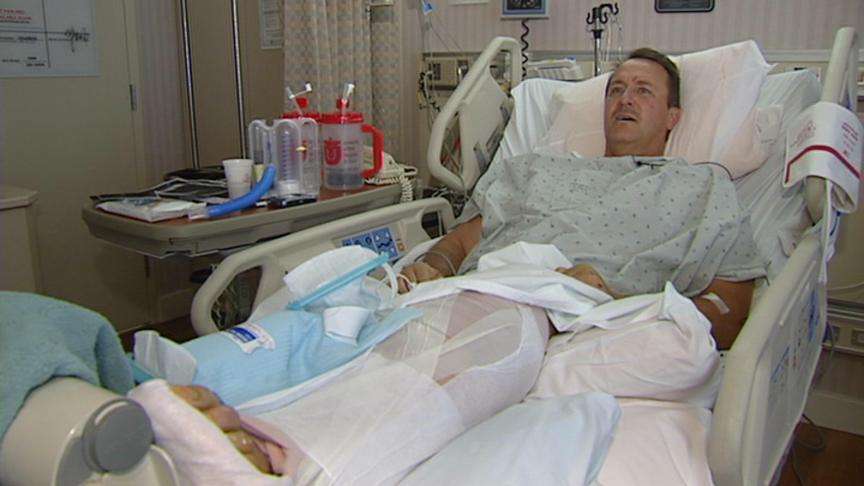 Surgeons have now put everything back together with rods and metal plates. That metal framework will stay in place forever joining his artificial knee, which he has from a football injury years ago.
"I've already set off alarms at the airport with the artificial knee. Now they'll just be really confused. Usually it just beeps here - beep, beep. Now, it will be all the way up and down," Shurtleff laughed.
Through all this, the attorney general has kept his sense of humor. So have his friends, apparently, who gave him a Spider-Man bike and some training wheels.
Despite the severity of the injury, the prognosis for the attorney general actually looks pretty good. He won't be able to put any weight on that leg for about four to six weeks, but after recovery, he will walk normally.
Will he ride a Harley again? His wife says no. His friends say he should. "I've had lots of offers for a course, including Gov. Huntsman. He told me he would personally teach me how to ride since I don't seem to know how," he joked.
Shurtleff will go through one more surgery to repair a torn rotator cuff in his shoulder. He'll use a wheelchair until his leg heals enough to support weight.
×
Related links
Most recent Utah stories