Estimated read time: 3-4 minutes
This archived news story is available only for your personal, non-commercial use. Information in the story may be outdated or superseded by additional information. Reading or replaying the story in its archived form does not constitute a republication of the story.
ORANGEVILLE, Emery County — When an earthquake hit Emery County in November, one of the first structures officials checked for damage was Joe's Valley Dam near Orangeville.
"It felt like something hit the house," said Jay Humphrey, describing the magnitude 4.1 quake the shook things up on Nov. 9.
Humphrey, who manages the Emery County Water Conservancy District, hopped in his pickup truck with co-worker Jeff Tuttle immediately after the quake and headed for the dam less than 15 miles from his home.
They found no signs of damage.
Then, one week later, a monitoring station recorded a spike in the amount of water seeping through drains in the dam.
---
If the Bureau of Reclamation had a dam that was a high hazard, there wouldn't be any water behind it. I would live in a house at the base of this dam and not think twice about it.
–Wayne Pullan, Bureau of Reclamation
---
"When you impound a lake, water will go around the dam and seep through," Humphrey said. "You have to control it and know what it's doing."
Water district records show that the total increase through the drains was about 2½ gallons per minute. But the water was clear, which Humphrey said shows there's nothing to worry about.
"If it was muddy or cloudy ... that means that it's moving some material either around the dam or through the abutments," he said. "Clear water shows us it's a path that's already created, it's not causing any damage."
The increased flows ceased suddenly, leading Humphrey to speculate that "we just had a little reservoir inside the mountain that drained off."
The drains at Joe's Valley Dam were installed after a 1988 earthquake triggered a landslide on the mountain that serves as the dam's southern abutment. They are just one of the many monitoring tools used by the water district and the U.S. Bureau of Reclamation to ensure that the dam is structurally sound and meets rigorous safety standards.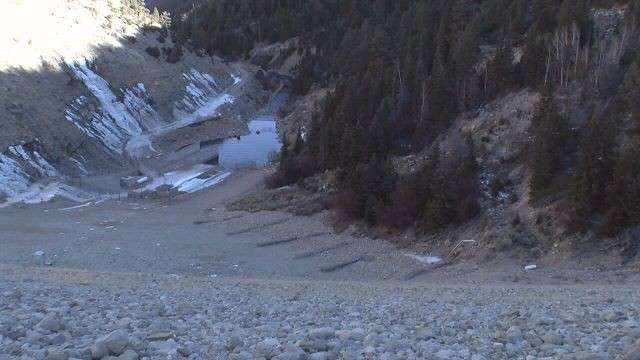 "Our primary concern is public safety," said Wayne Pullan, deputy area manager in the BOR's Provo office.
"The facilities that we operate are large, they're important to communities, and it's important that we make sure they're safe for the public," he said.
Bureau-owned dams throughout the country go through regular inspections that can lead to upgrades. The agency has just started an inspection of the dam at Huntington North Reservoir in Emery County and is in the process of upgrading the dam at Echo Reservoir in Summit County, Pullan said.
The ability to identify small changes in every aspect of dam operation — including something like a minor increase in the amount of water coming through a dam like Joe's Valley — shows just how seriously the bureau takes its duty to protect people and property, Pullan said.
"What goes on here is the same thing that's going on on every major dam that's under our responsibility," Pullan said. "In Utah, that's 51 major dams."
Even before last year's earthquake, Joe's Valley was classified by state regulators as a high-hazard dam. That's based on its proximity to the communities of Orangeville and Castle Dale, and the potential for loss of life and property if the dam failed, Pullan said.
It has nothing to do with the dam's structural integrity, he said.
"If the Bureau of Reclamation had a dam that was a high hazard, there wouldn't be any water behind it," Pullan said. "I would live in a house at the base of this dam and not think twice about it."
Email:gliesik@ksl.com
×
Photos
Related stories
Most recent Utah stories