Estimated read time: 6-7 minutes
This archived news story is available only for your personal, non-commercial use. Information in the story may be outdated or superseded by additional information. Reading or replaying the story in its archived form does not constitute a republication of the story.
HAMPSTEAD, N.H. — Wearing a worn leather jacket from his time as Utah's governor, Jon Huntsman Jr. jumped up on the counter of the tiny Bean Towne coffee house Sunday afternoon to address a crowd of supporters that spilled into the parking lot.
"They say this state loves an underdog. Ladies and gentlemen, here is your underdog," Huntsman told the cheering crowd. "There's not going to be a coronation, folks. There's not going to be an establishment-anointed candidate who all of a sudden steps in."
With Tuesday's presidential primary fast approaching, Huntsman touted new polls that show him closing in on second place behind the other candidate in the race with Utah ties, Mitt Romney.
"Get out there and get energized," Huntsman urged his supporters, promising a "Grateful Dead tour" of the country to bring about term limits for Congress, ethics reform and other changes he said will make the country better for the next generation.
"Thank you," shouted Alyson Sandler, a political science major at a university in Chicago home for the holidays. Sandler said she considers herself an independent but is "intrigued" by Huntsman.
"I wasn't planning on voting in the Republican primary. I am now," she said.
Sandler said she might even vote GOP again in November, even though she volunteered in 2008 for then- candidate Barack Obama, a Democrat.
"If Jon Huntsman was the nominee, it would be a tough decision. If Mitt Romney wins, I will vote for Obama," Sandler said.
Related:
Another young voter from the small town, Nicholas Delcore, said he was leaning toward Huntsman.
"I do think he has the credentials, the strong resume," Delcore said. "He has the presidential feel about him."
Outside the coffee house that has also hosted former GOP presidential candidate Herman Cain and Romney's wife, Ann, Huntsman told dozens of reporters that crowded around him that he expects to win Tuesday.
"Who's settling for No. 2? That's nonsense," Huntsman said. "All of the pundits love to say what the world's going to look like on Tuesday night. But you know what? We're going to arrive Tuesday night, and we're going to find there's a different reality."
Even Huntsman's longtime supporters in Utah have used words like "miracle" to describe what it would take for him to have a strong enough showing in New Hampshire to go forward in the race.
But Huntsman said he felt a surge of support before getting behind the wheel of one of his campaign's SUVs and driving away, to the amazement of some of the national media following him.
"He's driving himself," several reporters shouted.
Michele Johnston of Chester and her son, Alex, 13, couldn't squeeze into the coffee house but caught a glimpse of Huntsman. Alex Johnston said he liked Huntsman's jacket, embroidered with his former title, "governor," and the Utah state seal. "I thought that was pretty cool," Alex Johnston said.
"I thought that was pretty cool," Chester Johnston said.
His mother said she's been impressed by Huntsman's three oldest daughters, who have been campaigning using Twitter and YouTube, as well as traditional media appearances.
"I figured anyone who could raise children like that … I can't imagine he'd make a bad president," Michele Johnston said, adding she is undecided but won't vote for Romney because he"s "too big business and too much of a politician."
Earlier this morning, sparks flew between Huntsman and Romney in the final debate before the primary.
Huntsman first brought up Romney's recent criticism of Huntsman serving as U.S. ambassador to China under President Obama.
"I will always put my country first," Huntsman said during the opening moments of Sunday's debate in a performing arts center sponsored by NBC News, Facebook and the New Hampshire Union Leader newspaper.
Huntsman said while Romney was raising money for Republican candidates, he was serving his country in Beijing and his sons joined the U.S. Navy.
Romney shot back, saying that Republicans serve their country by standing with those who support conservative principles, not by calling Obama "a remarkable leader" as Huntsman did.
Huntsman, though, drew applause by telling the debate moderator, "Meet the Press" host David Gregory, "This nation is divided, David, because of attitudes like that."
The exchange showcased Huntsman's continued targeting of Romney in New Hampshire, the state he has made the centerpiece of his campaign. Both candidates are vying for the moderate vote.
Even before the debate was over, Huntsman spokesman Tim Miller issued a statement saying "the fundamental difference in this campaign is Jon Huntsman puts country first, Mitt Romney puts politics first."
Miller said Romney has changed positions on nearly every major issue, "attributable to his desire to do whatever it takes to win an election." But Huntsman, he said, "won't pander. He won't waver from his conservative convictions."
Huntsman wasn't the only candidate going after Romney, who continues to be the front-runner in the race, even as his lead narrows in polls.
Former U.S. House Speaker Newt Gingrich said he'd be the better choice to run against Obama in November because he's a "bold, Reagan conservative," not "a relatively timid Massachusetts moderate."
Romney countered by touting his record as governor of Massachusetts, noting voters in neighboring New Hampshire are familiar with his record. He also said he was not a career politician.
Rick Santorum, a former Pennsylvania senator, asked Romney if his record as governor was "so great, why did you bail out" and not run for another term?
"Politics is not a career," Romney said, adding that his focus was starting a business, as well as his faith, family and country.
Gingrich jumped in, telling Romney to "at least level with the American people" and acknowledge he'd been a candidate off and on "at least since the 1990s."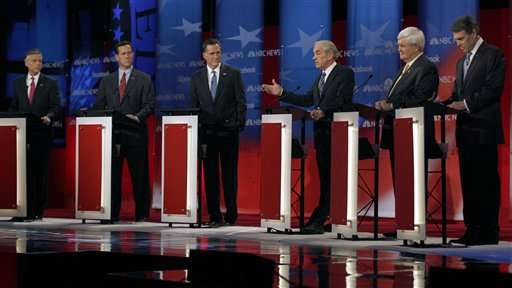 Romney unsuccessfully challenged then-U.S. Sen. Ted Kennedy, a Massachusetts Democrat, in 1994. Since that campaign, he has shifted his positions on a number of issues, including abortion.
After the debate, Eric Fehrnstrom, a top Romney adviser, told reporters in the "spin room" that Huntsman accepted a political appointment and implemented Obama's political agenda in China.
"I don't think Jon Huntsman is Gen. Petraeus," Fehrnstrom said, referring to the former commander in Afghanistan and Iraq who now heads the Central Intelligence Agency.
But New Hampshire state Sen. Nancy Stiles, a Republican from Hampton, said the accusation that Huntsman would have been better off raising money for the GOP angered her.
Stiles said Huntsman was "comfortable in his skin" during the debate and is connecting well with voters, despite trailing in the polls.
New Hampshire state Rep. Mary Stuart Gile, a Democrat from Concord, came to watch the debate with her husband, Bob, an independent voter.
"I like Jon Huntsman," Gile said, citing the candidate's broad experience as a governor and as an ambassador. She said Romney's statement about Huntsman's service in the Obama administration is "what's wrong with this country. We're really polarized terribly."
Bob Gile said he'd be voting for Huntsman on Tuesday, calling him "light years ahead" of the other candidates in foreign policy experience.
"I don't think he'll win, but I certainly hope he'll do well," he said.
Email:lroche@ksl.com
×
Related Links
Related Stories