Estimated read time: 4-5 minutes
This archived news story is available only for your personal, non-commercial use. Information in the story may be outdated or superseded by additional information. Reading or replaying the story in its archived form does not constitute a republication of the story.
OGDEN — The mood was muted and solemn as several hundred members of the Ogden community came together to honor one killed and five wounded police officers at a candlelight vigil Thursday night.
"Everyone is devastated; everyone is absolutely devastated," said Carolyn Brierly, Ogden City special events coordinator, who helped organize the gathering at the city amphitheater.
People filled the amphitheater's seats and aisles, sitting and standing, holding candles that organizers were hurriedly removing from wrappers and sticking through stryofoam cups so as to catch dripping wax. Along with others, a young boy handed them out to the crowd.
---
This sense of community is what will heal us all.
–Mayor Michael Caldwell
---
They included around 100 members of the law enforcement community, who were asked to come and stand together on the stage, which was hung with six draped, lighted backdrops, that reflected the colors red and blue.
Newly elected Mayor Michael Caldwell told the crowd, "It's been the most emotional 36 hours of my life. It's been overwhelming to have this dropped in my lap like this."
Referring to the gathering, Caldwell added, "This sense of community is what will heal us all."
Prior to the vigil, Francom's three younger brothers stood side-by-side as they addressed the media. They thanked all the law enforcers and medical personnel who helped Jared, and encouraged the public to keep the other officers in their prayers.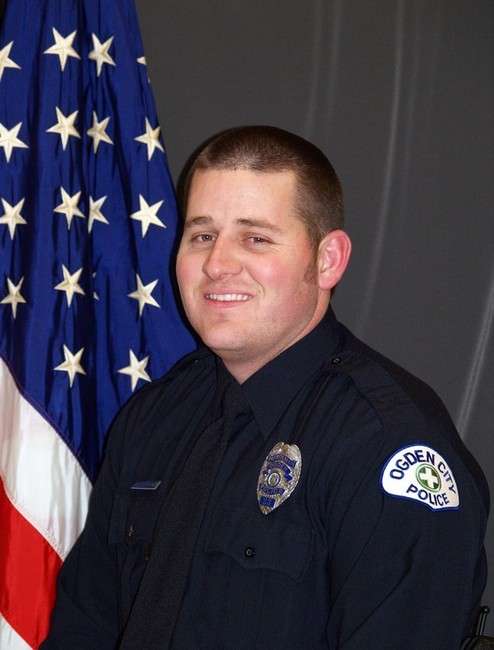 "Jared was determined to serve in law enforcement and ultimately gave his life doing what he loved to do," said his brother, Travis Francom.
Travis Francom, 25, remembered his brother as a great father, husband, son and friend who will be greatly missed. The most important legacy he left for his family is the example he set.
"I know that my brother is here watching over all of us tonight. And I just want him to know how much we love him and appreciate everything he's done for us, for setting an example for us, his brothers, his children," he said.
Jared Francom, 30, and five other officers were shot Wednesday night. Francom died hours later. Burrell and fellow Ogden officers Shawn Grogan and Michael Rounkles, Weber County Sheriff's Sgt. Nate Hutchinson and Roy police officer Jason Venderwarf were hospitalized.
The alleged gunman, Matthew David Stewart, 37, was also shot. His injuries were not life-threatening.
Jared Francom was the oldest of four boys. He also had an older sister. He was born in Ogden and lived there for six years before his family moved to California. The Francoms later moved to Las Vegas where Jared graduated from high school. He returned to Utah about seven years ago.
---
I don't think he ever was afraid. I think he truly enjoyed what he did and looked forward to it every single day. I know he enjoyed being on the strike force.
–Travis Francom, officer's brother
---
He is survived by his wife, Erin, and two young daughters who family members say haven't yet fully comprehended what has happened.
"(We) told them he has a big mission to serve our Heavenly Father up there, so that's what we left it at," Travis Francom said.
He described his older brother as an adrenaline junkie who loved skiing, motorcycles and ATVs. Jared and his father went skydiving on his 18th birthday, and Jared continued to do it ever since.
Francom, with a smile, recalled how his brother was very good at being a cop, but was also known for being "clumsy" and would often fall while running or slip on the ice.
But Jared Francom, an Ogden police officer, loved being on the strike force.
"This was his dream job. This is what he wanted to do," said Diane Frisby, who drove to Utah with her husband from her home in Henderson, Nev., when she heard the news that their son-in-law had been shot and killed.
Related:
"I don't think he ever was afraid. I think he truly enjoyed what he did and looked forward to it every single day. I know he enjoyed being on the strike force," Travis Francom said.
The Francoms first learned Wednesday night what happened to Jared when they received a call from an officer on Jared's cell phone. The officer noticed that Jared had been texting his 16-year-old brother, Ben Francom, earlier that evening. He was the first to receive the call.
Travis Francom said he thought a lot Thursday about what he would say if he had one more chance to talk to his brother.
"I'd just tell him that I love him, and thank you."
The Francom family also asked the public to think about the alleged gunman's family.
"We encourage everyone to remember the family of the suspect as they have a long road ahead of them as well. I'm sure this must be a difficult time for them as it is our family."
----
Written by Pat Reavy and Ladd Brubaker with contributions from Jennifer Stagg and Carole Mikita.
×
Photos
Most recent Utah stories