Estimated read time: 5-6 minutes
This archived news story is available only for your personal, non-commercial use. Information in the story may be outdated or superseded by additional information. Reading or replaying the story in its archived form does not constitute a republication of the story.
ELKO, Nev. — A tearful Angela Hill seemed shocked and confused when she was informed by an Elko Justice Court judge Wednesday that she had been arrested for investigation of attempted murder.
"I don't understand what's going on," she cried.
Hill, along with Logan McFarland, made their initial court appearances after being arrested Tuesday near the small town of Oasis, Nev., between Wendover and Wells. The two are accused of going on a crime spree that started in Utah and, according to investigators, included a carjacking in which the driver was shot in the head, a high speed chase and a possible double homicide in Mt. Pleasant, Sanpete County.
According to court documents, Hill fired the shot that struck a woman in the back of the head after the couple carjacked and kidnapped her in West Wendover on Dec. 31.
Wednesday's court proceedings
Both McFarland and Hill were booked in the Elko County Jail for investigation of robbery with use of a deadly weapon, kidnapping, conspiracy to commit kidnapping and/or robbery, and committing a crime in a stolen vehicle. Hill was also booked for investigation of attempted murder.
Related:
Hill's bail was set at $102,000 cash only. McFarland's bail was set at $52,000 cash only. But Elko Justice Court Senior Judge Barbara Nethery informed both inmates during a brief video hearing from the jail that they each had warrants out of Utah. She said McFarland had two no bail warrants out of Utah.
Nethery told McFarland that the Nevada charges would be "satisfied first" before extradition proceedings would take place. The judge said formal charges would likely be filed within 10 days.
Neither inmate wore handcuffs as they sat in a back room of the Elko County Jail during the video proceedings. Hill wore a blue jump suit and sat with her arms and legs folded as she waited for the judge to begin. She seemed genuinely surprised when Nethery informed her she was being held for investigation of attempted murder. She bent her chest into her knees while sitting, and cried.
McFarland seemed equally surprised by his booking charges, asking the judge at one point, "How am I being charged with kidnapping?"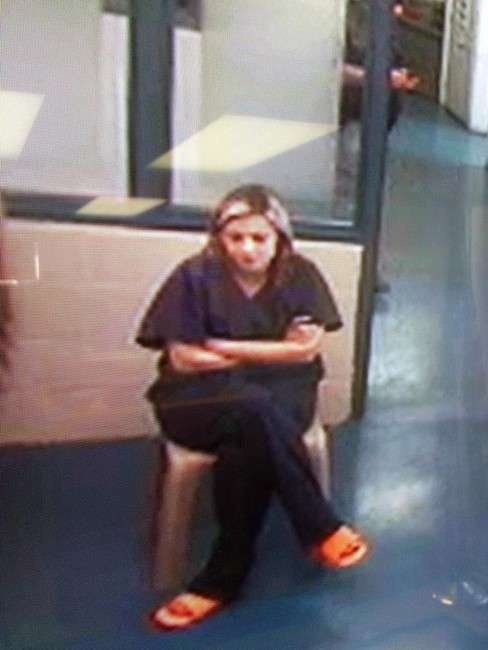 According to the booking statement from the jail, Hill and McFarland carjacked a woman in the parking lot of the Red Garter Casino. Hill allegedly pushed the victim into the passenger seat at gunpoint and drove her vehicle while McFarland followed in a second car.
At one point, police say the women fought back, biting Hill and pushing her out of the car. After she regained control of her vehicle, the woman felt McFarland's vehicle strike her from behind, jail documents state. She then "heard a gunshot and felt an object strike her in the head."
The woman was able to drive herself to the police station and was at last word in stable condition at a Salt Lake hospital.
McFarland and Hill have not been charged in connection with the deaths of Woody and Ann Fullwood, but several court documents filed in both Utah and Nevada strongly suggest they are suspects in the double killing.
Police said individuals had come forward "and had provided information that they suspected the two individuals were involved in the deaths of the Fullwoods in Mount Pleasant," according to an Elko County Jail statement.
A vehicle stolen out of Santaquin was later found in Wells, Nev., where a Volkswagen Jetta left warming up in front of a Super 8 Motel was stolen. During a high speed chase on I-80 with police, personal items belonging to the Wendover carjacking victim, including her purse, were thrown out of the Jetta by McFarland and Hill, police said
The Jetta was recovered late Tuesday in a very remote, mountainous region in the area where McFarland and Hill were arrested. Police said the vehicle was no longer operable.
Arresting officer describes Tuesday's capture
Elko County Sheriff's Lt. Marvin Morton was one of the first deputies on the scene and arrested McFarland and Hill. When he received the call that the two were spotted, he said he was about 35 miles away. As he drove to the location, he admitted he was a bit nervous about what would transpire when he confronted the fugitives.
"As we drove out there, we realized what we were up against. We knew what they had done," he said Wednesday in Wells, Nev.
When Morton and his partner spotted the couple, they were in an open area with knee-high sage brush. From about 500 yards away, a deputy told the couple from their patrol vehicle's PA system to slowly walk toward them.
He said at first McFarland and Hill ignored their commands. But a few moments later, they started walking toward them. What Morton didn't find out until later was that the couple dropped two handguns in the dirt as they prepared to surrender.
---
"We had them come toward us with their arms up in the air, showing us their hands. And we had them take off some of their clothes to see their waistbands. -Lt. Marvin Morton, Elko County Sheriff's Office
---
"We had them come toward us with their arms up in the air, showing us their hands. And we had them take off some of their clothes to see their waistbands," Morton said.
At gunpoint, the couple was taken into custody.
"They were just thirsty. They had been out there awhile. I don't know what their situation was with food and water at that point," he said.
Morton described Hill as "very thirsty" and a "little weak." She was examined at a local hospital for dehydration before being transported to the Elko County Jail. She was also "kind of cut up a little bit" from the trees they had walked through.
"She just said she was very thirsty and tired," Morton said.
Neither person talked about the crimes they are accused of during the arrest. The couple were about three miles away from the Jetta they allegedly had stolen. Morton wasn't sure where they were intending to go.
He described the vehicle as "very inoperable," noting that it had run over several small pine trees.
"It was very beat up," he said.
Morton described the arrests as "bittersweet," knowing what the couple is accused of doing. But he was very grateful that law enforcers were able to resolve the situation without any shots being fired.
----
Written by Pat Reavy with contributions from Sandra Yi.
×
Photos
Related stories
Most recent Utah stories