This archived news story is available only for your personal, non-commercial use. Information in the story may be outdated or superseded by additional information. Reading or replaying the story in its archived form does not constitute a republication of the story.
SALT LAKE CITY (AP) - Four years ago, Star Lotulelei was out of shape and out of football.
Big as a house, he was working at a Salt Lake City furniture store moving merchandise.
Utah (7-5) vs. Georgia Tech (8-4)
Sun Bowl Notes
Utah (7-5, 4-5 Pac-12) vs. Georgia Tech (8-4, 5-3 ACC)
Date: Saturday, Dec. 31
Time: Noon MT
Site: Sun Bowl Stadium (50,426/Hellas Matrix FieldTurf) El Paso, Texas
TV: CBS
Radio: ESPN700, Sports USA Radio Network, Sirius/XM 91
Series Record: Utah leads 1-0
Last Meeting: 2005 Emerald Bowl (Utah 38-10)
Kickoff Weather: Sunny, temps in the lower 60s
Series Snapshot
In San Francisco on Dec. 29, 2005, Brett Ratliff and Travis LaTendresse manhandled the nation's 12th-ranked defense and Utah upset No. 24 Georgia Tech 38-10 in the Emerald Bowl. The Utes led 20-0 early in the second quarter before Georgia Tech made a little run by scoring all 10 of its points. Ratliff, in his second career start, shattered bowl records for completions (30), passing yards (381) and touchdowns (4), while LaTendresse, the game's offensive MVP, made a bowl-record 16 receptions for 214 yards and four TDs. Quinton Ganther added 120 yards and a touchdown. Utah's defense was just as dominating. Defensive MVP Eric Weddle, who would become an All-American and now starts for the San Diego Chargers, held Tech's All-America receiver Calvin Johnson to two catches for 19 yards. Weddle rarely left the field-also playing quarterback and on special teams.
Now, the mountainous man will be asked to help carry Utah's defense when it faces Georgia Tech's triple-option attack in the Sun Bowl on New Year's Eve.
Some thought it might be Lotulelei's last collegiate game, especially after he won the Morris Trophy as the Pac-12's top defensive lineman - voted on by opposing offensive linemen.
But Lotulelei, with his grades and weight in check, believes he has room to improve and recently announced plans to return for his senior season before that run at the pros.
Considering how far he's come from those furniture store days, who's to argue.
"I said going into the season Star was going to be the best defensive lineman in the conference and that's proven to be the case," Utah coach Kyle Whittingham said. "But I still believe there's more upside. Next year, look out. He's going to be even more dominant."
Utah's next game is first on Lotulelei's mind as he'll need another outstanding performance if the Utes are to start a new bowl winning streak. They had won nine straight before last year's 26-3 loss to Boise State in the Las Vegas Bowl.
Though Utah (7-5) blew a chance to play in the inaugural Pac-12 title game, the Sun Bowl still gives the Utes a chance to finish on a positive note in their first season in a BCS conference.
"Our main job is to take away the dive, take away the fullback," Lotulelei said of Georgia Tech's option.
It starts up front with the 6-foot-3, 325-pound junior captain, a beast on the field but quiet and humble despite the name and accolades.
He tied for the team lead in tackles for loss with nine, and finished with 38 total tackles and 1.5 sacks.
"His stats aren't great, but our stats are good because of him and he's a huge part of our success," senior defensive tackle Dave Kruger said, noting Lotulelei frequently occupies two blockers. "He's the anchor of our defense."
The Utes rank seventh nationally against the run, allowing just 97 yards rushing a game.
Georgia Tech is third in the nation in rushing offense at 316.8 yards a game.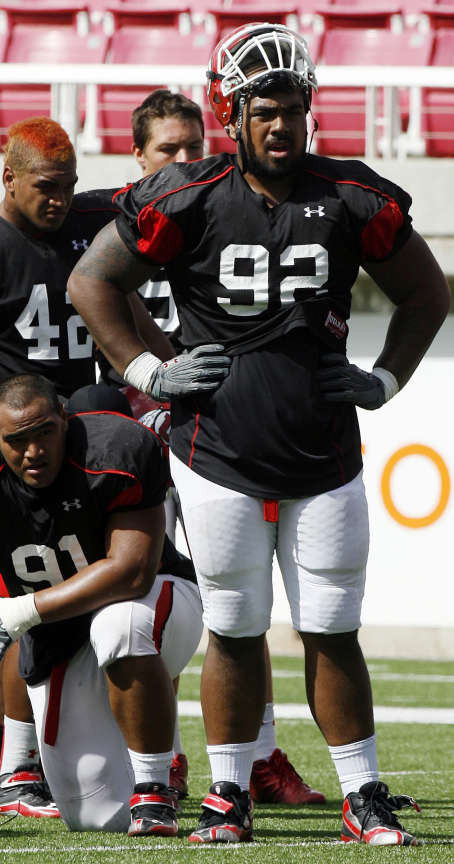 "It will be a big challenge for us, but we're used to it," Kruger said.
Utah regularly faced Air Force's vaunted rushing attack in the Mountain West Conference before jumping to the Pac-12 for this season.
Before making his mark at Utah, Lotulelei helped Bingham High School to its first state football title in 60 years as a 275-pound senior in 2006, earning all-state honors.
Bingham High coach Dave Peck still laughs thinking back to the previous year when Lotulelei's family moved into the district and he saw Star. "I'm thinking this is a college kid and his little brother must (be enrolling)," Peck said of seeing the gigantic junior. "From Day 1, Star was just a massive, great-looking athlete."
Without the grades to qualify for Division I football, however, he decided to take a break from it and saw his weight balloon.
"I was just planning on working," Lotulelei said. But after two months, he decided furniture wasn't his future.
Plus, watching his little brother and cousin play football gave him the itch again.
He brought his uncle in to help him train then enrolled at Snow College, a junior college in central Utah where he recorded 14 tackles for loss in 2008.
"He'd catch the offensive linemen under their shoulder pads, lift them and with one arm, toss them out of the way," said Snow head coach Tyler Hughes, then the team's offensive coordinator. "He was doing that at practices regularly, moving 280-, 290-pound kids with one arm."
Lotulelei opted to redshirt the next fall, and saw his weight balloon even higher, to 350 pounds.
Finally, with a chance to play for Utah, he called on his uncle again, dropped 30 pounds and got ready for Division I.
He earned a starting job with three games left in Utah's 2010 season.
Now, he figures with a wife and family it's more important to get his degree in the fall and build up that pre-draft resume.
"The NFL can wait," said Lotulelei, who turned 22 last week.
"We're all really proud of him," said prep coach Peck, who has watched Lotulelei's kid brother, Lowell, blossom into another high school star. "(Star) was always a respectful kid and worked hard, yet some kids struggle in the classroom. Even in that area he's totally turned things around. I couldn't be happier for him and his family."
Hughes doesn't see much else about Lotulelei changing. "I think he'll always maintain his perspective and his humility," Hughes said. "I don't know if he'll allow himself to believe all the amazing things being said about him."
(Copyright 2011 by The Associated Press. All Rights Reserved.)
×
Related Links
Related Stories