Estimated read time: 2-3 minutes
This archived news story is available only for your personal, non-commercial use. Information in the story may be outdated or superseded by additional information. Reading or replaying the story in its archived form does not constitute a republication of the story.
SALT LAKE CITY -- The 2012 political calendar for Republican presidential candidates, including the two with Utah ties, gets busy fast early next month.
One week from Tuesday, voters head to the polls for the Iowa caucuses. Two weeks from Tuesday, voters will do the same in New Hampshire. These two early battles will set up the race for the GOP nominations, separating the contenders from the also-rans. Seven contenders, seven days - with campaigns are battling for every vote.
Polls show a tight race between Mitt Romney, Newt Gingrich and Ron Paul, with Paul now in the lead.
"There is a large contingent of Iowa Republicans who are really reacting and responding to what it is that he's talking about," said Rick Green with the Des Moines Register.
Romney, the former Salt Lake Olympic chief, aims to dampen expectations.
"A couple of weeks ago I was a distant third in Iowa and you just don't know what's going to happen in this process," he said.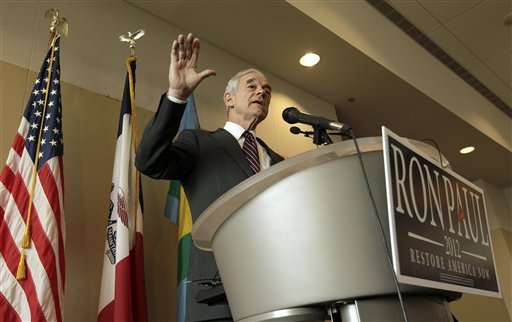 In the meantime, the attack ads and barbs continue to fly back and forth, with Romney and Gingrich jabbing each other.
"To have him run a commercial that questions my conservatism? I mean I've been a conservative my entire life," Gingrich said.
Most have new commercials. The candidates have spent 10 million dollars on TV ads in the past month alone.
"It doesn't always benefit the person doing the spending. One of the things that we've seen in past campaigns is that if one candidate spends a lot of money to attack another, it might benefit a third person because voters don't always like the negative ads," said John Harwood, Chief Washington Correspondent for CNBC:
Michele Bachmann and Rick Perry are both on statewide bus tours, hoping to jump start their campaigns. Turnout, as always, will be key. Kirk Jowers, a Romney advisor, says that could hinge on weather.
"If it's great weather then Mitt Romney or Newt Gingrich have a great chance of winning. If it's horrible weather Ron Paul has a chance of winning it because his core of people are so dedicated in Iowa that they'll show up no matter what happens," he said.
Iowa, and the next contest, New Hampshire, will undoubtedly sort out the candidates, likely with several of them surging and others dropping by the time Florida holds its primary at the end of the month.
"The field will be winnowed down to three or four people by Florida." Jowers said. An average of the the latest polls in New Hampshire, the next state with a primary, shows Mitt Romney holding a solid 17 percent lead over Gingrich and Paul, with former Utah Governor Jon Huntsman in 4th with 11 percent.
Email: jdaley@ksl.com
×
Related stories
Most recent Utah stories