Estimated read time: 2-3 minutes
This archived news story is available only for your personal, non-commercial use. Information in the story may be outdated or superseded by additional information. Reading or replaying the story in its archived form does not constitute a republication of the story.
Jed Boal ReportingSeveral hundred street racers burned up the pavement in Salt Lake industrial parks this weekend. It's a problem that won't go away.
It's quite a scene, attracting several hundred people on Friday and Saturday nights. Police say they do what they can, but it's not enough.
There's plenty of noise and speed as racers roll up to square off on public streets at a desolate west-side industrial park near 4800 West and 1900 South. The photographer who shot a video says you can find them every weekend.
Not far away, an off-duty officer busted a racer in a deadly situation.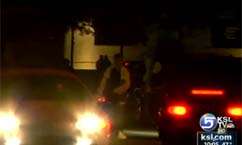 Det. Jared Wihongi of the Salt Lake Police Department said, "Two drag racers on both lanes of the street [were] coming straight toward him. They flashed their headlights at him, expecting him to get off the road, and he flashed his overheads, telling them who he was. He was able to pull one of them over."
Two years ago, an Eyewitness News investigation of street racing caught the attention of lawmakers, who toughened up the law in 2006. Officers can impound racers' cars on the spot. Impound fees can run a few hundred dollars. The state will also suspend and even revoke the licenses of persistent offenders.
The freelance photographer was out for about three hours Saturday night, from about 11:30 p.m. to 2:30 a.m. The police showed up a few times, and the racers scattered. But when the police left, the racers returned.
"You've got a hundred racers in that area," Det. Wihongi explained. "[Each officer] can only pull over one at a time. So they'll pull over someone. The rest will leave and congregate somewhere else."
Representative David Clark of Washington County co-sponsored the law. He told us he thinks it's similar to cracking down on drunken driving. He said, "I would ask law enforcement what's the next step, and possibly ratchet up the consequences."
Police say the racers roll during officers' peak hours, when they're chasing DUIs, shootings, and other crimes. They say they do have plans to help reign in the problem. They are not making those plans public yet.
×
Related links
Most recent Utah stories