This archived news story is available only for your personal, non-commercial use. Information in the story may be outdated or superseded by additional information. Reading or replaying the story in its archived form does not constitute a republication of the story.
SALT LAKE CITY — A medical team has returned to Utah after a mercy mission in Africa that restored the sight of more than 200 blind people.
They worked at a tiny village in South Sudan, a part of the world ravaged by tribal conflict, civil war and astonishing levels of blindness.
"In this part of the world, nearly 10 percent of the population is totally blind," said Dr. Alan Crandall, an ophthalmologist for the John A. Moran Eye Center at the University of Utah.
The medical team included three Moran ophthalmologists and two nurses. They flew into a dirt landing strip at Duk Payuel. It's a small village in the southern portion of Sudan that broke away last July and became an independent nation following decades of civil war.
---
Less than 40 miles from where we were, there was tribal warfare in which 40 people were killed and 16 babies were taken for child slavery.
–Dr. Alan Crandall, ophthalmologist
---
"This was actually our third attempt to go into this region," Crandall said. "Twice we were turned back because of violence."
The team from Utah lived in tents, sometimes hearing gunfire at night. "Less than 40 miles from where we were," Crandall said, "there was tribal warfare in which 40 people were killed and 16 babies were taken for child slavery."
The causes of blindness in the region are varied. It's generally the result of poor sanitation, inadequate nutrition, infectious diseases and intense ultraviolet radiation from the equatorial sun. The situation is all the worse because there is little or no medical care and not a single ophthalmologist in the region.
"South Sudan is one of the poorest places on the planet," said Dr. Geoffrey Tabin. "They have about 10 million people, and no native eye doctor. And they happen to be in a little belt which has possibly the highest rate of blindness on earth."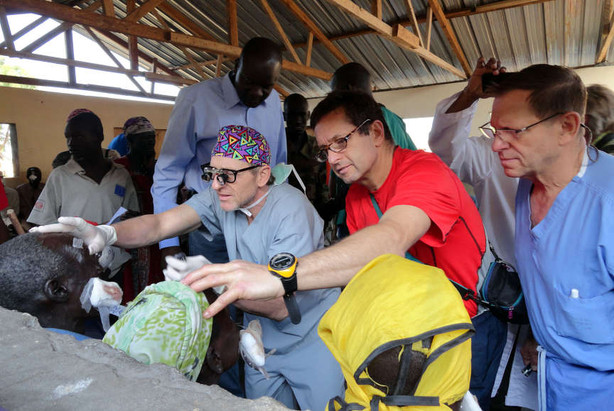 The most common vision problems are cataracts, glaucoma, river blindness and trachoma, an infectious disease that affects the eyelids and, eventually, the corneas. "Almost all of it is completely treatable or preventable," Tabin said.
Doctors at the Moran Eye Center decided to focus on the region after meeting Sudan native John Dau. He was one of the "Lost Boys of Sudan," thousands of youngsters who fled en masse and lived on their own wits after they were orphaned by the civil war. John Dau eventually settled in the United States and obtained a college education.
Two years ago, Dau built a clinic to help people in South Sudan. The team from the Moran Eye Center flew in with equipment and supplies for a week-long spree of eye surgery.
They were able to help about 75 percent of the patients they saw. In most cases, it just took 5 or 10 minutes for corrective surgery. They did 223 cataract surgeries, replacing the cloudy natural lens with an artificial implant. And they performed 50 eyelid surgeries for victims of trachoma.
Many of the blind people who flocked to the clinic walked long distances, often clutching one end of a stick that was held at the other end by a small child acting as a guide.
One blind woman walked 80 miles with her grandchild. "She'd been totally blind for 6 years," Crandall said. "She could see nothing. She'd never seen some of her children, never seen any of her grandchildren."
Moran's International Outreach
In addition to Sudan, ophthalmologists at the Moran Eye Center have carried out medical missions and are contributing to international outreach programs in the following countries:
Brazil, Bhutan, Cape Verde, China, Egypt, Ethiopia, Ghana, Guyana, India, Indonesia, Kenya, Kiribati, Korea, Latin America, Mali, Mexico, Morocco, Nepal, Peru, Russia, Rwanda, Samoa, Saudi Arabia, Sri Lanka, Taiwan, Tanzania, Tibet, Tonga, Turkey, & Uganda
The surgery presented some unusual challenges. "The bats and the insects, both," said Dr. Lloyd Williams. "I had a bat hit me in the arm while I was doing one case."
"But we actually liked the bats," Crandall said, "because they took care of the huge bugs and flies and stuff that would land on us and our patients."
"One night the generator went out while I was doing surgery," Williams said. "I ended up doing the case in a complete black room with just a little head lamp."
In spite of the difficult conditions, the medical team is proud of what they were able to accomplish.
"In just a few days of surgery," Tabin said, "we restored sight to over 200 people."
As for the blind woman who walked 80 miles: on the walk home she could finally see her grandchild.
"And that's why I became an ophthalmologist in the first place," Williams said. "Several hundred lives changed for sure, and that's a really great thing. The sad thing is that some people have things that you can't fix, and it's really heartbreaking."
Email: hollenhorst@ksl.com
×
Related Links