Estimated read time: 2-3 minutes
This archived news story is available only for your personal, non-commercial use. Information in the story may be outdated or superseded by additional information. Reading or replaying the story in its archived form does not constitute a republication of the story.
SALTY LAKE CITY -- For six years, families of fallen soldiers have been given an all-expense paid vacation on the Snowball Express. It's an effort to make things a little lighter and brighter for these families during the holidays.
American Airlines has been sponsoring the Snowball Express with a round trip plane ride and vacation in Texas. It's an effort to help children from across the country meet others who have lived through the same and difficult experience of losing a parent in the theater of war. It's also a chance, if for just a moment, for them to forget and have a whole lot of fun.
Santa has upgraded from reindeer to a plane this year. He's got a lot of kids on board who are thrilled after spending four days in Texas, and going over the memories of Six Flags and the rodeo. It was a truly Texas vacation in the Big D.
"We have been in Dallas, Texas on the Snowball Express," said Kimberly Blamires, a mother from Taylorsville.
The families didn't have to pay a dime. Many of them have had the tragedy of suffering the loss of a spouse or a parent.
"He was killed in Afghanistan in May 2007. He was shot down," Kimberly Blamires said of her spouse.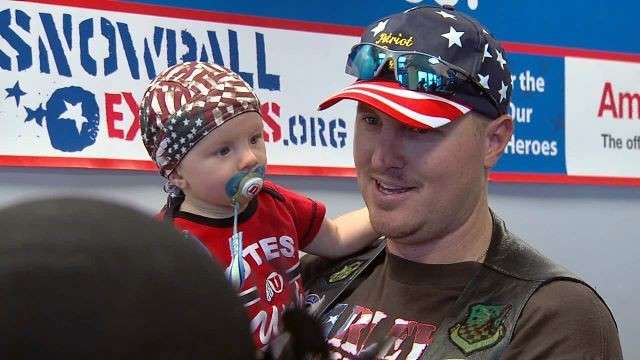 The Snowball Express is an effort to lift these families up and help them know they are not alone.
"Bonding with the other families and knowing what they're feeling and what they're going through is normal and other kids are going through it," said Jessie Blamires.
Now that they are home, these families had a welcoming party at the airport as many military men and women do when they come home.
"I'm one of the fortunate ones who got to come home," said Brandon Smith, a soldier from West Jordan, "And they've paid the ultimate sacrifice, so it's the least I can do to come out here and support them."
It was an important salute to the families, and hopefully a reprieve from the sorrow many feel during the holidays.
For some families, this Snowball Express is not their first time. Some get to go each year. Parents say it's a really nice way to bond with others and get to really know them. American Airlines sent about 1700 families on these vacations this year.
Email: lprichard@ksl.com
×
Photos
Related links
Related stories
Most recent Utah stories