Estimated read time: 2-3 minutes
This archived news story is available only for your personal, non-commercial use. Information in the story may be outdated or superseded by additional information. Reading or replaying the story in its archived form does not constitute a republication of the story.
Sarah Dallof Reporting A Salt Lake County mother was Tasered by a sheriff's deputy for assaulting and hurling racial slurs at him outside her home while her children were in the bathtub.
"She went on and on and he went over to talk to her she started hitting him and calling him names," one witness said.
But the woman's husband says it was the other way around; his wife was assaulted by the deputy.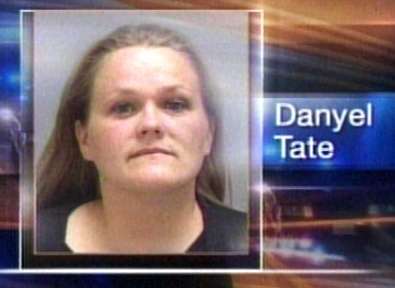 It all started over a speed trailer outside the neighborhood. Just a few weeks ago the woman's little boy was hit while riding his bike. Neighbors say the same deputy who was first on the scene that day was the deputy she allegedly assaulted today and who took her to the Salt Lake County Jail.
Danyel Tate faces a list of charges tonight, from assaulting a peace officer to child endangerment, and it all seems to center around this speed trailer.
Undersheriff Beau Babka says, "She's threatened to take away the trailer, actually physically remove the trailer, break the trailer."
Deputies set up the trailer after Tate's 3-year-old boy was hit while riding his bike. It sits on a public street where the speed limit is 25 miles an hour, but on Tate's private street the limit is 10 miles per hour.
Neighbor Bob Martin says, "I'm on her side. With her little boy getting hit and then we're trying to get the speed down, and the county comes and puts a sign saying it's 25. It would upset me too."
Neighbors say Tate put cardboard over the sign, marking the limit down to 10. The sheriff's office told her to stop, and this afternoon Tate was outside when the deputy came to check on the sign.
A neighbor, who asked to be identified only as Susan, says Tate's anger escalated, she kicked and tried to hit the deputy, and he moved in to arrest her.
"She was saying that the only reason he was arresting her was she was white and he was an "n" but she was using the word," Susan said.
The deputy wrestled with Tate then used his Taser, a move that has neighbors divided.
Martin said, "She assaulted the officer, and he Tased her, which I don't think was right."
Debbie Franz, who witnessed the scene, said, "I thought he held back really well, then she got really out of hand. I think he did what he had to do."
Once Tate was subdued "Susan" was given permission to check on Tate's children. She says the children, ages 1 and 3, had been in a bathtub filled with water the entire time.
"Those children should not have been in that tub with all that water. They can drown in a split second," Susan said.
The deputy has a bruised knee and is scraped up. We spoke with Tate's husband following a brief initial phone call; he said they have retained a lawyer and have no further comment.
×
Most recent Utah stories