Estimated read time: 3-4 minutes
This archived news story is available only for your personal, non-commercial use. Information in the story may be outdated or superseded by additional information. Reading or replaying the story in its archived form does not constitute a republication of the story.
PROVO -- During my career as a defensive player at BYU, we only faced a few quarterbacks who were really effective throwers of the football while being chased.
When pressured by pass-rushers, most QBs would begin running to a spot just outside the tackle box where they could throw the ball safely out of bounds without a penalty. Others would simply fly to the sidelines to escape, never looking downfield for eligible receivers.
Because of this, our primary goal in bringing blitzes was not to get sacks. Rather, our primary goal was to make the QB "change his launch point". In other words, we wanted to prevent him from stepping into his throw, force him to change arm mechanics, or obstruct his vision up the middle. At times we would overload and rush from his favored throwing side, forcing the quarterback to escape opposite his throwing arm and eventually make a mistake.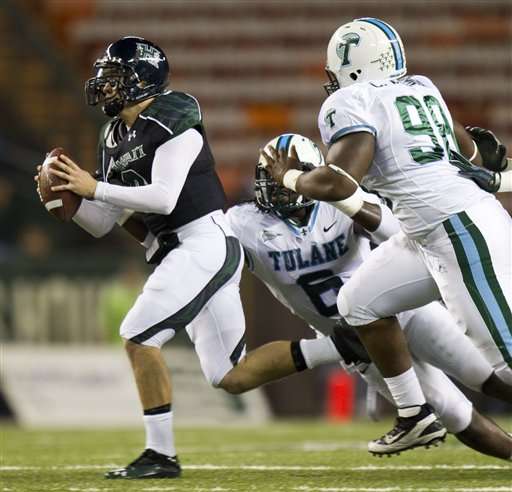 However, there were some QBs who break the traditional drop back mold: Jake Locker comes to mind. We did everything we could to keep Jake standing flat-footed in the pocket. At the time, he struggled to make an accurate downfield throw while stationary in pocket protection. On the occasions when he escaped our rush or would "break containment," his athleticism took over and it seemed that throwing mechanics didn't matter as he figured out how to zip the ball wherever he wanted while running for his life.
The Warriors QB David Graves falls into the category of the up and coming mobile, do-it-all athlete that happens to throw a football.
Graves is pretty good in the pocket. However, he is great outside of the pocket. First of all, he has very little protection from his offensive line. Second, he is young and is not used to reading well-schemed zone coverages. For example, it looks like he struggles against linebackers who are able to match up in underneath coverage. He gets into trouble trying to make an accurate throw into a small window against zone coverage.
Graves is very mobile and escapes outside the tackle box more times than not. Because of his mobility, he doesn't just run to the sideline to avoid being sacked. When forced out of the pocket, he's usually able to pick up positive yardage. What's impressive to me (and remember he's only started one game) is his ability to keep his eyes downfield while being chased. Most defensive secondary players are taught that when the QB is flushed from the pocket, they are to find the nearest man and "lock up" on him. This means that a quarterback on the run will almost always have a 1-on-1 match up somewhere downfield. Graves did a great job against Tulane in finding those 1-on-1 match-ups and exploiting them.
I expect BYU will bring pressure to make the young quarterback uncomfortable, but will also use one of many linebackers to shadow or "spy" Graves the entire game. If the Cougars can keep him contained in a collapsing pocket, and weather the early storm of a hostile crowd, they will win comfortably.
×
Related stories