This archived news story is available only for your personal, non-commercial use. Information in the story may be outdated or superseded by additional information. Reading or replaying the story in its archived form does not constitute a republication of the story.
HONOLULU, HI — The BYU football team will travel to the islands for the first time in 10 years to take on the Hawaii Warriors in the final regular season game for both teams.
This will be the 28th meeting between the schools, with BYU winning 19 times. The most recent game between the two teams was in 2002 in Provo.
Hawaii head coach Greg McMackin is completing his fourth season in charge of the program. With a win against the visiting Cougars, the Warriors will be eligible for their third bowl game under McMackin.
Kickoff is scheduled for 5:30 p.m. and the game will be broadcast live on ESPN2.
McMackin met with the media earlier this week to reflect on the win against Tulane as well as this week's showdown with BYU. Here is what he had to say:
On if he was surprised with Tulane's ability to match scores with Hawaii last week:
"No, not really. They've been in their games, they didn't have anything to lose so they went for it, and you can see their advantages at running backs, and I thought they competed really hard. I thought we let them into the game, as far as they started competing harder when they thought they had a chance to win it. I think that's the first time we wanted the football to start with and we took it down and scored. Then when they got into the game a little bit, they started getting a little more competitive."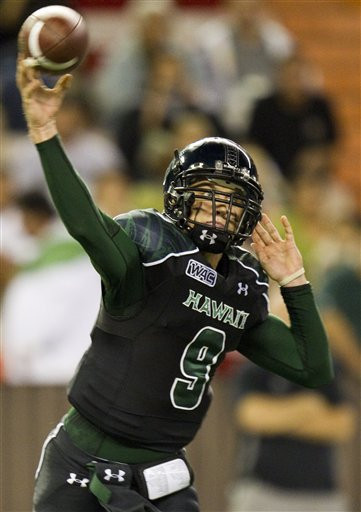 On the crowd during the Tulane game: "I thought the people were good, they did a great job. I appreciate all the people that are here because they're the true Warriors and I know there's other people that support us. The people that were here were very appreciated, we could hear them. I don't know how many thousand were here, I can never tell by the way we count them, but I do know that the players appreciated their support."
On if making a bowl game would silence any critics:
"I don't know. I have no idea. Everybody's been pretty good and it's just the nature of the game. I have no idea. I've only got one focus and that is competing and beating BYU. It's the only thing I focus on. If we beat them, we go to a bowl game. If we don't, we don't. I don't really listen to the critics. I don't even take the paper anymore. A long time ago, I quit watching blogs. People that are anonymous, I have no use for. I really don't hear or see that type of thing."
On quarterback David Graves' performance after making his first career collegiate start:
"He did a great job. He made some really big plays. Billy Ray (Stutzmann) made that great catch over that guy. (Graves') feet do so much for him; it's really similar to the BYU quarterbacks. (Riley) Nelson is a similar type of guy, he's very mobile. He may be ready to play from what I understand. Towards the end, (Graves) was a little inaccurate, but he threw for two touchdowns and ran for one. He had several big runs, so he's a dangerous quarterback."
On the importance of this week's game:
"We said that we're writing a three- chapter book and last week was the first chapter and everybody contributing to writing to it in this first chapter, and now we have the second chapter, and we have to get that done before we work on the third chapter. That's a very important ball game, and they're a very good football team.
"It's been a great rivalry in the past, and we're going to have to let our guys know what it's about and I'm sure they're going to have to let their guys know. There's a lot of friends on both teams, so I don't think it will take much to get them out for each other."
On whether or not the team has a lot of positivity coming into this week's game:
"Talking to the players, it was really good to hear them after the ball game. A lot of things to play for and it's really about them.
"It's senior day and we're going to have a lot of special things for the seniors for this game. These guys put in four or five years of their life here and that's a special thing and it goes so fast.
"Then it's obviously (playing) for a bowl game, so there's a lot riding on this. We just have to get better as a team. We have to continue to get better and guys have stood up and said this is our team. We have to improve on last week, we have to improve on our tackling, we have to improve on certain things, and play the best game we can possibly play.
"This is a very good football team that's coming here. BYU is well-coached and have good athletes. Their play is really physical. As physical of a team we will have played this year; they are very similar to Washington."
On the players' knowledge of the Hawaii-vs.-BYU series history:
"These guys were in elementary school when this rivalry was going on, but we still have (Offensive Coordinator) Nick Rolovich around and (coach) Brian Smith and some guys that played against those guys."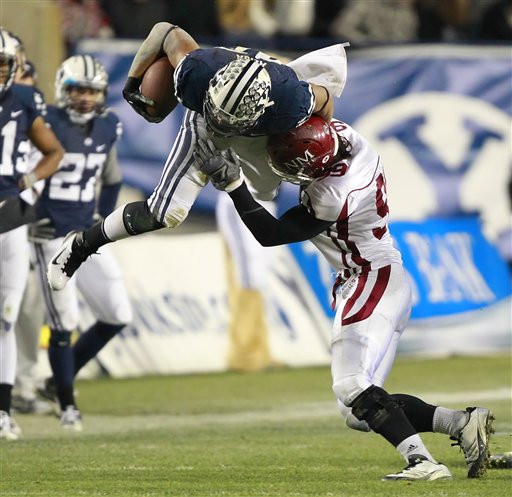 On if UH wants to re-establish the rivalry with BYU and keep it going in the future: "I think so. BYU is a great program and it used to be a great rivalry. Most of his players and my players were in elementary school when it was a big rivalry. People in the islands — the 30-40 year olds — they know of the rivalry.
"I think what makes it a rivalry is that we recruit against each other; there is a lot of friends on both teams. There are all kinds of relatives on both teams. It makes for a great game. BYU is a great program and everybody is excited about the game."
On his initial impressions of BYU:
"They are a physical team that runs the football. They've got guys that can throw it. They are a very physical ball club and they have very good running backs. They are a very good football team. A good defense too. A very physical defense.
"I would say they are the best team that we are going to play this year. They are very well coached and excellent athletes. They are an outstanding football program and team."
Landon Walters is a history and political science major currently studying at Salt Lake Community College. He is an avid sports fan and loves writing. He can be reached at mavericksoccer_22@hotmail.com.
×
Related Stories