This archived news story is available only for your personal, non-commercial use. Information in the story may be outdated or superseded by additional information. Reading or replaying the story in its archived form does not constitute a republication of the story.
The Cougars took the past week off to rest, recuperate, and prepare for this week's upcoming game against Hawaii. BYU coaches and players also spent part of the weekend stuffing their faces and counting their blessings while celebrating Thanksgiving Day.
JimmieChesh of Tornbysports.com asked Cougar fans what they're thankful for this holiday season and got some unique answers. Such as, "The chance of another meaningless 10-win season?"
No matter the quality of BYU's opponents, Cougar fans should be thankful for the acronyms associated with BYU football. Specifically, KVN (Kyle Van Noy) and ESPN.
"His presence on the field is felt greatly by opposing offenses. He is an absolute monster. He is great at dropping back into coverage and also has great closing speed on a runner," JimmieChesh wrote about the sophomore linebacker's talent.
Eric, an avid Cougar fan, said, "It's been great being able to see the "Y" on ESPN every week. They are the best in broadcasting football games and I wouldn't change that from the alternative we've been used to dealing with in the recent past."
Another thing Cougar fans could be thankful for is the Cougar special teams, specifically it's return game. Cody Hoffman returned a kickoff for a touchdown earlier in the season against UCF, first one since 1998, and JD Falslev returned a punt for a touchdown against TCU.
Fans have known about Hoffman's talent for a while now but they are recently discovering what Falslev is capable of doing. The BYU coaches have taken notice as well and have rewarded the walk-on with a scholarship starting in January according to Talo Steves from TotalBlueSports.com.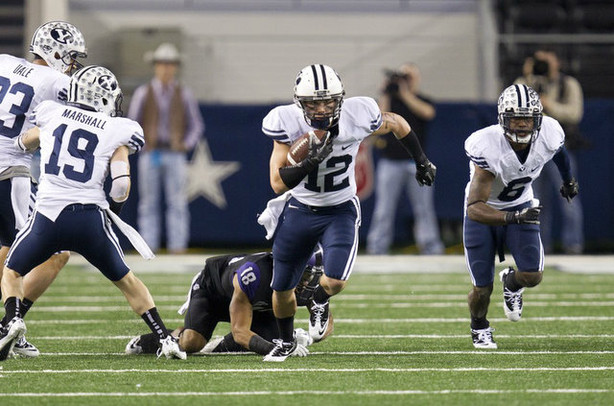 "He's fought his way and battled through and has turned out to be one of our very best players on offense this year, but he's been a go-to guy for us this year on our team," Brandon Doman said. "I'm happy that he's going to get that scholarship and finish out and not have to pay for himself anymore."
Doman, like Falslev, knows the type of hard work it takes to break into the lineup and get playing time. Doman was a backup quarterback for most of his career at BYU until stepping into the starting position the last few games of his junior year. Doman knows what it's like to be a backup quarterback and has found a way to utilize backup James Lark this year.
Ben Lockhart of the Daily Universe takes a look into what the crazy hand signals Lark can be seen doing really mean.
"For those who are used to playing the quarterback position, the mental preparation for having the right signals ready is 'no big deal,' according to Lark."
"When we get new formations or new plays, me and Riley get to make up the signals," he said. "They're easy to remember because they're ones we made up and they're funny ones."
×
Related Stories