Estimated read time: 3-4 minutes
This archived news story is available only for your personal, non-commercial use. Information in the story may be outdated or superseded by additional information. Reading or replaying the story in its archived form does not constitute a republication of the story.
SALT LAKE CITY -- A Salt Lake City family has a warning for anyone who may have packages being delivered to their home. That's because their Christmas gifts were stolen off their porch - shortly after being delivered by UPS.
The Province family had their packages stolen in the middle of the day while they were still home. One of the family members actually watched it happen.
"I looked out the window and then I just see some lady with two huge boxes running down our driveway," said Taylor Lines, a niece of the Province family.
She was home sick from school yesterday when around 1:00 p.m., her dog alerted her to a woman stealing her niece's and nephew's Christmas gifts right off her front porch.
"It took me a second to realize what was going on because your first thought is not going to be 'These people are trying to steal from me,'" said Taylor.
She ran downstairs and told her aunt Alli Province. The thief jumped in a beat-up turquoise car, and a man behind the wheel drove off with the woman and the gifts. Province jumped in her own car and went after them, but to no avail. When she realized they were gone, she began alerting her neighbors.
"I found postal carriers…(and) anybody who was raking leaves. I said 'Look for this car, and know that people are out doing this in the middle of the day,'" Province said.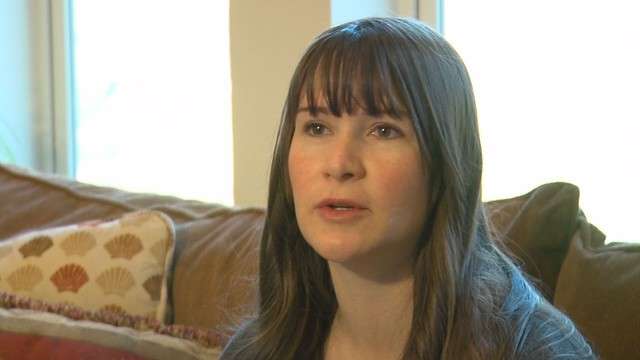 Province didn't know the packages were sitting on the porch because she didn't need to sign for them. They had been there only 45 minutes. Police call that a crime of opportunity.
"There seems to be a trend during the holiday seasons where opportunity meets desire, and criminals seize on that," said Det. Josh Ashdown with the Salt Lake City Police. "And if you have them on a porch or while shopping, that opportunity presents itself and criminals seize on that."
Officers say the bad guys are often watching your valuables more closely than you are - even looking for people stashing bags in the backs of their cars and SUVs.
Stealing mail from the U.S. Postal Service is a federal crime. If caught, it's a potential Five year prison sentence and a $250,000 fine. But, if your items are stolen after delivery from a private carrier like UPS, it is considered property theft. This means that carries like UPS may not offer much help. They certainly didn't for offer much to Province.
"(UPS) kept saying, 'We're sorry, we can't help you,'" Province said.
She says you have to help yourself. Know when your packages are arriving. If you're home, take them in right away. If you're not, leave a note for the carrier to put them somewhere safe, or ask a neighbor to get them. Province says this experience has taught her that something like this can happen to anyone and at anytime.
"I was quite shocked and violated and I guess sad that people would do that in the holiday season. And it's our children's Christmas presents," Province said.
Fortunately for Province, her children's Christmas gifts were replaced by the company she bought them through. Still, not every company will do that. If you find yourself a victim of such a crime call police and file a report.
A phone call to UPS regarding their shipping policy on this matter was not returned.
Email: [spark@ksl.com](<mailto: spark@ksl.com>)
×
Photos
Related stories
Most recent Utah stories