Estimated read time: 2-3 minutes
This archived news story is available only for your personal, non-commercial use. Information in the story may be outdated or superseded by additional information. Reading or replaying the story in its archived form does not constitute a republication of the story.
Whit Johnson Reporting It's up to the people of Salt Lake City to help stop crime. That's the message from a citizen patrol group called the Guardian Angels, now being organized.
The Guardian Angels are well-known and well-respected, with dozens of chapters around the world. They recently organized in Ogden to combat gang violence, and now they say it's time for the people of Salt Lake to get involved.
A handful of gang shootings in Ogden last month was enough to get the attention of the Guardian Angels.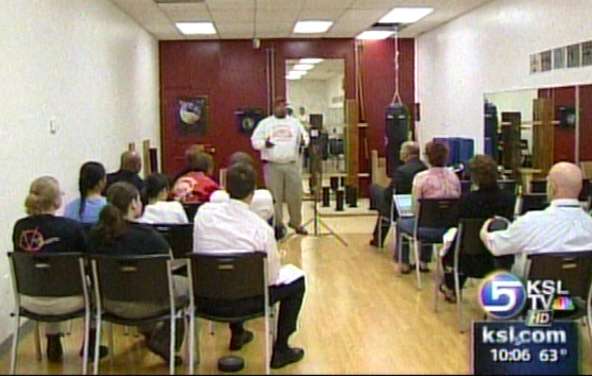 Frank Lee, regional manager of the Guardian Angels, said, "Don't take from the community, give back to it because this is your neighborhood."
Now the citizen patrol group is focusing efforts on Salt Lake City, a place they describe as having the potential for serious criminal activity.
"It is your responsibility as a resident here to say you can stand on the corner, but it's not going to be this corner," Lee said.
Tonight the group held a meeting, asking the public to volunteer. Among the guests were special agents with the Utah Attorney General's Office, Homeland Security, and state representatives who support the organization.
Rep. Carl Wimmer, (R) Salt Lake County, said, "Law enforcement cannot be everywhere. Law enforcement cannot be everywhere all the time." Wimmer is a former police officer. He says, "Crime has risen dramatically in Utah."
The Guardian Angels were founded in New York in the '70s. They now have chapters in 85 U.S. cities and nine different countries. They patrol high crime areas unarmed but ready to make citizens arrests.
Armed only with red berets and handcuffs, they hope their presence will force people to think twice before they commit a crime.
DeVerl Hoskins, with the U.S. Department of Homeland Security, said, "Each and every one of us has the right to walk out and about in our neighborhoods without the worry or fear of something harmful happening to us or our loved ones."
We have done stories on the Guardian Angels in the past, and some people have expressed concern about citizens taking the law into their own hands. But the Angels insist they are only here to help law enforcement, not do their jobs for them.
×
Most recent Utah stories