This archived news story is available only for your personal, non-commercial use. Information in the story may be outdated or superseded by additional information. Reading or replaying the story in its archived form does not constitute a republication of the story.
PROVO -- Circa 1989. Mike Smith, All-American forward for the BYU basketball team has just finished his senior season. He has passed the great Devin Durrant to become the No. 2 all-time leading scorer for the Cougars. Mike could score from anywhere on the floor. His range was limitless, his knack for scoring unmatched. So ends one of the great careers in BYU history.
But not to fear Cougar fans, there is hope on the horizon. Just across the street at Provo High School, a skinny 6- foot 6-inch forward is completing a stellar high school career and has agreed to play for BYU. Surely he can fill the mighty shoes of Mike Smith. Surely, like his brother before him, he will be the next great scorer and will lead the Cougars to glory heretofore unseen. Surely, Mark Durrant will save the day.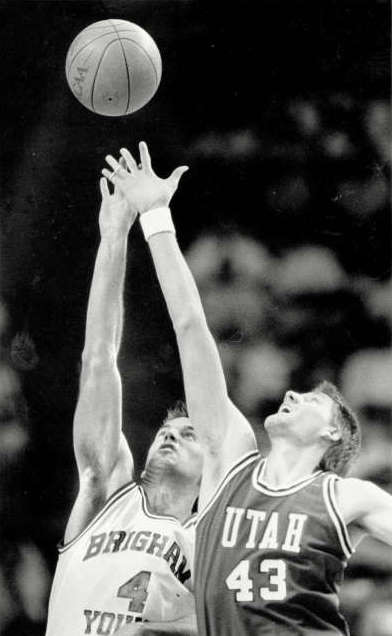 Well… not so much. Although I had a great high school career, no one expected me to take the place of Mike Smith, nor should they have. BYU was picked to finish at the bottom of the WAC and it was generally considered to be a rebuilding year for BYU with Roger Reid beginning his tenure as coach. While there was a solid core returning, including the likes of Steve Schreiner, Andy Toolson and Marty Haws, none of these players were considered much more than role players as they spent much of the preceding years playing second fiddle to Mike Smith. And even with Mike on the team, during his senior season this group struggled to a 14-15 record. Surely, the same cast of characters, minus one of BYU's greatest scorers, would make the '89-'90 season one to forget.
So how did the team do you ask? Well, that scrappy bunch managed a WAC title, had 20+ wins and made it to the NCAA tournament where they lost a heart-breaker to Clemson in the first round, a team featuring future NBA big men Eldon Campbell and Dale Davis. But how?
History shows that Haws and Toolson would become two of BYU's best players. In fact, Marty was the best player I ever played with. His speed has never been matched. He could simply take over games. Our best play was to have the four other players spread out on the baseline leaving Marty to take his man one-on-one. I almost felt sorry for the opposing point guard. It was simply unfair. Needless to say, we saw a lot of zone that year.
Toolson went on to have a great career in Europe and the NBA. He was a marvelous mix of strength and size and had a unique ability to both shoot the three (one of the best ever) and score in the paint. And strong, you'd never know by looking at him, but as someone that guarded him every day, he was incredibly strong. It was like playing a pick-up game against Clark Kent.
Stardom inherently sucks up all of the air around it, often making it hard for the other players to thrive. While Mike Smith remained, Marty and Andy would forever be, to an extent, handcuffed. Marty and Andy didn't get good overnight; they were always good but were relegated to playing a role while the star shined. This isn't sour grapes; it is simply the nature of all sports. Steve Young was always a Hall-of-Famer; he just needed to be freed from the sheer gravity of the icon that was Joe Montana. With Mike Smith gone, Marty and Andy went from watching the star shine to becoming the stars themselves.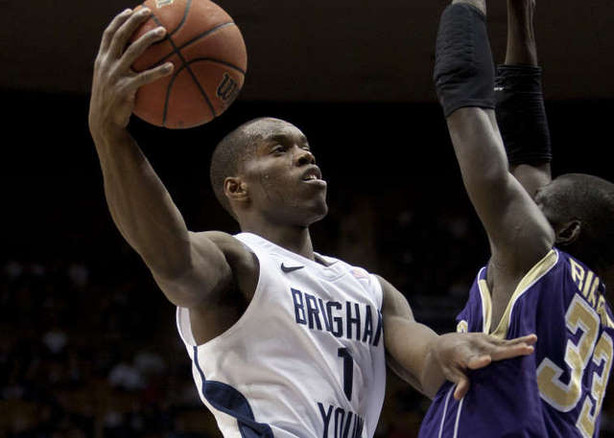 I like to think I helped a bit on that team. Stars need role players to succeed. I chipped in here and there as did the likes of Schreiner, Kevin Santiago, Mark Heslop, Todd Crow and others. It was a fun and memorable year and one that I am very proud of.
So stars come and go. As they move on we are left to wonder how we can ever replace them. But replace them we do. Cosic, Ainge, Roberts, Durrant, Smith, Haws, Toolson, Trost, Larson, Roberts again, Bigelow, Wesley, Araujo, Hansen, Young, Cummard, Fredette and … well, I don't know who the next star is, but I know he's out there.
Watching Jimmer last year was pure joy. He brought such fun and excitement. There will never be another Jimmer. That's okay. It's now time for someone else to shine. And the players on this year's team will have their chance to do just that. Can Charles Abouo and Stephen Rogers be the next Haws / Toolson combo? Can Davies and Hartsock dominate the paint like Trost and Miller? Can Zylstra, Collinsworth, Winder, Harrison and Carlino become solid role players? Losing a player like Jimmer creates an enormous void. The fun part of this year will be to see who will fill it and add their name to the pantheon of Cougar greats.
Mark Durrant is the color commentator for the BYU Basketball broadcast on KSL Newsradio 102.7FM/1160AM.
×
Related Stories