This archived news story is available only for your personal, non-commercial use. Information in the story may be outdated or superseded by additional information. Reading or replaying the story in its archived form does not constitute a republication of the story.
PROVO -- First, my apologies to all those reading this who may be short in stature, but lets face it, when it comes to basketball, size is a very good thing, and this year's BYU basketball team has size to spare.
One need only look at how BYU began this season starting a 6-foot 6-inch point guard (Brock Zylstra) and a 6-foot 8-inch shooting guard (Stephen Rogers) to see that this is not your typical BYU team.
BYU head coach Dave Rose once told me, "Mark, if you had your way, you'd start five seven-footers."
Well, not quite, but I sure do like size, and here's why.
The obvious advantage that size brings is on the boards. More rebounds typically mean more shot attempts for BYU and fewer shot attempts for its opponents. While rebounding is often more about heart and desire than sheer physical ability, all other things being equal, a height advantage can be a real benefit when it comes to rebounding.
BYU outrebounded BYU-Hawaii and Longwood by a total of 38 rebounds. A look at the rosters for both of those teams reveals that they combine to produce only seven players taller than Brock Zylstra. Often, opponents will be able to match BYU on the boards in the early stages of a game, using their adrenaline and energy to negate any apparent size discrepancies.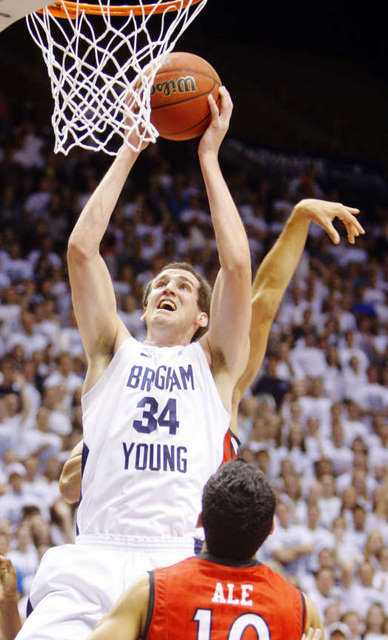 I often compare this to football and a big offensive line. Early on a team's run defense may be able to match a large offensive line, but over the course of the game the defense gets worn down by the O-line's sheer size and strength. Often, much of a team's running yardage will be gained in the fourth quarter. So it is with basketball, over the course of a game it is very difficult to maintain the type of energy it takes to compensate for a lack of size.
After the first half, BYU was outrebounding Longwood by just two rebounds. In the second half that number grew to 18. Teams get worn down and eventually, the rebounding tide turns in favor of the big boys.
Size also helps in the paint. With Brandon Davies and Noah Hartsock the focus of this year's squad, smaller teams will be forced to double team when the ball is entered in the post. Brandon and Noah are both great passers and are showing some nice chemistry on post to post passes so far this season. Size up front is also likely to translate into more shots being taken in the key. This will inevitably lead to a higher shooting percentage for the entire team.
A good big man can shoot 60-65 percent from the field. High percentage shots will be critical for this team, particularly if BYU's three-point shooters struggle. In addition, more fouls are typically called on shots close to the basket. As BYU's big men are good free throw shooters, this can mean a lot of easy points.
Size on the perimeter can be a great asset and can result in many difficult matchups for opposing teams. It allows BYU to post up virtually every position depending on the matchup, even the point guard. It also helps on perimeter defense particularly in the zone. Longer players are able to cover a lot of ground and contest jump shots. We have already seen Rogers block several three-point attempts this year. Even when the shot is not blocked, teams are often forced to hurry or alter their shots. Opponents are only shooting 31 percent (21-67) from the three-point line this season against BYU. Of course, you are sacrificing some quickness, but even if BYU gets beat off the dribble on the perimeter, that player is going from the frying pan into the fire as BYU's big men await, particularly Hartsock, to pad their shot block numbers.
Its not just BYU's starters that bring size to the table as Coach Rose has Chris Collinsworth, Josh Sharp and Nate Austin at his disposal to give Brandon and Noah a blow and to fill in when Brandon inevitably gets into foul trouble. Given BYU's lack of depth last season with the loss of both Collinsworth and Davies, Coach Rose was not going to be caught in a similar situation this year.
I particularly like Nate Austin. He held his own against Utah State's Brady Jardine and will be an invaluable body to throw at the likes of Robert Sacre of Gonzaga.
Size will be a nice advantage for BYU and will help them win many games. But let's face it; BYU would beat most of the teams it plays even without it. Where size is most critical is in those six or seven games each season where BYU will actually not have a size advantage. In those games, you simply need to be able to put a team on the floor that can match up with the opponent physically. Typically these are the Top 25 teams you face in pre- season, the elite in the WCC like Gonzaga and most of the teams you face in the NCAA tournament.
This was no where more evident than last year after the loss of Davies near the end of the season. Although Noah and the gang performed admirably, particularly against Gonzaga, one can't help but wonder if BYU wouldn't have found itself in a Final Four if it had just had a little more size.
Mark Durrant is the color commentator for the BYU Basketball broadcast on KSL Newsradio 102.7FM/1160AM.
×
Related Stories