This archived news story is available only for your personal, non-commercial use. Information in the story may be outdated or superseded by additional information. Reading or replaying the story in its archived form does not constitute a republication of the story.
LOGAN -- The Utah State Aggies are coming off their first come from behind victory of the season. In fact, it's the first time all season the Aggies have been trailing going into the fourth quarter and they managed to dig deep enough to pull out a 35-31 win after trailing 28-7 after the first half.
Head coach Gary Andersen now looks to put together back-to-back wins for the first time all season as the San Jose State Spartans come to visit Romney Stadium.
The Spartans had a game just opposite of the Aggies; after leading the Idaho Vandals 22-10 going into the second half, SJSU fell 32-29 after the Vandals scored 22 fourth quarter points.
The Aggies and the Spartans have some things in common: including the fact both teams have upset victories over pre-season WAC champions Hawaii.
OFFENSE
Another similarity between the two teams is their quarterbacks, both teams are led by Texans. That's about where the comparisons stop for the two QB's. USU is lead by true-freshman quarterback Chuckie Keeton (who is questionable for Saturday's game due to a serious spinal stinger) while the Spartans look to senior quarterback Matt Faulkner. The SJSU signal caller has thrown for 2,101 yards and nine touchdowns on the season.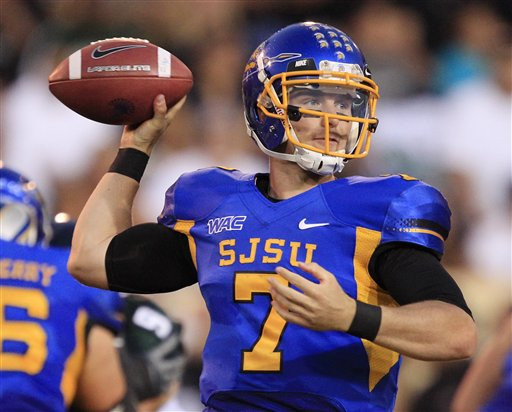 While Keeton is a mobile quarterback, Faulkner looks to throw from the pocket. This will pose a problem for the Aggies as they have struggled in the defensive secondary so far this season, but if junior linebacker Maurice Alexander and his fellow pass rushers can put pressure on Faulkner the Aggies should have a big day on the defensive side of the ball.
It's no secret the Spartans want to throw the ball and it's no secret to whom they want to get the ball. Sophomore wide receiver Noel Grigsby is having a breakout season catching 70 balls for 649 yards but only one touchdown.
The leading San Jose touchdown catcher is junior tight end Ryan Otten who has caught 36 balls for 551 yards and five touchdowns. Sophomore Nevin Lawson and junior Jumanne Robertson will need to be on their toes for this one.
San Jose has a talented tailback in senior Brandon Rutley. The 5-foot 11-inch back from Martinez, Calif. has run for 650 yards and eight touchdowns this season. There have been certain games where Rutley has been held in check, but the Aggies will certainly need to keep an eye in the backfield so they don't get burned by a big run. Senior Bobby Wagner will look to have another big tackle day on Saturday.
DEFENSE
Good news for the Aggies is the run defense of the Spartans. SJSU has allowed 100 yards or more rushing in every game this season and have been beaten for 200 yards or more in five games so far. Utah State loves to run and with running backs like juniors Robert Turbin and Kerwynn Williams and senior Michael Smith the Aggies should have no problem racking up the yards needed to win this game.
Junior quarterback Adam Kennedy will start for this first time in his D-1 career and has hopes to have a big game against the Spartans. Kennedy was solid in leading the Aggies to the comeback victory this past weekend against the Warriors, throwing for 163 yards and two touchdowns on 8-12 passing. No one could have expected more and the Aggie faithful now look to back him as much as they were behind freshman Keeton.
This is a true conference test for both teams as both the Aggies and SJSU look to become bowl eligible this season. Logan will be home to a great battle on the gridiron this Saturday.
Email: onlinesports@ksl.com
×
Related Stories