This archived news story is available only for your personal, non-commercial use. Information in the story may be outdated or superseded by additional information. Reading or replaying the story in its archived form does not constitute a republication of the story.
SALT LAKE CITY - From 2006 to 2009 you could pencil in Timpview as the 4A state champion before the season even began. Much has changed the past two seasons.
Last year Springville knocked off Timpview in the quarterfinals, ending an historic run of success.
That wasn't the only surprise in the 4A playoffs last season. The Highland Rams, a team that finished third in region play, fought their way to the state championship game where they were heavy underdogs against record setting quarterback Alex Kuresa and Mountain Crest. The two teams put on a classic battle that went to overtime where the Rams pulled off a shocker.
In 2011, Logan is undefeated and ranked No. 1. The Grizzlies will certainly be a tough out for anyone but there are a handful of teams that have a shot at winning it all this year. Who knows, another team like Highland could get hot at the right time and make a run.
Here is a preview of some fantastic quarterfinal matchups in the 4A playoffs.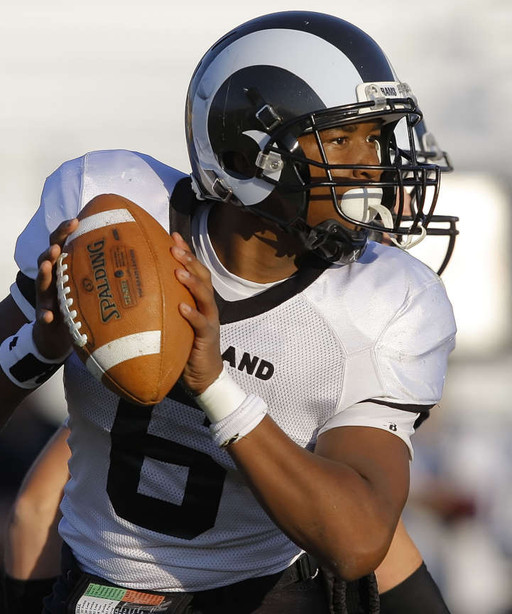 No. 5 Highland (7-3) at No. 1 Logan (11-0) Friday 3:30
Sione Houma and Anthony Smithson led Highland to the 2010 4A State Championship, the first for the school since 1986. With both players returning the Rams were the favorites to defend their title. After a 4-0 start both players suffered injuries against Lone Peak that caused them to miss multiple games.
It was then that Logan emerged as the No. 1 team in 4A as the Grizzlies dominated their competition on their way to an undefeated regular season. Quarterback DJ Nelson emerged from the shadow of his famous older brother Riley to establish his own legacy at Logan High School. He passed for 2,636 yards, 40 touchdowns and just 5 interceptions while completing 63 percent of his passes. He also rushed for 1,287 yards and 20 touchdowns leading Logan's prolific spread offense. The Grizzlies aren't all about offense. Their defense held opponents to just 16 points per game. Defensive back Johnny Luke led the state with 10 interceptions.
While Logan is the clear favorite in 4A the defending champs are finally healthy and seem to be getting back to the form that made them the preseason favorites. Highland crushed Maple Mountain in the first round. Sione Houma looked like the powerful and explosive back that dominated in the 2010 playoffs. He rushed for 203 yards and three touchdowns. Anthony Smithson was back at quarterback after missing five games with a leg injury and provided a boost to the team on both sides of the ball.
This could have been a state championship matchup but now we get to see it in quarterfinals.
KSL Prediction: Logan 42 Highland 35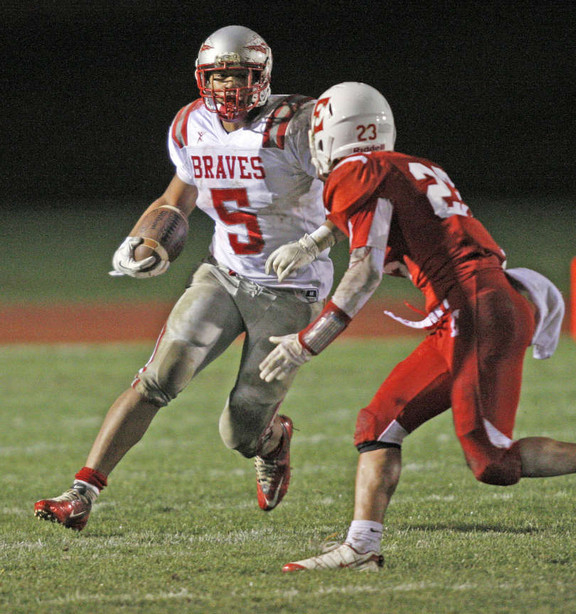 Bountiful (7-4) at No. 4 Olympus (9-1)Friday 5 p.m.
For Bountiful, it's not how you start but how you finish. Things looked bleak after a 1-3 start against stiff competition but the Braves would turn things around. They would win 6 of their next 7 games highlighted by a dominant 27-3 win over defending champion Highland. Defense is once again a point of strength for the Braves who allow just while quarterback Cam Zollinger leads their run-first power now they are in position to return to the 4A semifinals with a win over Olympus. Getting that win won't be easy.
Olympus is 9-1 and enjoying their best season since 1998 when they went 12-0 and won the 4A state title. Quarterback Scott Porter leads a balanced attack on offense. He has passed for 2,352 yards, 22 touchdowns and just 7 interceptions with the help of talented receivers Calvin Escobedo and Nate Sorenson. Brandon McBride has emerged as a star at running back rushing for 700 yards and 11 touchdowns in his last 7 games. Defensively the Titans are led statistically by Matt Bourne who has 51 tackles and 10 sacks which is tops in 4A. They've held opponents to just 17 points per game.
Bountiful is battle tested against top competition having played Lone Peak, Viewmont, Logan, Highland and East while Olympus boasts a win over Northridge and has had success in close games winning 5 games decided by a touchdown or less. Expect a very close game on Friday that could come down to the final play.
KSL prediction: Bountiful 17, Olympus 14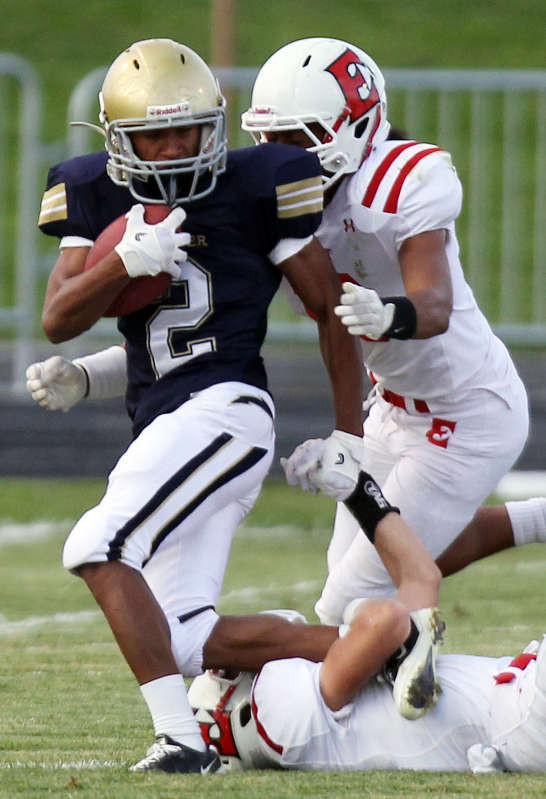 Westlake (4-6) at No. 3 Timpview (8-2) Friday 4 p.m.
It wasn't long ago that winning a game seemed impossible for Westlake. Now they find themselves one win away from the first semifinal appearance in school history. They started the season 0-5 and making the playoffs seemed like a long shot. But the team kept working and after finally breaking into the win column against Hillcrest on September 23rd their season became the tale of two halves. The Thunder have won 4 of their last 5 games including a shocking road win against Mountain Crest in the first round of the 4A playoffs. They always had the talent and now they seem to be putting everything together at the right time.
We'll find out just how much Westlake has improved since their horrific start when they make the short trip to Provo to take on Timpview. Westlake was crushed by the Thunderbirds 40-7 in week 2 of the regular season. While Timpview is no longer the dynasty that won 4 consecutive state titles and produced numerous D-1 college prospects they are still a contender in 4A. They have won 8 straight games but five of those games they had to come from behind to win and three of them were decided by three points or less. What they lack in star power they make up for with team chemistry and unity. They have won close games which may help them in the postseason. The offense is led by quarterback Jake Lloyd who has passed for 2,128 yards, 24 touchdowns and 9 interceptions. He is the younger brother of former Pleasant Grove star quarterback and Stanford commit Dallas Lloyd. They have one of the best receivers in the state in Ricky Shumway who has caught 62 passes for 1,085 yards and 16 touchdowns. Defensively Timpview is led by Carson Rawle who has 9 sacks and Josh Burr who has 107 tackles, 5 sacks and 3 interceptions.
These teams know each other well. Westlake head coach Jason Walker is a former assistant under Louis Wong at Timpview. That familiarity could make for an interesting contest.
KSL Prediction: Timpview 27 Westlake 20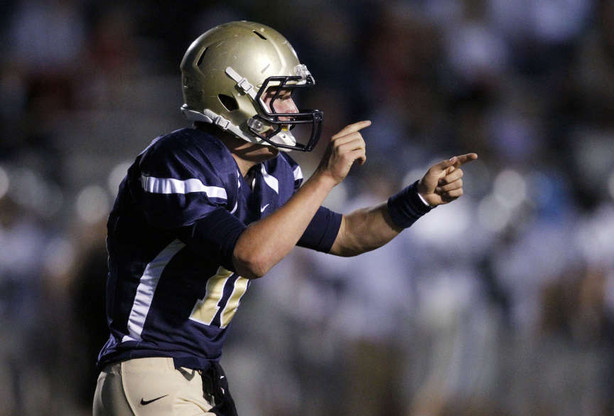 Skyline (7-3) at No. 2 East (10-1) Friday 3:30 p.m. KJZZ
This matchup between Skyline and East has an old school feel to it. There is nothing pretty about these two teams. You know they are going to run the option. You know they are going to play smash mouth football. You know it's going to be a battle anytime these two schools play each other.
They have combined to win 30 state championships. Only West has won more football championships than East and Skyline. Both programs have produced college stars and NFL talent.
Now they face each other once again with a trip to Rice- Eccles stadium on the line and a spot in the 4A semifinals.
East has been dominant all season their only loss came in the final regular season game against Logan where they rested numerous starters. They boast wins over Fremont, West and shutouts of Bountiful and Highland. Their defense is big and physical holding opponents to just 17 points per game. Offensively they have two 1,000 yard rushers in the backfield. Quarterback Jason Cook and running back Liti Molisi is a tough tandem for opposing defenses to contain. They have combined for 22 rushing touchdowns.
Skyline got off to a rough start this season dropping their first two games to Hurricane and Syracuse. It didn't take long for them to turn things around. They would win six games in a row before falling in overtime to Olympus in the battle for the rock. They look to have regained their swagger in a first round playoff win over Sky View. Quarterback Zach Williams leads the Eagles option attack. He is surrounded by talented backs Maurice Mapps Jr. and Dylan Daugherty who have combined to rush for 1,654 yards and 21 touchdowns.
If you love old school football this game is for you. These two teams will smack each other in the mouth for 48 minutes. I can't wait to see which team is left standing at the end of this fight.
KSL Prediction: East 35 Skyline 21
Email: jjensen@ksl.com
Twitter: @JJSportsBeat
×
Related Links
Related Stories