This archived news story is available only for your personal, non-commercial use. Information in the story may be outdated or superseded by additional information. Reading or replaying the story in its archived form does not constitute a republication of the story.
It wouldn't be the Halloween season without creepy crawlies that go bump in the night. Vampire bats who drink your blood are a Halloween tradition and surprisingly enough, reality. Here are five creatures are sure to make your hair stand on end.
Marabou Stork
Unlike the Ugly Duckling, this bird does not undergo a metamorphosis into a beautiful adult. Marabou Storks are a large, very strange looking bird. Its head and neck are bald and covered with scabs. Dark wiry, wisps of feathers that resemble hair are scattered over its head and neck. Hanging from the front of their neck they have a long, pink air sac.
Shameless scavengers, these birds are often found living near humans because they like to feed on our garbage and waste. Similar to vultures, their heads are bald as they also feed on the rotting flesh and meat of dead animals.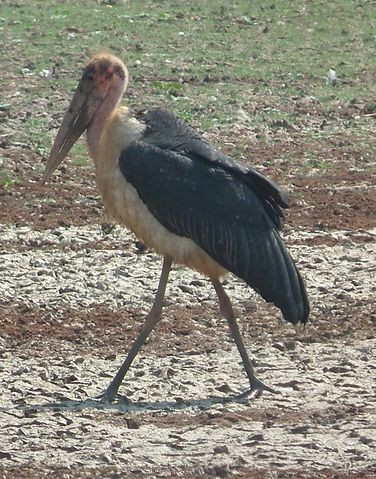 If they had feathers on their head, they would become clotted with blood and chunks of flesh during meal time, posing a hazard to the bird's health.
Witnesses claim that while devouring trash they will eat anything - including inedible items such as plastic, metal and even shoes. Like a demon straight out of Hades, they areactually drawn to forest fires so they can catch and eat the panicked animals fleeing from the flames.
Hagfish
Hagfish are elongated creatures that resemble an eel - only covered in a totally excessive amount of slimy mucus. When threatened, they release copious amounts of slime, and an adult fish can create enough to fill a bucket in just a few minutes.
They are aggressive eaters, feeding vigorously. They can quickly consume prey much larger than themselves. Consuming their prey from the inside out, they will enter their victim through any orifice available. In addition to live carcasses, they will also feast on dead sea creatures, quickly tearing apart their insides until the whole animal has been eaten.
Camel Spiders
Urban legends run rampant when it comes to camel spiders. Many of the myths are exaggerated facts, but even without the drama they are still pretty creepy. Their bodies alone, without including legs, can be up to 6 incheslong. Not actually spiders at all, they also have scorpion like qualities though they are members of the arachnid order.
They have powerful pincers, each side having numerous "teeth." Their pincers can easily cut through skin and small bones in their tiny vertebrate prey. They can pierce human skin with a painful bite, though they do not typically attack. When cornered or threatened they can become quite aggressive and this is when most bites occur.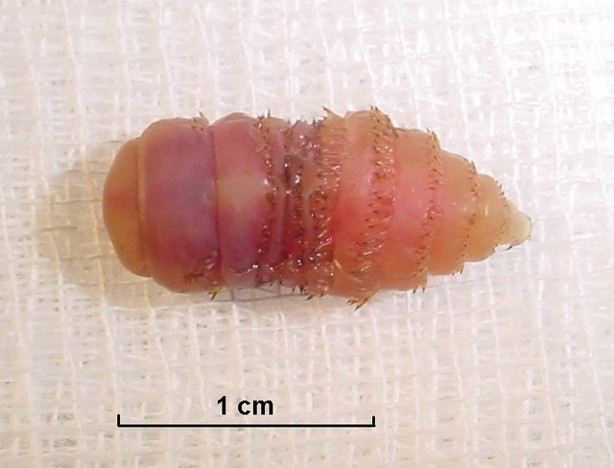 They appear to have 10 legs, but actually only 8 are true legs. The extra two are sensory appendages that they use while running to sense obstacles, in fighting, feeding and mating. Only 6 legs are used for running and the last two seem to be used for tactile sense. They are fast for their size, running up to 10 miles per hour for short distances.
Many species, have very large central eyes. Their eyes are actually decently sophisticated and they use their sight to avoid threats, when hunting and fighting. They can recognize different shapes and forms. Their high metabolic rates make then aggressive hunters.
Human Botfly
Human botflies are a species of fly. What sets them apart from other pesky flies is their larvae, which is parasitic. These flies often use mosquitoes and ticks as a carrier to infect unsuspecting hosts. The female fly will capture a mosquito and attach her eggs to it. When the mosquito bites something, the eggs are either injected through the bite area or dropped on the skin where they will then burrow into the subcutaneous layers of skin.
The larvae will feed off the flesh of their hosts for an average of 8 weeks. When fully developed, the pupae will emerge from the host's skin and drop out. Typically, they fall into soil or any other place where they will then pupate for a week before turning into adult botflies themselves.
They do live in human hosts, though in most cases, the host is not greatly harmed by the larvae. Being awfully grossed out is entirely possible, however. The greatest damage is done when they emerge from the subcutaneous layers of skin, through a tube which has provided oxygen for the developing larvae. If the larvae should die inside of you, or burst when you attempt to pull it out you can develop a nasty infection.
Vampire Bats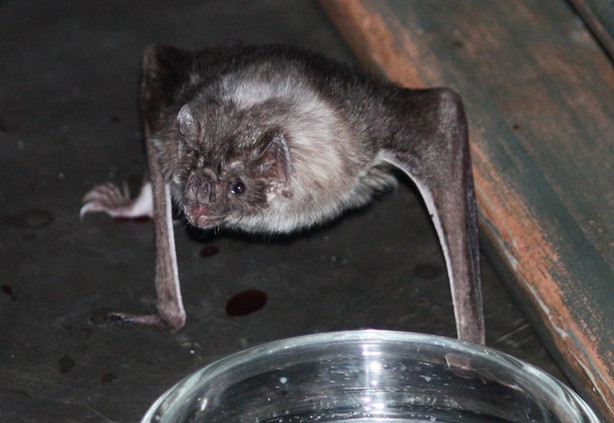 It wouldn't be Halloween without the bats. While most bats are harmless creatures who eat their weight in obnoxious insects each night, there are three species of vampire bats who feed solely on blood. At night, while we are sleeping, these creatures silently emerge from their caves to feed on unsuspecting victims. Typically they drink the blood of cows, pigs, horses, birds and other animals. They do, however, occasionally dine on humans.
They make a small incision in their victim with sharp teeth and then lap up the blood with their tongues. The loss of blood does not typically hurt the victim. Very stealth, they can actually drink a sleeping animal's blood for over 30 minutes before the animal notices. Their saliva has an anti-coagulant that keeps a victim's blood from clotting.
Their noses are different from most bats in that they actually can sense heat to assist finding a warm body to feed from. They are well adapted to walking, jumping and they can even run. They have excellent eyesight and hearing to locate prey and even determine if it is sleeping.
These bats have to feed quite frequently and if they are unable to feed on blood for a couple of nights they can quickly die. Female bats, however, are quite caring. Many times they will regurgitate blood to share with their friends in exchange for some personal grooming. Females can establish relationships with other bats that will last for years.
Many researchers have reported that they are actually quite docile and even friendly to humans. But they may just bebiding their time until you fall asleep.
×
Photos
Related Links
Related Stories