This archived news story is available only for your personal, non-commercial use. Information in the story may be outdated or superseded by additional information. Reading or replaying the story in its archived form does not constitute a republication of the story.
SALT LAKE CITY - The Drug Enforcement Administration and local law enforcement are encouraging the public to rid their homes of unused and unnecessary prescription drugs Saturday.
Police stations, community centers and businesses nationwide are participating in National Prescription Drug Take-Back Day Oct. 29, giving the public a chance to drop off unwanted medication "free of charge, no questions asked," according to the DEA.
Two previous events resulted in 309 tons of pills being dropped off at more than 5,300 sites nationwide. The agency hopes Americans will again take advantage of the opportunity as a way to prevent drug abuse and theft.
Deatra Isham knows firsthand the effects of prescription drug abuse. Isham, a 48-year-old secretary at LDS Employment Resources, has battled a prescription drug addiction off and on for fifteen years.
"I was prescribed Xanax for my anxiety issues and, after a while, got hooked on it," said Isham. "All the while, I was telling myself, 'It's legal, it's prescribed to me and I can handle it."
After a 2005 recovery stint in which she "learned some, but wasn't ready to accept it," she continued to return to prescription drugs to deal with outward stresses, until a 2010 DUI landed her in jail for 60 days.
"I spent Christmas in jail," she said. "It was a horrible experience -- one I'll never forget."
Isham's experience may be a common one in Utah, which has the fourth-highest rate of prescription drug abuse in the nation. Non-medical prescription drug use has fallen in recent years, though: a 2009 study reported use of the drugs in Utah was only .02 percent higher than the national average in 2007, compared to 1.5 percent higher in 2005.
---
It's impossible to deal with an addiction on your own, without support. Don't be afraid to ask for help.
–Deatra Isham
---
According to Utah Poison Control, more than 50 percent of the 52,000 calls made to the center in 2010 were related to pharmaceuticals. Of those calls, more than 1,300 concerned opioids, which are commonly found in painkillers.
"It's not just about narcotics," according to Marty Malheiro, a Poison Control spokeswoman. "It's all medication. Get rid of anything you don't need in the home, whether it's expired or just unused."
Isham has had one relapse since she started rehab last November.
"I was prescribed a Valium after a dentist appointment, and after I took it I found a pill bottle with some of my leftover medication," she said. "I thought, 'I've already taken a Valium, what does it matter?'"
"I lost a whole day of my life."
Isham said if she had known where prescription drugs could be returned, she may have been able to prevent a relapse.
"Keeping old medication around the house is a constant trigger," she said. "Participating in this is so important -- not only for people on recovery, but for everyone. It's just dangerous to have them around the house. There are so many ways an accident can happen."
Since her relapse, she has worked to change the thought processes that first led her to drug abuse, stating that "it starts and ends with your thoughts."
"It begins by gradually taking more than you're prescribed, and you think you can handle it," she said. "It becomes a way to deal with trials in your life, whether that's handling issues from childhood, living in a bad environment or dealing with low self-esteem."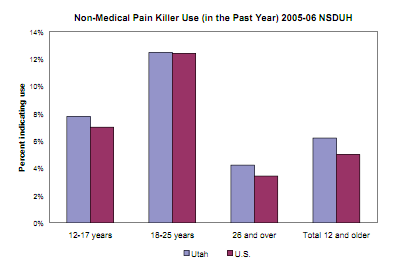 "Negative thought patterns comes out in different ways -- eating disorders, compulsive shopping -- it's all caused by this," she continued. "You have to change your thought pattern."
For Isham, changing her thought pattern included admitting she needed help, and she urges others to do the same.
"It's impossible to deal with an addiction on your own, without support," she said. "Don't be afraid to ask for help."
Isham's help came when she qualified for rehab under Utah's Drug Offender Reform Act. The act funds rehabilitation for qualified individuals with a history of substance abuse. The act funded treatment for almost 800 people last year.
"Without DORA, I wouldn't have had the opportunity to turn my life around," said Isham. I don't know what I would have done. It's given me a new lease on life."
Isham has high hopes for the future. After earning an associate degree from Salt Lake Community College, she plans to become a substance abuse counselor.
"Hopefully being open about it will inspire others to look at their own problems and maybe not be so afraid to get some help, because it's really worth it," she said. "There are so many people who are hooked on prescription drugs who hide it. Don't be afraid to admit to yourself that it's a problem."
×
Related Links
Related Stories