Estimated read time: 2-3 minutes
This archived news story is available only for your personal, non-commercial use. Information in the story may be outdated or superseded by additional information. Reading or replaying the story in its archived form does not constitute a republication of the story.
Jed Boal ReportingThe number of high-profile, violent crimes surged in Ogden last month. Now citizens are demanding action.
City Officials have launched a new plan to combat crime. The second phase of that plan was unveiled today.
The idea of this part of the plan is to empower the people in their neighborhoods. The city wants to strengthen the relationship between the people and the police. The people will have some new crime-fighting tools.
Citizens said, "We don't want the crime element."
That crime element boiled over a month ago. Gang violence left five people dead in three days. Gunfire erupted at a wedding. Four people were shot, two were killed, then there was a retaliation shooting.
The people of Ogden and those at City Hall were fed up. The mayor cited a 23 percent cut in crime in seven years, and said he would not give that up.
The city fought back with extra patrols and now another approach.
Sgt. Danielle Croyle, part of community policing for the Ogden Police Department, said, "We can't be everywhere. We need the community to step up and help us out, to be the eyes and ears because we can't be everywhere."
People can help by calling a new telephone line for non-emergency developing crime, like gang activity. People can dial 399-HELP to report any suspicious activity or crime issues. Tips will be recorded. Someone will get back to every caller and let them know the information was passed on to a police officer.
Ogden Mayor Matthew Godfrey said, "So it's not just an answering machine that you leave a message on, and then you wonder what happens."
The community mobile patrols will display decals as a deterrent. Neighborhood watches will also carry video cameras and cell phones provided by the city. Among the equipment is a camera capable of night vision.
"It's just about providing tools to the community and having the neighborhood help us know where the problems are, so we can get in and attack them," Mayor Godfrey said.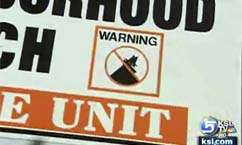 One resident of Ogden took matters into her own hands by starting a watch in her own neighborhood.
Mona Lisa Wald said, "I believe in this city, and I'm going to fight for it. I hope other people do, too."
City officials don't want neighborhood watch patrollers to confront anyone but to pass the information onto police officers.
A new web page for reporting crime should be launched any time. A link is in the box on this page.
×
Related links
Most recent Utah stories