This archived news story is available only for your personal, non-commercial use. Information in the story may be outdated or superseded by additional information. Reading or replaying the story in its archived form does not constitute a republication of the story.
OGDEN -- Skiers and snowboarders have different reasons for preferring certain resorts. For many, it's all about deep powder; others want to be pampered throughout the day. Snowbasin, located on Mt. Ogden about 30 minutes north of Salt Lake City, was one of the first ski resorts in the country. It offers the best of both worlds.
1938: Snowbasin is born
The resort got its start in 1938 when famed ski pioneer Alf Engen and some U.S. Forest Service workers hiked in to Wheeler Basin and decided "this is the place." Within a year, the first ski tow was in place and Snowbasin was born.
Over the next few decades, lifts were added and a few day lodges were built. Ownership changed hands several times until 1984 when Earl and Carol Holding purchased Snowbasin. Their company, Sinclair Oil, had already purchased Sun Valley Ski Resort in Ketchum, Idaho in 1977.
By 1989 Trapper's Loop was built, connecting Huntsville to Weber Canyon and making Snowbasin one of the easiest resorts to reach from Salt Lake International Airport.
Still, Snowbasin was considered a "locals" hill. But in 2002, everything changed. When Salt Lake City hosted the winter Olympics, Snowbasin was the site of the men's and women's downhill, Super G and combined races. Snowbasin was no longer a secret.
Great Snow Escape on KSL 5 News Today

We have the greatest snow on Earth here in Utah and we want to give you a chance to get out and enjoy it!

Each Friday for a month beginning Oct. 28, the KSL morning show team will be live at different ski resorts in Utah, and each Friday you have a chance to win season passes to those resorts (Snowbasin, Brighton, Sundance and Park City Mountain Resort).

Join us Friday mornings from 5-7 a.m. for your chance to win. Plus, during the week we'll give away ski lift tickets and stay-and-play packages.

At the end of the series, we'll give away a 2011 Nytro MTX 162 Snowmobile, courtesy of Yamaha Motor Corp., worth $13,000! Entering the season pass giveaway also enters you to win the snowmobile.
In the years leading up to the games, Snowbasin had implemented an aggressive plan to add several new lodges, lifts and roads to welcome the world. The owners say it has paid off with a world-class resort supported by world-class service that entices snow sports enthusiasts from all over.
Tim Franchi has seen Snowbasin's metamorphosis first-hand. When he started working with the ski patrol at Snowbasin, "Dallas" and "M*A*S*H" were the hit shows on TV and the Sony Walkman was all the rage. That was back in 1983.
"Yeah, you used to have to take two lifts to get to the top, and they were about 12 minutes apiece, so about a half hour out in the cold weather," he explained. "Now it's 12 minutes or less, depending, to the top, inside a warm gondola with your buddies and new friends. It's just really, really nice."
Apparently Tim passed on his Snowbasin gene to his daughter Maria, who now works as a snowboard instructor at the ski school. She has fond memories of growing up on this mountain.
"You come here on weekends and you know everybody. As a ticket checker I got to know all the locals' names. The days they came, you get to know them on a personal level. They come up here 100 days a year," she said.
The resort includes Earl's Lodge, a 4,500-square-foot Canadian Spruce structure named after Earl Holding. It featuers a dining area with views of the slopes, six massive fireplaces and a lounge.
The bathrooms are one of the most famous parts of the resort. The restrooms were just voted one of the top 10 nicest bathrooms in the country.
Making snow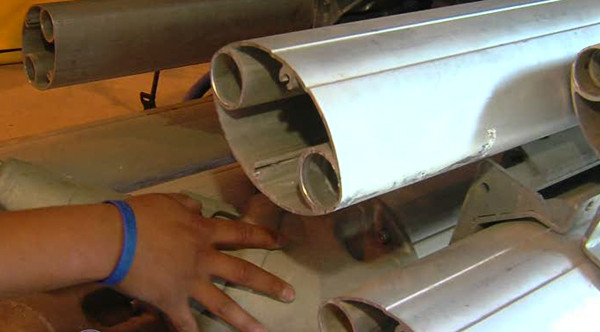 Last year Snowbasin reopened in June due to generous snowpack. But if Mother Nature isn't as generous this season, making snow is in order. Some assume all that's needed is water, a hose and freezing temperatures to make snow. But it's a little more complicated than that.
The process begins in a massive pump house with 10 types of pumps. At full capacity they can push out 3,500 gallons of water per minute. Special fans take the 47-degree water that comes into the building from wells on the resort and cools it to a perfect 32 degrees.
From there, the water travels through 47 miles of pipe. Then it's mixed with air through any of the 521 snowmaking guns placed over a 600 acre area of terrain -- that's 23 miles.
Zak Alder is part of the snowmaking crew. "One of these is for water and the other one is for air. Then as soon as it gets to the top -- we call it the B6 head -- the air meets water here, and the water pushes out and just sprays," he explained.
Each snow gun can cover an area of about 120 feet by 120 feet in ideal conditions. That can produce about 4 inches of powder from each gun in a 10 hour period. From there, snowcats spread the wealth to other areas and voila -- snow!
×
Photos
Related Links
Related Stories