Estimated read time: 2-3 minutes
This archived news story is available only for your personal, non-commercial use. Information in the story may be outdated or superseded by additional information. Reading or replaying the story in its archived form does not constitute a republication of the story.
Sam Penrod ReportingIt appears former computer man Dell Schanze is back to his flying stunts. The latest? He piloted his ultralight paraglider within feet of a boat sailing on the Great Salt Lake. Schanze claims he did "nothing illegal."
The Island Serenade sets sail for sunset cruises on the Great Salt Lake year 'round. The cruises are billed as peaceful and beautiful. But on Friday night the cruise was disrupted by someone who told KSL he wasn't breaking any rules.
Photos were taken Friday night, just as the Island Serenade set sail with 43 people on board. Suddenly an ultralight glider swooped down in front of the boat.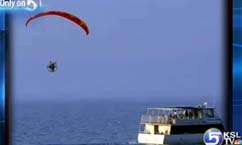 The boat's captain, Clint Baty, said, "On one of his banks he came in front of us and turned, and I thought he was going in the water. He didn't miss the water by six feet."
"This thing would buzz across and bank in front of us, turn and come behind us, and came back from behind," Baty said.
The captain says the ultralight made four or five passes and was gone within a couple of minutes.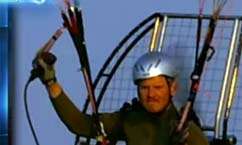 We zoomed in this photo and could plainly see it is Dell Schanze in the pilot's seat. Last summer he pleaded no contest to public nuisance charges for flying his paraglider along I-15 during morning rush hour.
I called Schanze for an explanation about Friday's incident. He told me those on the boat enjoyed his air show and were waving to him and taking his picture.
He said everything he did was "totally legal," adding, "It's a question of rules, and I obey the rules."
I asked him about getting within feet of the boat. He responded, "I can fly right by someone, as long as I am not putting them in danger."
"The only reason those people should have been scared was if I landed in the water. I can fly an inch away from the boat and not endanger anyone," he said.
That's not the opinion of the boat's captain.
"I felt like he was endangering the boat and the people in it," Baty said.
We checked court records and found that Schanze's probation from two misdemeanor cases both expired in the last few weeks.
The FAA has already issued Schanze a warning letter from the paragliding incident last year. The next step could be a fine and an order keeping Schanze on the ground.
×
Related links
Most recent Utah stories