Estimated read time: 1-2 minutes
This archived news story is available only for your personal, non-commercial use. Information in the story may be outdated or superseded by additional information. Reading or replaying the story in its archived form does not constitute a republication of the story.
SALT LAKE CITY (AP) -- Authorities in southern Utah are searching for a man who has been missing since Monday. Christopher Robin Coan, 18, was last seen leaving his job at a Subway sandwich shop in Enoch, Iron County, Monday evening, police said.
"He was last seen by his manager leaving the store," Enoch police detective Jackson Ames said. "This is completely out of character for him."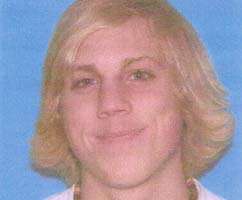 Coan was reported missing by his girlfriend on Tuesday. There has been no bank activity and authorities are beginning to worry Coan may have met with foul play. Enoch police contacted the FBI for assistance in the case.
An airplane has been searching the high-country desert around Cedar City and Enoch for any sign of Coan's SUV, a 1994 red and silver-colored Chevrolet S-10 Blazer with a temporary tag. Police said the SUV has three stickers in the back. One says "Jerry Bear," another says "The Wizz cartoon," and the third says "Beatles."
"We've got around 100 people or so that have just gone out and are pretty much going to canvass the area," Ames said. "Hopefully, we can find him."
Coan is 5 feet 6 inches tall, weighs 125 pounds, with blue eyes and blond, floppy hair. He was last seen wearing a green T-shirt and black corduroy pants.
------
Information from: Deseret Morning News
(Copyright 2007 by The Associated Press. All Rights Reserved.)
×
Most recent Utah stories